Ten years ago, the Kansas City Chiefs were the power in the AFC West with three division titles, seven playoff appearances and one appearance in the AFC championship game.  They were coached by Marty Schottenheimer and featured future Hall of Fame players like Neil Smith and Derrick Thomas.  They played a tough nosed, winning brand of football.
The 2009 Chiefs are not those guys.  On Sunday, the new-age Kansas City Chiefs rolled into Qualcomm stadium and were thoroughly manhandled by the reigning AFC West Champion Chargers.  Two touchdown passes thrown by Philip Rivers and two rushing touchdowns by LaDainian Tomlinson were two touchdowns more than needed to put away the Chiefs.  The Chargers scalped the Chiefs, 43 – 14.
I will tell you that the game was so one sided at one point, my side of the field was clear of photographers and TV crews because the action never got out of the Chiefs end of the field for most of the second quarter.  That's good because it makes it easier for me to get clean, unobstructed views of the Charger Girls…and you know I absolutely hate anything that gets in the way of me, my camera and my Charger Girls!
As is custom, let us start this week's coverage by introducing the Line Captains, Marisa, Tonya, Ashlie, Marlina.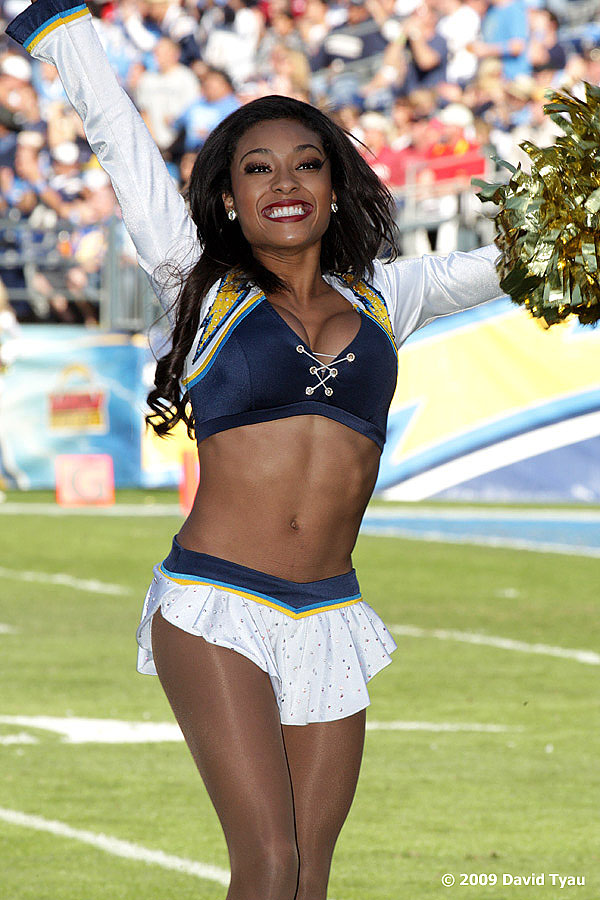 This week's Charger Girl of the Day was rocking the big, sexy hair…introducing Carly S.
Okay, some of our readers may know I went to UCLA and this past Saturday, my Bruins played our crosstown rivals, the USC Trojans…and we lost…again.  So, in honor of the Trojans beating my lowly Bruins, here's my tribute to Troy…former USC Song Girls Nicole M. and Jacquelyn…two of the nicest Charger Girls you'll ever meet.
And now, let us begin our parade of absolutely fabulous Charger Girls with a few photos of Natalie, Melanie, Giselle, Andrea, Michelle Carly N. and Vanesa.
And we continue our coverage with Victoria, Ashley, Belinda, Heather, Lauren, Katie, Tiffany, and Nicole L.
And let's close this week with a few photos of Brittany R., Brittany W., Emily, Kimberly, Casie, Ashlie, and Tonya.
The Chiefs game used to be one of the biggest games of the year, but recently it has lost some of it's luster.  A football team's fortunes have a way of rising and falling.  And in the AFC West, teams seems to cycle through periods of dominance…the Raiders, then the Chiefs, then the Broncos and now it's the Chargers turn.  If there's one thing about AFC West football, teams don't stay down for very long.  The Chiefs time will come, but not just now.
Well that's all for a while.  The next game for me will be Dec. 20 which will feature, I hear, the Charger Girls in their blue velvet Christmas uniforms!
Happy Holidays, Charger Girl fans.
For more Charger Girl articles and photos, please check out my blog: The Hottest Dance Team in the NFL.