Since NFL.com never bothered to list the 2005 Pro Bowl Cheerleaders, I decided to create a page for them. Now there will be at least one place on the Internet dedicated to these high-achieving women.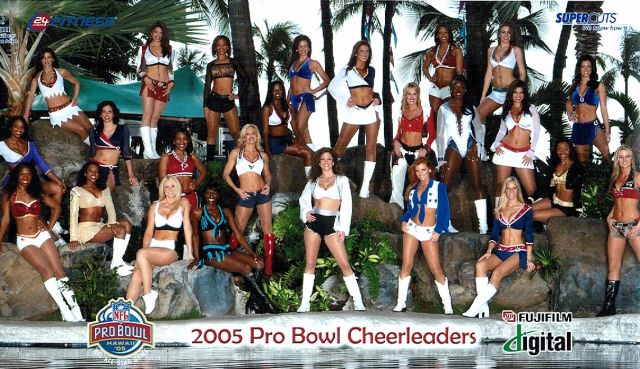 Heather Joy – Arizona Cardinals Cheerleader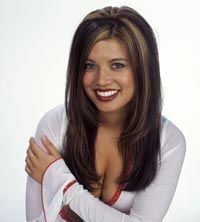 Heather is a captain and five-year veteran of her squad. She is currently a student.
Kim Kennedy – Atlanta Falcons Cheerleaders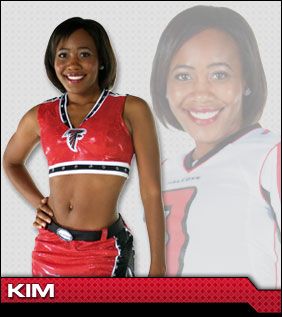 Three-year veteran Kim has a BS in Health Sciences and Management from Howard University and a Masters of Public Health in Epidemiology from Emory. She has worked in Zambia promoting community health and now is employed in the Infectious Disease Department for the state of Georgia.
Angela Fisher – Baltimore Ravens Cheerleaders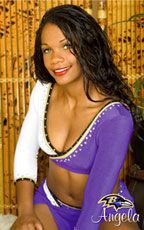 Angela is a three-year veteran of the squad and is a captain on the stunt team. She graduated from the University of Maryland with a degree in Family Studies, and is now a Kindergarten teacher.
Jamie Ringer – Buffalo Jills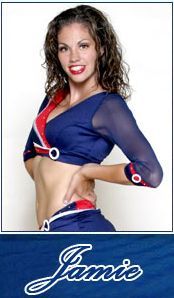 Three-year veteran and line captain Jamie is a senior at the University of Buffalo where she is studying Chemical Engineering.
Shannon McClattie – Carolina TopCats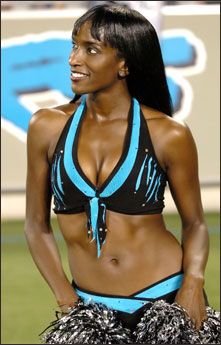 Shannon has been cheering for the Panthers for seven seasons. She is a Social Work Investigator.
You can read more about Shannon in one of my all-time favorite posts.
Tara Willson – Cincinnati Ben-Gals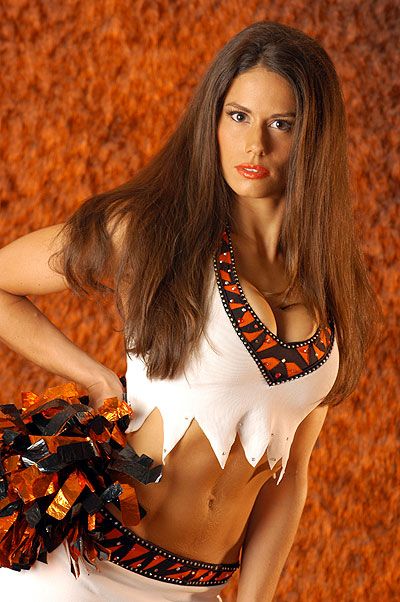 Tara is in her third year of cheering for the Ben-Gals. She's a graduate of the University of Kentucky with double major in Biotechnology and Biology, and now is a PhD student in the Cell & Molecular Biology program at the University of Cincinnati with a specific focus on Cancer research. Tara is the Ben-Gals Assistant Side Captain, Cheer Coach and Fitness Coach. She also sang the national anthem before the Patiots-Bengals pre-season game back in August.
Brandi Nace Redmond – Dallas Cowboys Cheerleaders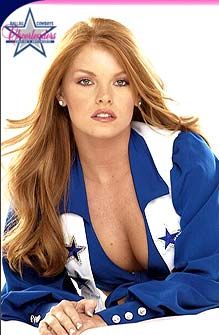 Brandi is a four-veteran of the Cowboys Cheerleaders and works as a recruiter.
Sarah Silva – Denver Broncos Cheerleaders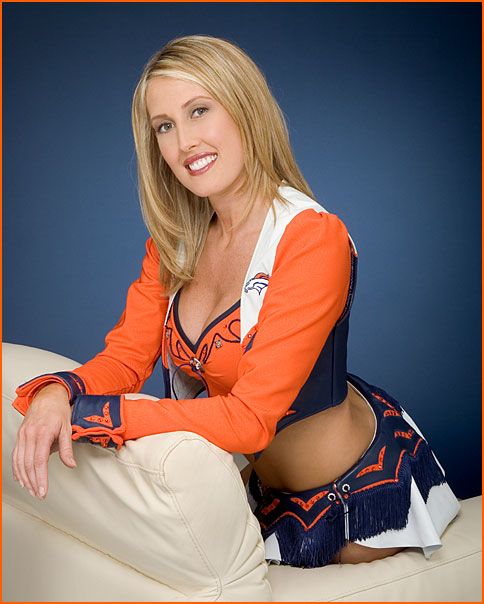 Sarah is a five-year veteran of the Broncos Cheerleaders and works as a special programs director for an insurance agency. She holds a red belt in Tae Kwon Do and volunteers as a Big Sister in the Big Brothers/Big Sisters Program.
Julie Rainbolt – Houston Texans Cheerleaders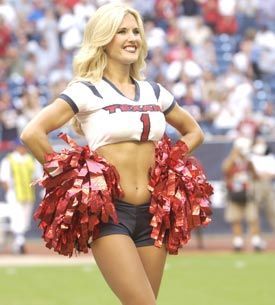 Four-year veteran Julie is a teacher. Her most exciting moment as a Texans cheerleader came flying in an Apache helicopter at Fort Hood.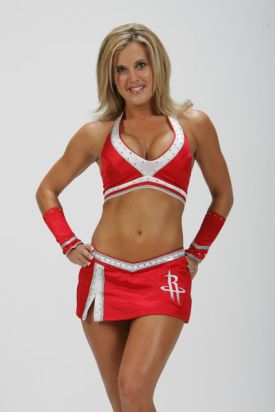 Julie joined the Houston Rockets Power Dancers for the 2005-06 season.
Jennifer Trock – Indianapolis Colts Cheerleaders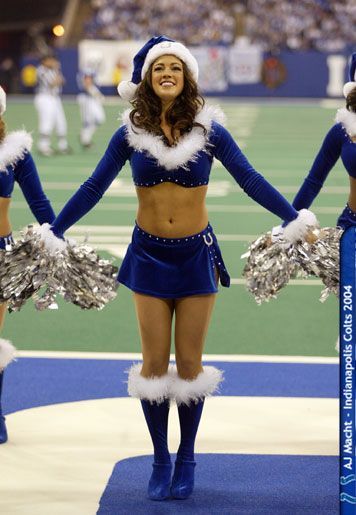 A six-year veteran of the Colts Cheerleaders, Jennifer is a physical thereapist. The first person she called when she learned she was going to Hawaii was her mom.
Jill Cottingham – Jacksonville Roar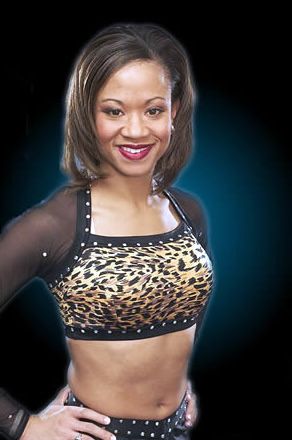 Four-year Roar veteran Jill works full time as a pharmacist at Baptist Medical Center in Jacksonsville. She earned her doctorate of pharmacy degree from Florida A&M University.
Kendrea White – Kansas City Chiefs Cheerleaders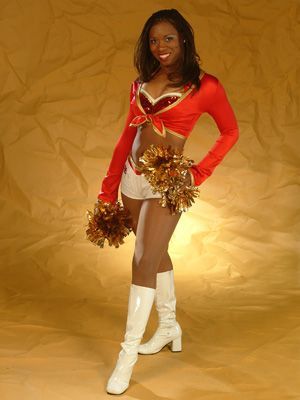 Six-year veteran Kendrea graduated from the University of Kansas with a Bachelors Degree in Sports Managament. She is now attending law school and is also a classical pianist.
Jackie Vilarino – Miami Dolphins Cheerleaders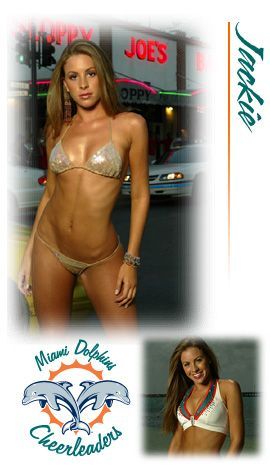 Three-year veteran Jackie is a student and a dance teacher. She could also be seen as a backup dancer for Kelly Clarkson at the recent Orange Bowl.
Update 11/1/06: Jackie is now a hostess on ¿Qué Dice la Gente?
Erin Frey – Minnesota Vikings Cheerleaders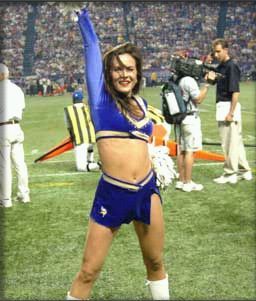 Erin graduated with a degree in Advertising/Speech Communications from the University of Minnesota.
Alison Preston – New England Patriots Cheerleaders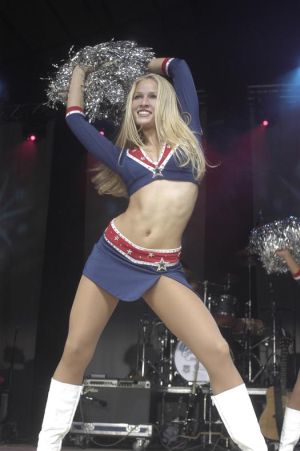 Alison is a senior at the University of New Hampshire majoring in athletic training. This is in her third year as a Patriots cheerleader.
Deryn Derbigny – New Orleans Saintsations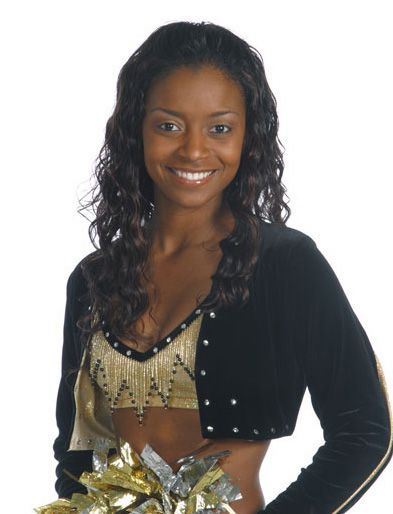 Four-time Saintsation Deryn works as a massage therapist and her goal is to become a registered nurse.
Update 10/8/06: After 5 season with the Saintsaions, Deryn is now a Dallas Cowboys Cheerleader.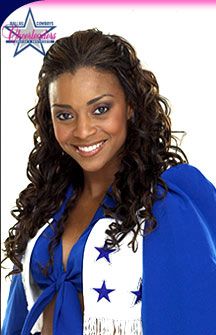 Kristin Medwick – Oakland Raiderette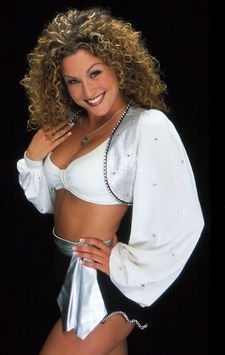 Kristin is a seven-year veteran of the Raiderettes and works as a marketing analyst for a Bay Area telecommunications company.
Monica Devlin – Philadelphia Eagles Cheerleaders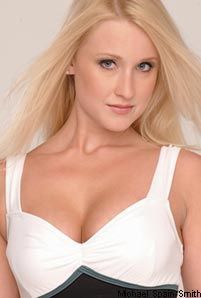 Three-year veteran Monica is an Education major at Temple University.
Sommer Harris – St. Louis Rams Cheerleaders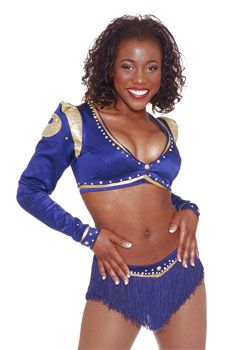 Sommer is in her second season as a Rams Cheerleader. She has a BS in Social Science from Tennessee State University and is currently pursuing a Masters Degree in Physical Therapy.
Lisa Simmons – San Diego Charger Girls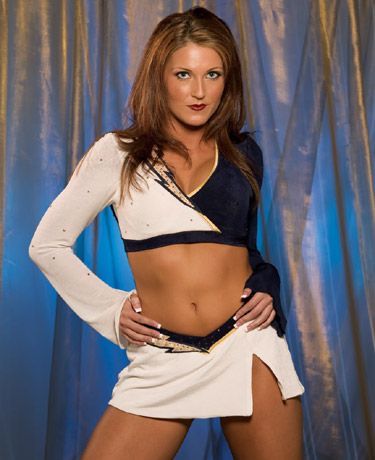 Lisa was named the Director of the San Diego Charger Girls after cheering three seasons with the team. During her three seasons as a San Diego Charger Girl (2002, 2003, 2004), Lisa was a team captain and selected to represent the San Diego Charger Girls at the Pro Bowl in Hawaii in 2005. In addition to being a Director, Lisa is an Associate Producer for e2k Sports. She has choreographed for several cheerleading and dance teams, both collegiate and professional, including the 49ers Gold Rush Cheerleaders. She is a former member of the award-winning dance team at San Diego State University, where she graduated with a degree in Sociology. Lisa began dancing professionally while in high school in her home town of Riverside, California. She took her first dance class when she was just five years old and started her cheerleading training at the age of ten. Lisa worked as a sales consultant and business owner until her appointment as Director of the San Diego Charger Girls.
Lt. Jany Collaco – San Francisco Gold Rush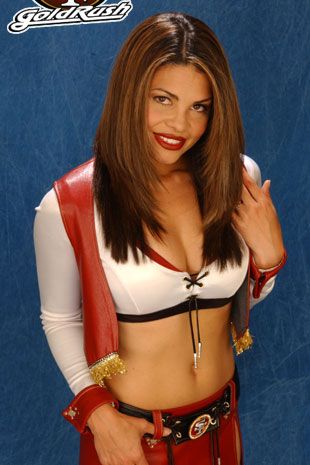 Jany is a P-3 pilot in the US Navy. A graduate of the Naval Academy with a degree in mathematics and she earned her Masters of Science in Operations Analysis at the Naval postgraduate school. She has been cheering for the 49ers for two years.
Kiara Bright – Seattle Sea Gals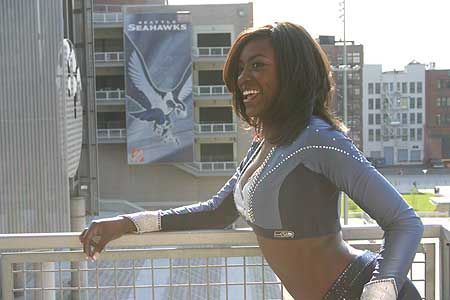 Five-year Sea Gal Kiara works as a customer service representative and a cheer coach.
Leigh Vollmer – Tampa Bay Buccaneers Cheerleaders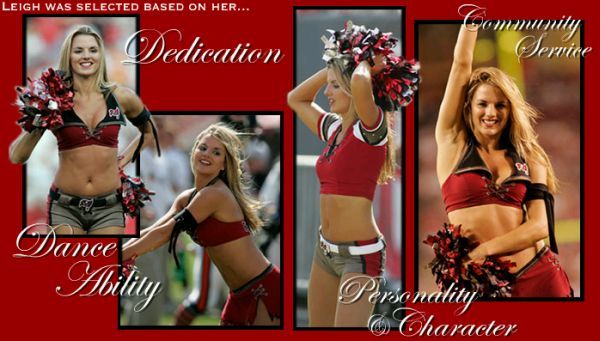 Five-year veteran Leigh has a BS in Psychology and Criminal Justice from Appalachian State University and now works as a pyschiatric clinical coordinator.
Jenita Smith – Tennessee Titans Cheerleaders
Jenita is a six-year veteran of the Titans Cheerleaders and is a social worker.
Jamilla Keene – Washington Redskins Cheerleaders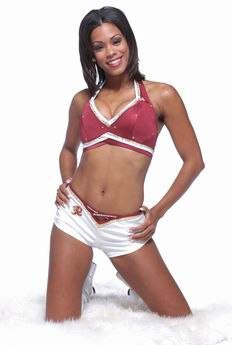 Jamilla is a two-year veteran of the Redskins Cheerleaders and is a scheduling coordinator at American University.