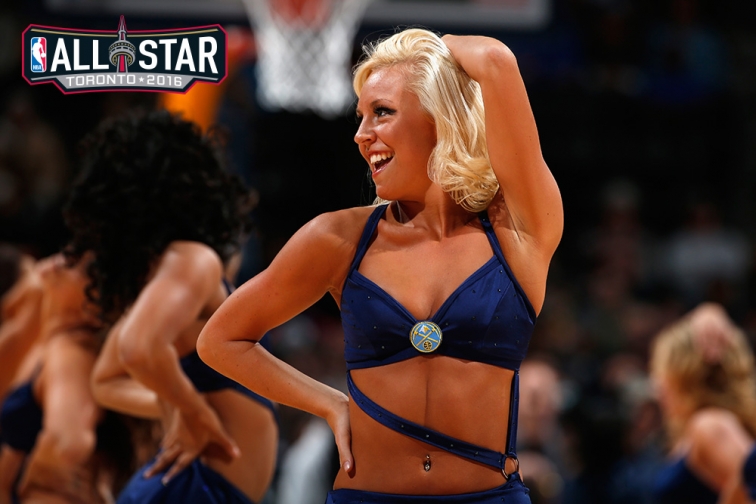 by Alyssa Romeo
Denver Nuggets
January 14, 2016
Becca, who is in her fifth season with the Denver Nuggets Dancers, has been selected as one of the elite members of the 2016 NBA All-Star Dance Team in Toronto.
"I'm just super honored and very excited to be able to represent our team," Becca said.
The All-Star Dance Team is determined through a peer nomination and voting process. With over 600 girls across the nation currently holding a position on an NBA dance team roster, one dancer is selected from each of the teams, leaving just 30 spots for the best-of-the-best from each city.
"Becca was the Nuggets Dancers' top choice for the All-Star Dance Team position," said Amy Jo Wagner, Manager of the Denver Nuggets Dance Team. "The dancers each voted for their top three candidates to recommend to the NBA for the position. Becca was nominated over and over again because she is such a great representation for our team."
Becca will be the face of the Denver Nuggets Dance team during one of the most highly viewed professional sporting events of the year. Her advanced dance techniques and uncanny ability to master and perform choreography during a short period of time will be some of her biggest assets during all-star training, but they won't be the only strengths this DND will bring to Toronto.
Amy Jo stresses the importance of both Becca's skill and attitude when approaching the annual mid-season exhibition game.
"Dancers selected for the All-Star Dance Team will need to learn several routines in a short period of time. They will have limited time to receive feedback from the coach and to rehearse with their teammates. The pressure and stress will no doubt get to the ladies throughout the week. Becca is calm in stressful situations; she doesn't take things too seriously and will probably be the teammate that keeps the mood light during the All-Star events, just like she does here at home."
Becca will take her talent and positive attitude to Toronto alongside her interim teammates who will all be representing their NBA affiliates at various functions throughout the week leading up to the All-Star game. Activities will include charity appearances, in-game routines, autograph signings, and the opportunity to be a back-up dancer for several of the nominated recording artists.
The All-Star weekend is Feb. 12-14, with the All-Star Celebrity Game on Friday; the skills challenge, the slam dunk contest and three-point contest on Saturday; and the official NBA All-Star game on Sunday.