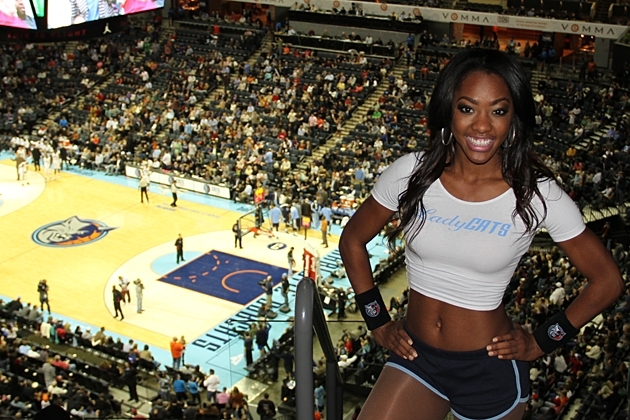 Vaughn Wilson
The Westside Gazette
February 13, 2014
CHARLOTTE, N.C. -– NBA All-Star Weekend is one of the biggest attractions in all of professional athletics. The best basketball players from the entire NBA and their fans con-verge this year on New Orleans for the annual mid-season classic. This season, for only the second time in the history of the NBA All-Star Weekend, a spirit squad was selected from the 30 dance teams that cheer on the teams throughout the regular season.
While the Charlotte Bobcats will not have a player in the All-Star festivities, they will have Shardia Washington representing the Lady Cats on the Eastern Conference All-Star Dance Team. In just her second season as a member of the team considered the best in the NBA, Washington was submitted by the Bobcats organization as one of three finalists for her team, followed by her ultimate selection to the All-Star squad by the NBA selection process.
She is a proud FAMU alum, where she earned two degrees. She graduated in 2008 with a bachelor's in Science and in 2010 she earned a master's degree in Occupational Therapy. While at FAMU, she was a member of the FAMU cheerleading squad, an experience the Jacksonville native holds dear to her heart.
"I never thought in a million years I would make a professional dance team, especially for the NBA. So just having the opportunity to come out here and represent FAMU and to represent myself, it just means a lot to me," Washington said.
She spends virtually all of her time either working, rehearsing and performing with the Lady Cats or doing community service projects. She often visits schools and reads with children in the Charlotte area as part of her community service obligations. Recognizing the impact that a positive role model can have is some-thing she learned early in life, but her involvement as a part of the Lady Cats has elevated that perspective for her.
For several years, the "Lakers Girls" were considered the top dance team in the NBA, but over the last few years, that distinction has been shifted East as Charlotte's squad was dubbed the league's best. In a market that is not as big as Los Angeles, New York or Miami, it is quite an accomplishment to be considered the top team. With that comes a complex tryout process for the Lady Cats. It's a process each dancer must endure annually to make the squad.
The historic part of her trek to New Orleans has not fully set in for Shardia, but to put it in perspective, there were three African-American women chosen for the first NBA All-Star dance team in 2007, there-fore she represents just the fourth ever to achieve the task. She credits her foundation at an HBCU with allowing her to accept the responsibility to do well on all levels.
"I definitely enjoy my life here in Charlotte as an adult, but I do miss being in college on 'The Hill' in Tallahassee. Cheer-leading in college prepared me, but not quite for the time consumption that we deal with on the professional level," she said.
Brandi Tatum, who coached Washington while she attended FAMU, was beaming with pride when she learned of the unique accomplishment. "Shardia has a very outgoing bubbly personality. She would try anything to make our squad better. She started as a base, ended as a flyer. She has an incredible outbound spirit and was humorous and able to lift people up," Tatum said.
Back home in Jacksonville, the excitement grew immediately as she informed her mother that she would be participating on the all-star dance team. "When I first told her I was selected, she screamed and she texted the entire family and I don't even know if my mom knew what the NBA All-Star game was, but she was super excited," she said.
Washington left for New Orleans on Wed., Feb. 12 and returns on Mon., Feb. 17. When she landed on Wednesday, she immediately proceeded to the Super Dome for a seven-hour rehearsal. The squad will be performing at virtually every official NBA All-Star Weekend event, so she will be limited in her time to actually soak in the environment of the bayou.
She will spend the days leading up to All-Star Sunday preparing herself physically for the dance routines, but just as importantly, mentally for what the opportunity might bring. Mega stars of the world scoop up courtside VIP seats each year, so the mental preparation to not be phased by the possible presence of Spike Lee, Lil' Wayne, Gabrielle Union, Jack Nicholson or The Carters (Jay-z, Beyonce and Blue Ivy) sitting mere feet in front of her during her performance can not be underestimated. It adds pressure to the performance from different angles. Case in point is Kimberly Gipson. Gipson was a member of the 2007 NBA All-Star dance team, now she performs regularly as one of Beyonce's main dancers. Knowing the opportunities that may evolve from her performance adds an aura of excitement, coupled with a case of anxiety.
"It's a once in a lifetime opportunity and I don't think I fully understand what it's going to be about until I step out on that court."