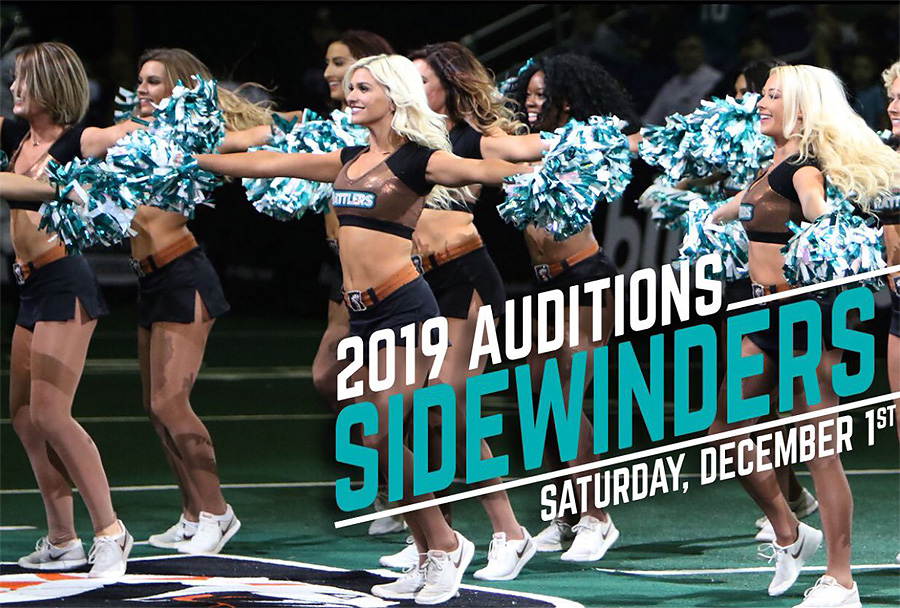 Phoenix, Ariz. – The Arizona Rattlers Sidewinders dance team will be hosting auditions for the 2019 squad on Saturday, December 1st and will be held at the Talking Stick Resort Arena.
"The current program and team members have set the bar very high," said Sidewinders Assistant Director Shelby Regier. "We are so excited to continue the positive, hardworking standard that has been set for the team and can't wait to see what next season has in store."
Registration for the auditions begin at 1:00 p.m. Applicants must be at least 18 years of age and must provide identification. There will be a $20 application fee for each applicant. This fee however, is waived for dancers who have attended a prep class. The auditions will begin at 1 p.m. Applicants should wear a half top, shorts, and either tennis shoes or dance shoes. Bare feet are not permitted.
Prior to the auditions, the Sidewinders are hosting prep classes, which are open to the public. Three more classes will be held prior to the Audition. They take place at the Talking Stick Resort Arena on Thursday, October 18th, Thursday, November 1st, and Thursday, November 15th.
"Attending one of our prep classes is the best way to prepare for auditions," stated Regier. "You will have the opportunity to learn a routine similar to what you will see on audition day, as well as get any of your questions answered by veteran team members and the directors!"
Participants in the prep classes can register at 6:00 p.m. and the classes will run from 6:30 p.m. until 9:30 p.m. There is a $20 cash only fee. Any dancer under the age of 18 must have a parent signature to participate. Classes provide the opportunity to learn and practice routines with current Sidewinders team members, along with workout and audition prep tips and tricks.
For more information please email, sidewinders@azrattlers.com or visit www.azrattlers.com.