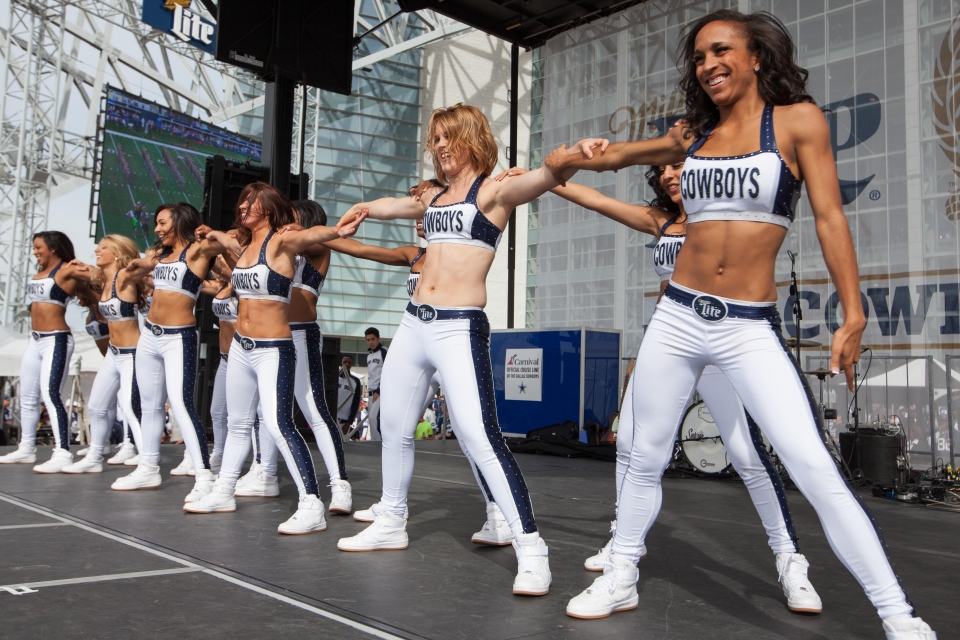 by Cheryl Callon
Theater Jones
September 2, 2015
For decades, the group associated with Dallas Cowboys entertainment was the famed cheerleaders. Lately, though, a new troupe has made a name for itself at AT&T Stadium and garnered quite a bit of attention, even if they're still somewhat unknown in certain circles. The Dallas Cowboys Rhythm & Blue is a co-ed hip-hop dance team and drumline dedicated to engaging fans when the Boys in Blue have home field advantage, and they're the only team of its kind in the NFL.
The dancers, directed by Jenny Durbin Smith, hope to reach a new set of audiences with their appearance as guest dancers for the Second Annual Dallas DanceFest. I had a chance to catch them in rehearsal, and I was impressed with the group on a number of levels.
Every single member looked as if they could do an informal performance right then. Ladies donned black leggings, a black team shirt, and boasted classy hairstyles and professional makeup. Gentlemen wore black track pants and brand new white shirts with the Cowboys' silver star and stripe.
Of course, the snazzy get-ups could've been because I was crashing the party, but it wouldn't surprise me if Durbin Smith required it every week. She runs a tight ship, but she's no dictator. Rehearsal is relaxed but disciplined, and the dancers seem to thrive in that balanced, supportive environment.
After a short conditioning warm-up led by Sammi Paradice (one of four captains), the group got to work on the piece for DanceFest. It looked like something you'd see from an elite hip-hop crew performing on television or at an international competition, with complex arm movements, frequent formation changes, and of course, fierce energy. Some sections have a stepping vibe to them, a few dancers insert robotic moves, and other segments resemble something more akin to cheerleading choreography. But there's no bubbly buoyancy or high-powered spirit fingers. The performers maintain a level of grit combined with infectious energy that will get people on their feet.
Durbin Smith, a veteran choreographer for commercial dance and sports team squads, has a keen understanding of dynamics and variety. Her eye for precision, synchronization, and visual effect likely contributed a great deal to her success in the field. The dancers seemed to pick up and retain the choreography quite easily (a prerequisite skills for the job), so the rehearsal was spent refining the details.
Another remarkable feat was the level of consistency the dancers exhibited throughout. They came to every phrase with explosive energy, even though the same eight-count may have been drilled 20 times. But what was even more extraordinary was the amount of support the 12 ladies and three men displayed. When one member nailed a part after struggling with it, the rest of the group eagerly applauded the success. When the energy began to wane, one or two would take it upon themselves to rev it back up.
Durbin Smith demonstrates that encouragement herself. Even though she's stern and commands attention, she knows how to correct in such a way to bring out the best in her dancers.
As enjoyable as it was to watch them rehearse, the most gratifying part of the evening was chatting with the dancers and director. Every single member welcomed me with a smile and a warm greeting, and they were eager to brag on each other and on the team as a whole.
TheaterJones: Why was Rhythm and Blue created?
Jenny Durbin Smith: In 2009 when Cowboys Stadium [now AT&T Stadium] opened, we had the challenge of entertaining more fans. What else from a gameday entertainment aspect could we bring? So we brainstormed and developed Rhythm and Blue, with the drumline and the dancers.
What is unique about the team?
Christen Ancona (Captain): The biggest thing that unique about us is that we're focused on hip-hop, which is something different for the sports world, especially the NFL, where teams are cheerleading-based or have more traditional [drill team] style of dance. We're so excited to be a part of the DDF, and being able to represent this genre means a lot to us.
Ariana Thompson (Captain): One of the unique things about us is family, the bond that we have here. We don't really fight, we don't get into arguments, we all get along here. It's really awesome to be dancing for a team that I love. We're a mixed group of people with different backgrounds, but we come together as one big family.
What kind of dancer do you look for at auditions?
Jenny Durbin Smith: First and foremost, I look for people who can be positive brand ambassadors for the organization. Would they represent the Cowboys name well, can they speak to our fans, can they communicate and engage and make the connection with our fans? Second, I look at dancing ability and of course, image. Also, we are blessed with really strong dancers, so you have to be able to keep up with the dancers already in uniform.
What is your favorite thing about dancing for Rhythm and Blue?
Melody Woodard: My favorite thing is getting to do something I love with some of my best friends. Dancing at the stadium is amazing, we have such great fans. It's an exciting and different environment than dancing on the stage, which is what I grew up with.
Brittany Robinson: Performing for the best fans in the nation! It's amazing, there's no other feeling like it.
Marcus Sophus: I was drawn to the team because it is eye opening and guys are allowed to dance professionally in this arena. Most guys get turned down by pro teams because it's all female, so this is going to open a lot of doors.
What are the team's plans for the future?
Jenny Durbin Smith: We perform one production a year with the drumline around Christmas time, but it's our goal to do more together this year. Also, we are trying to incorporate more breakdancing and acrobatic skills, so that's been a huge focus for us in rehearsals lately. They're doing things that many of them have never done, so everyone is going and being pushed. We set our goals and outlined what we want to achieve this year, and they're amazing because they go all in.