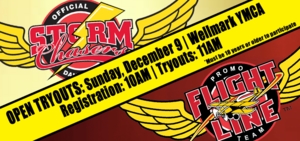 Barnstormers Announce Dance and Promo Team Tryouts
Tryout Scheduled for Sunday, December 9 at Wellmark YMCA
DES MOINES – The Iowa Barnstormers will host their annual dance team tryout on Sunday, December 9, 2018 at the Wellmark YMCA on Grand Avenue in downtown Des Moines.
This year, a joint tryout will be held for both the Storm Chasers Dance Team and the Flight Line Promo Team. This audition is open to any female 18 years of age and older who is interested in representing the Iowa Barnstormers both on-field and in the community. The Open Tryout will be held under the direction of Coaches Rebecca "Perry" Perryman (Storm Chasers) and Juli Pettit (Flight Line).
The Storm Chasers Dance Team will perform on the field at every home game both pre-game and at half-time. The Storm Chasers will also lead sideline cheers throughout each and every game. The Flight Line Promo Team assists in cheering on the team and participates in all in-game and on-field promotions throughout each game. Both teams appear at different community events throughout the year.
All participants, for both dance and promo teams, will take part in learning a short sideline pom routine that they will perform in small groups and a brief interview segment. Participants will also be judged on personality, style, and appearance. Those who are interested in the Storm Chasers Dance Team will carry on to learn a one minute choreographed dance routine from Perry which they will then perform in front of a panel of judges.
Participants are encouraged to note if they have interest in both teams.
Check in and registration will open on December 9 at 10:00 a.m. CST with the tryout beginning at 11:00 a.m. CST. All participants will be required to submit a registration payment and sign a waiver and release form. Pre-registration will cost $20 with day-of registration fees increasing to $30 per participant. Pre-registration is now open, forms can be found online and printed from the Iowa Barnstormers website.
Forms for the Storm Chasers Dance Team Tryout can be found here.
Forms for the Flight Line Promo Team Tryout can be found here.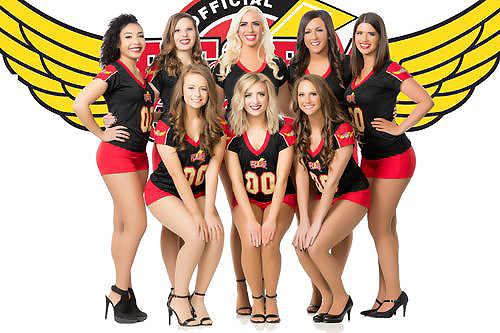 Those interested in both teams will only need to complete the Storm Chasers Tryout form.
Those who have questions about the Storm Chasers Dance Team, Flight Line Promo Team, or what to expect at the tryout can contact Juli Pettit in the Iowa Barnstormers front office at 515-564-8457 or e-mail julipettit@theiowabarnstormers.com.
DETAILS:
What: 2019 Storm Chasers Dance Team and Flight Line Promo Team Tryouts
Who: Women 18 years or older by December 9, 2018
When: Sunday, December 9, 2018 (Registration: 10:00 a.m., tryouts begin at 11:00 a.m. CST)
Where: Wellmark YMCA, 501 Grand Ave., Des Moines, IA 50309 (Group Exercise Room)
Cost: Pre-registration: $20.00, day-of: $30.00
Attire: Cropped dance or athletic top (mid-drift must be showing), hot pants or shorts, skin-toned tights or hose, dance sneakers, jazz shoes, or sneakers, performance ready hair and makeup.
Season Tickets for the Iowa Barnstormers 2019 season are on sale now for as low as $80 per seat. Call the Barnstormers front office at (515) 633-2255 or log on to www.theiowabarnstormers.com for more information.