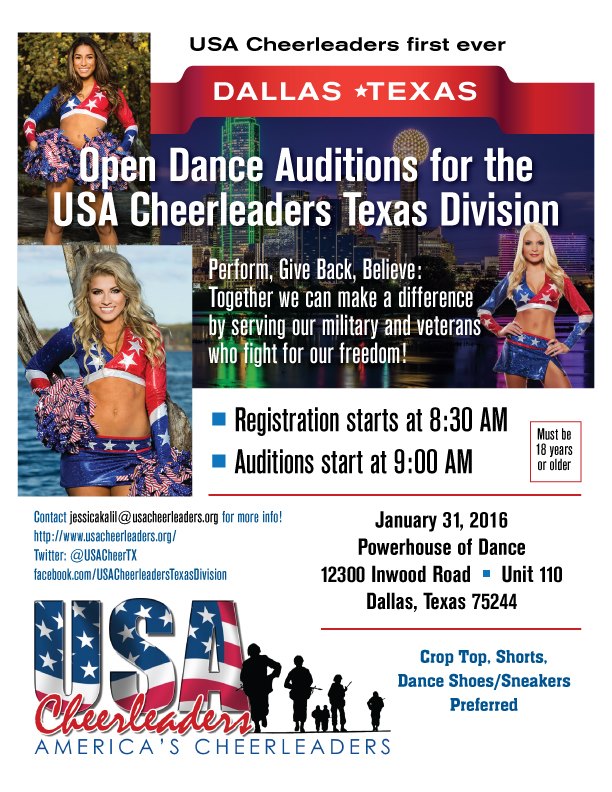 The First Year Auditions for the Inaugural Year of the USA Cheerleaders Texas Division
Dallas, Texas— USA Cheerleaders, a national organization committed to supporting the United States military, veterans and their families, will launch the Texas Division with open auditions on Sunday, January 31. This is the inaugural year for the Texas Division, headed by Former Dallas Cowboys cheerleader and NY Jets cheerleader, Jessica Kalil, who cheered for the USA Cheerleaders New York Division before moving to Texas.
The one-day auditions will be held at the Power House of Dance on Inwood Road on Sunday, January 31. The auditions are an opportunity for anyone who meets the requirements (see below) to cheer for the first year USA Cheerleaders Texas Division.
"USA Cheerleaders is an incredible group of women that give back to our service members," said Kalil. "Not only will the team perform for military, veterans and their families in Texas, they will also assist in fundraising, writing letters and preparing care packages for our heroes."
The USA Cheerleaders are a dedicated group of professional cheerleaders with steadfast respect for the service men and women, veterans, their families and the United States. USA Cheerleaders honor American heroes, past, present and future with a determined sense of patriotic duty.
ABOUT THE USA CHEERLEADERS TEXAS DIVISION OPEN AUDITIONS
WHAT: One-day audition where candidates will perform a short freestyle dance before learning a dance routine and performing in front of a panel of judges. Visit facebook.com/USACheerleadersTexasDivision for more details.
WHEN: Sunday, January 31, 2015
9:00 AM to 1:00 PM (registration begins at 8:30 AM)
WHERE: Power House of Dance
12300 Inwood Road, Suite 124
Dallas, Texas 75244
REQUIREMENTS:
– Candidates must be 18 years of age by March, 2016
– Dance techniques: Double Turns, High Kicks, Splits,
– Other dance tricks preferred
– Cheer, tumbling, stunting skills a plus