New (to us) on Twitter
New (to us) on Facebook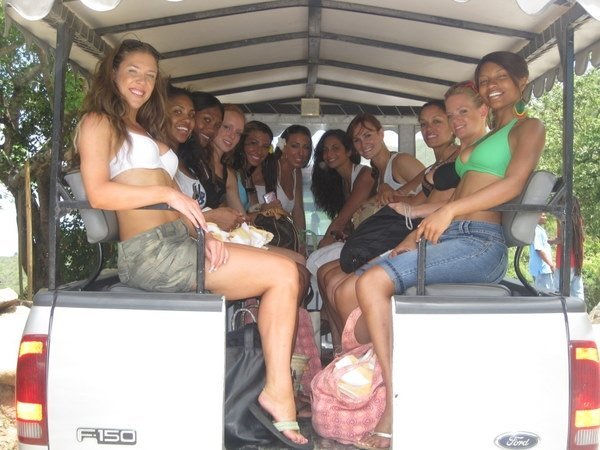 The Wizard Girls in the British Virgin Islands for their Calendar Shoot.
New Blogs
Contributor David Tyau has his own blog featuring the San Diego Charger Girls at TheHottestDanceTeam.wordpress.com
New Video
Behind the Scenes at the Spurs Silver Dancers Photo Shoot
Latest Auditions Dates
NBDL Dance Teams

Austin Toros Capital City Dancers (Saturday, September 19th)
Erie BayHawks Dance Team (Sunday, September 20th)
Springfield (Mass) Armorettes (Saturday, September 19th)
NISL Dance Teams
Milwaukee Wave Dance Team (Saturday, October 10th)
NLL Dance Teams
Boston Blazers Sparks Dance Team (Sunday, September 27th)
Calgary Roughnecks Drill Crew (Monday, September 28th)
Minnesota Swarm Performance Team (Saturday, October 24th)
Rochester Knightingales (Saturday, September 19th)
AIFA Dance Teams
DC Body Armor (Saturday, October 10th)
IFL Dance Teams
Wichita Wild Things (Saturday, November 1st)
UNGL Cheerleaders/Dancers Auditions
Ohio Regional Auditions (OH, VA, NC & FL) (Sunday, October 18th)
Bonus Dance Opportunity
LaVar Arrington's restaurant The Sideline in Largo, Maryland is looking for professional dancers for the Sideline Divas dance team.
REQUIREMENTS
MUST BE AT LEAST 21 YEARS OF AGE AT THE TIME OF AUDITIONS
MUST BE A HIGH SCHOOL GRADUATE OR HAVE A G.E.D.
MUST HAVE A FULL/PART JOB.
MUST HAVE A 2 MINUTE ROUTINE (IF YOU WANT MUSIC BRING YOUR OWN).
PLEASE WEAR A HALF TOP OR SPORTS BRA, FORM FITTING JAZZ PANTS OR SHORTS ARE PREFERRED.
HAIR SHOULD BE DOWN AND MAKE UP SHOULD BE DONE.
GREAT PERSONALITY.
AUDITION INFORMATION
FIRST ROUND
WHEN: SATURDAY 26, 2009
WHERE: THE SIDELINE
880 CAPITAL CENTRE BLVD
UPPER MARLBORO, MD 20744
TIME: REGISTRATION BEGINS AT 11:00 AM
AUDITIONS END AT 6:00 PM
**DURING THIS TIME DANCERS WILL MEET THE JUDGES, HAVE INTERVIEWS, SHOW A ROUTINE AND BE GIVEN A DATE ON WHEN TO COME BACK.
WHAT YOU NEED TO BRING………….
VALID DRIVERS LICENSE
REGISTRATION FEE IS $10 (CASH ONLY)
PROFESSIONAL HEAD & BODY SHOTS
DANCE RESUME WITH REFERENCES