Charity gets asked, "Where's Waldo?" all the time. And she knows the precise answer, "I say it's between Delaware and Marion."
The reason Charity gets asked "Where's Waldo?" so much, is because the member of the MLL's Ohio Dance Machine is from the town of Waldo, Ohio. So when Charity tells people she is from Waldo, she often hears the standard "Where's Waldo?" pseudo-question. "I usually laugh, because I do hear it a lot, but it's still funny. I like that they make that connection. Sometimes my automatic response, even though I understand the joke, I say, 'It's between Delaware and Marion,' because that helps people locate where it is. And they say, 'Wait, do you get it? The joke?' So they get a little confused, and I say, 'No, I get it.'"
And a frequent answer to the question, "Where's Charity?" is "Dancing." As far as dance, Charity explains, "I started when I was four. My sister danced, so I've just been dancing at Douce Dance Studio since I was little. And I love it!" During the 2014 season, the ever-smiling Charity kindly spent time with UltimateCheerleaders so we could learn more about where Charity has been, and what the future may hold.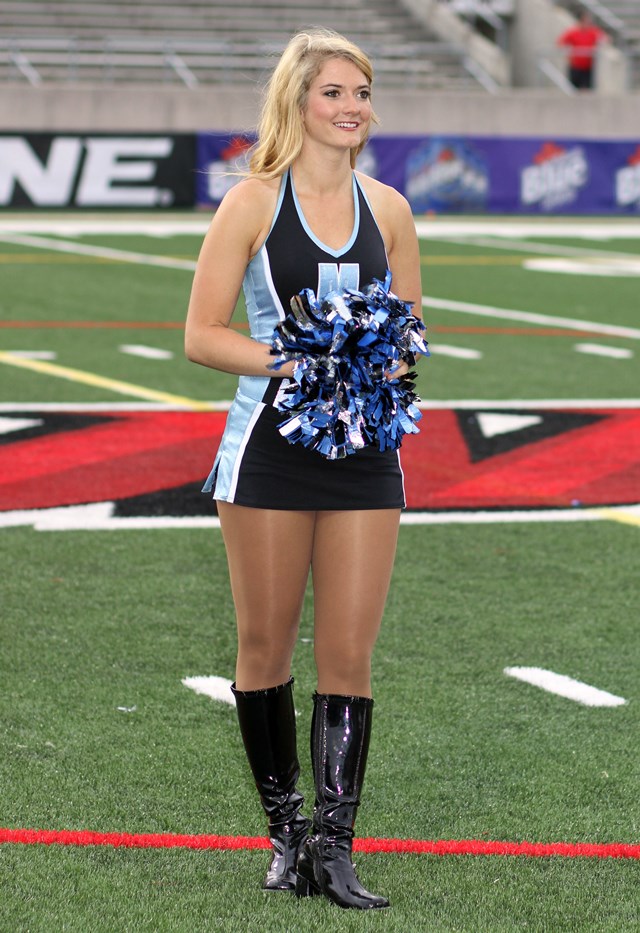 The Ohio Dance Machine is the first sidelines cheer role for Charity. "Before that I've only danced. I played violin and trumpet, but I quit all that when I went to high school. I just focused on dance."
Charity's dance support begins at home. "My mom's always has been there for me, for all dance. And she's really supportive of anything I do, and she never misses any performances. She's been to every single one I've ever done. My family's very supportive of dance."
Like much of the Ohio Dance Machine, Charity has a Capital University connection. Charity graduated last May from Capital with a degree in Exercise Science, and she says, "There's a dance group there called Orchesis and one of the girls that was on the team last year was in Orchesis and she posted it on the page, and someone saw it. So I went to try out."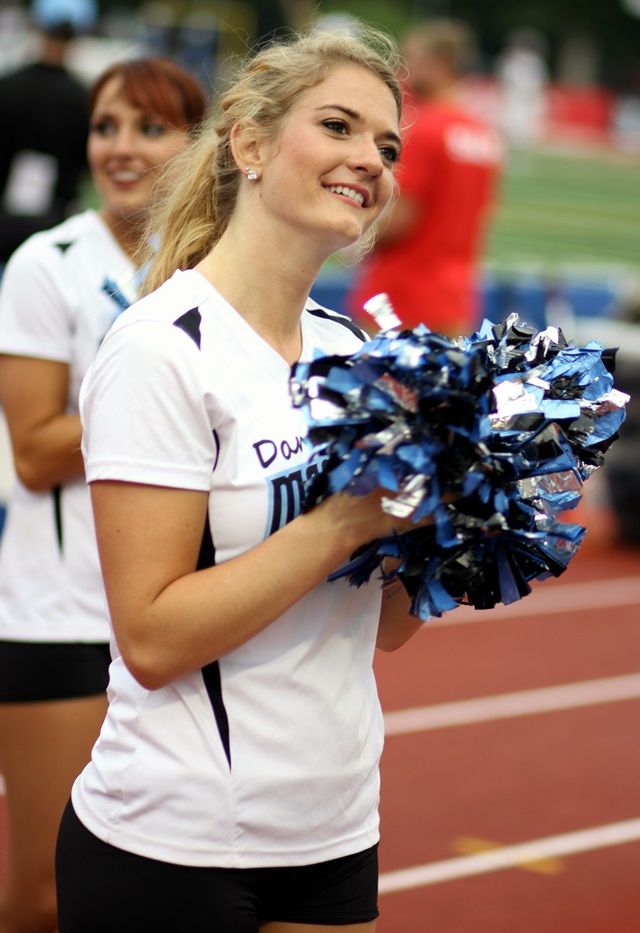 And third year veteran Charity found a sidelines home with Major League Lacrosse's Ohio Machine, "I really like it. I like that I can still dance. And it's not just dancing in the room, but I actually to perform, and show people what I've learned. And plus, the girls made me want to come back more, because I really like all of them."
So Charity, if you were in charge of picking a location to take your teammates on a Ohio Dance Machine Calendar shoot, where would you pick? "I would want to pick different locations," Charity replies, "but if I had to pick one, Colorado's pretty nice, because of the mountains, and you can have different looking backgrounds in the same area."
Asked about what her dream job would be, Charity made it all about giving to others. "I don't really know my dream job. I just like helping people, that sounds weird, but I just really like to help, somehow." Not weird at all Charity! Charity's enjoyment of anatomy and physiology lead her to exercise science, and she would like to use her knowledge to assist others, like going into a field such as occupational therapy. "That's why occupational therapy is really awesome, because it helps you live your daily life better.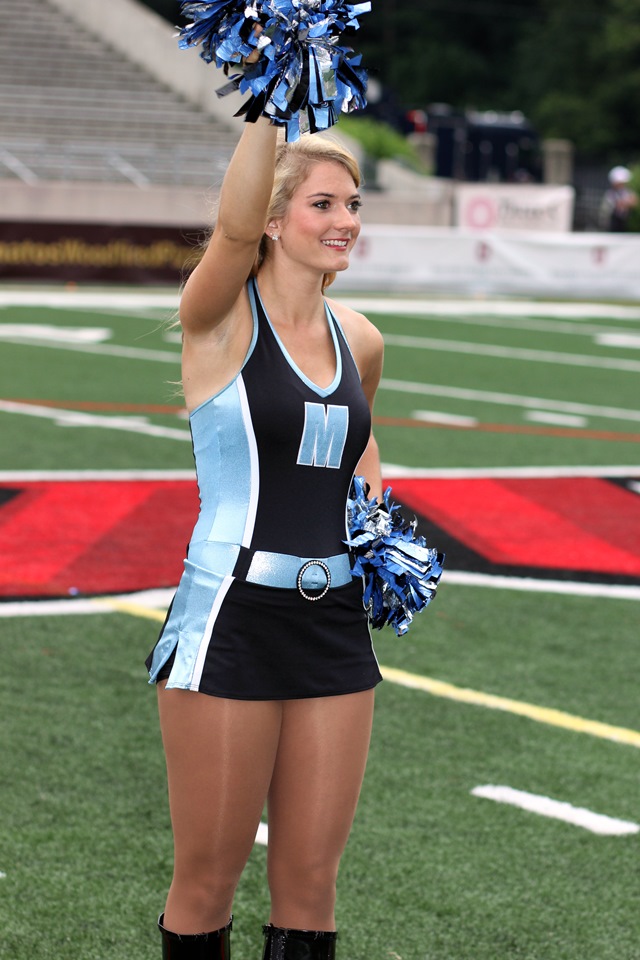 Charity has worked as a personal care assistant in a retirement home and really liked it a lot. Charity values time spent with the senior generation, saying, "Learning their lessons through life, they have a lot of wisdom to teach us, and help us with our decisions; to just mentor us. And I think it's important to help them too, because sometimes they might get lonely because they're not around their family at the retirement home. So just going in and talking with them really helps them, plus you learn from their past, and I like that."
And Charity's past has some great memories already. Charity liked growing up in small Waldo, with her parents and her older sister, plus "My friends, who are down the road from me. They have eight kids in their family. And they have some of my best friends in their family. So it's nice being able to hang out with all of them."
Charity also loved her time at Capital University, which is kind of the opposite of Ohio State. "It would take me maybe four minutes to get to my farthest class, if I left my room, so I loved how small Capital is. My biggest class was under thirty. So that was nice, you knew the professors a lot better.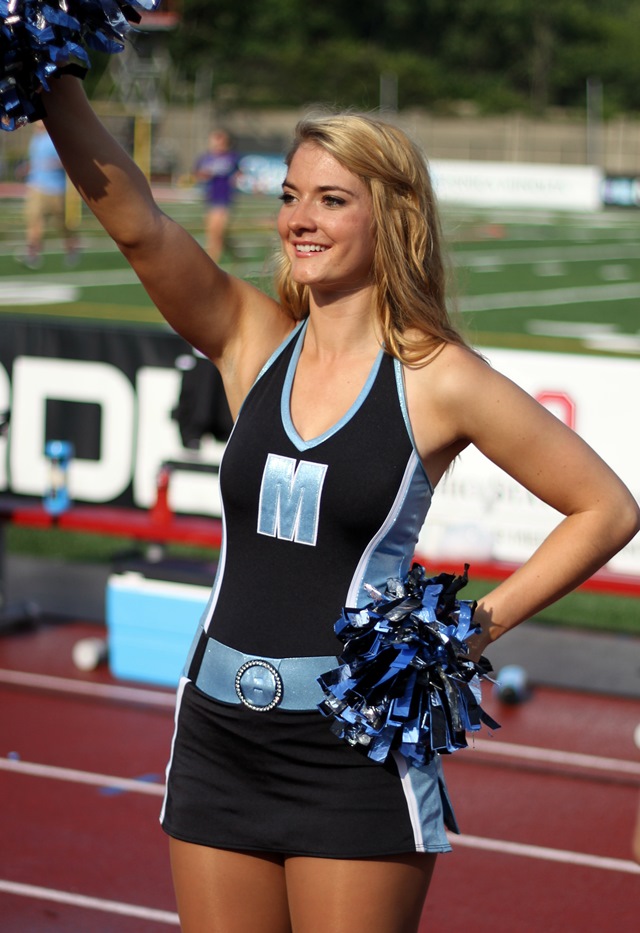 On Saturday, July 25, the Ohio Machine hosts the Boston Cannons at Selby Stadium on Fan Appreciation Night. It is the final regular season home game for the Machine before beginning its playoff run. The Ohio Dance Machine will be there too, and we appreciate sweet Charity's lovely spirit, love of dance, and concern for others. Wherever Waldo is, it creates some really special people.
Thanks so much to Charity for spending time with UltimateCheerleaders last season, and the support of the Ohio Machine franchise. More photos of Charity from 2014 are at this link.