By Sunni Upal
The Daily Mail
October 1, 2015
The NFL is returning to London this year with three International Series contests and the Miami Dolphins cheerleaders arrived ahead of Sunday's game. The Dolphins take on the New York Jets on Sunday afternoon in an intense AFC East divisional match at Wembley Stadium. Both teams arrive in the UK on Friday for their grudge match, but the Dolphins cheerleaders headed over a tad earlier to soak up the city.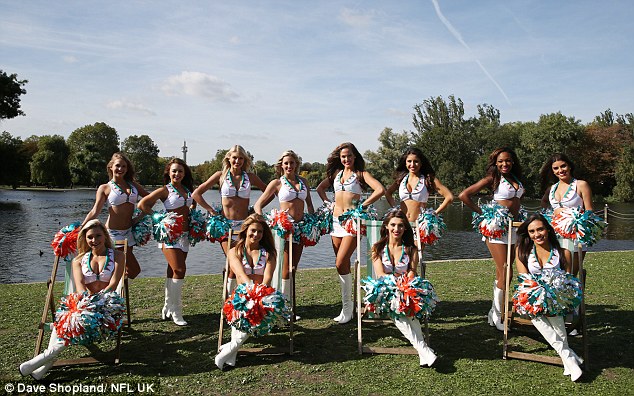 The Miami Dolphins cheerleaders arrived in London ahead of the game against the New York Jets on Sunday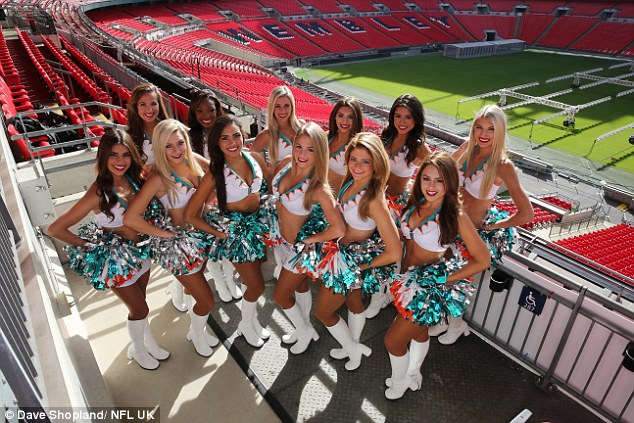 The Dolphins cheerleaders visited Wembley Stadium – the venue for Sunday's AFC East showdown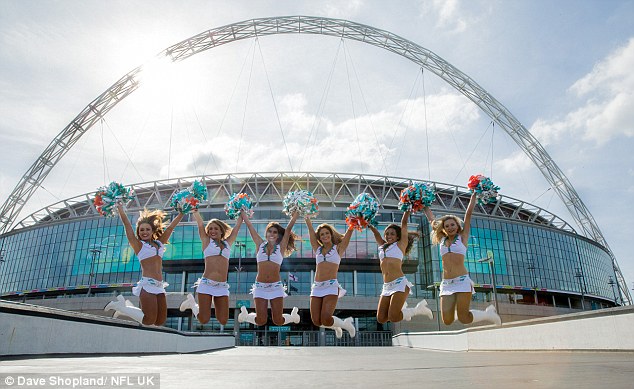 Miami cheerleaders posed outside Wembley ahead of the first International Series game in 2015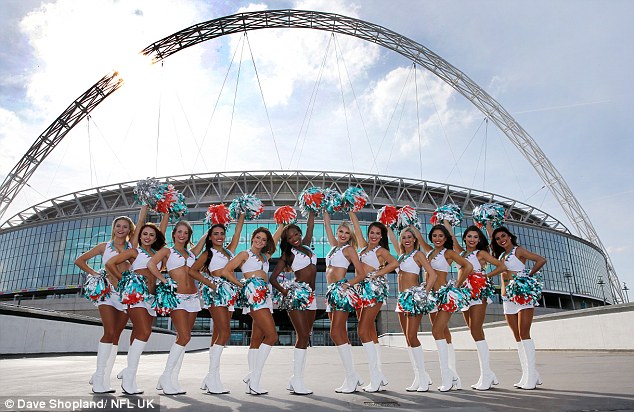 The Dolphins will take on the New York Jets on Sunday under the Wembley arch in north London
The cheerleaders visited Wembley ahead of Sunday's game and also spent some time at Regent's Park in nearby north London. They also visited Abbey Road, the scene of the famous zebra-crossing photo taken by the Beatles. Many of the cheerleading squad will have never performed outside of the United States before, let alone Florida, but they will be providing some entertainment on Sunday for the expected crowd of over 80,000.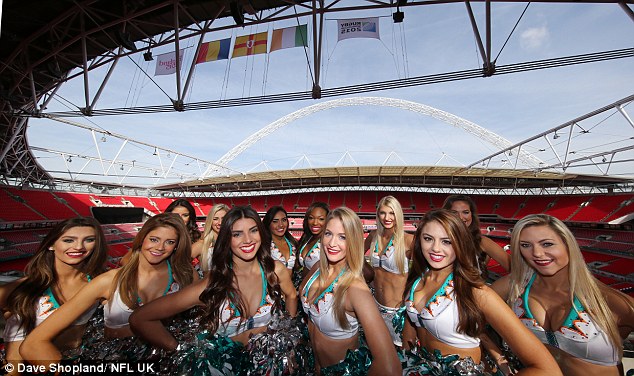 Miami Dolphins cheerleaders at Wembley Stadium in the lead up to Sunday's game against the Jets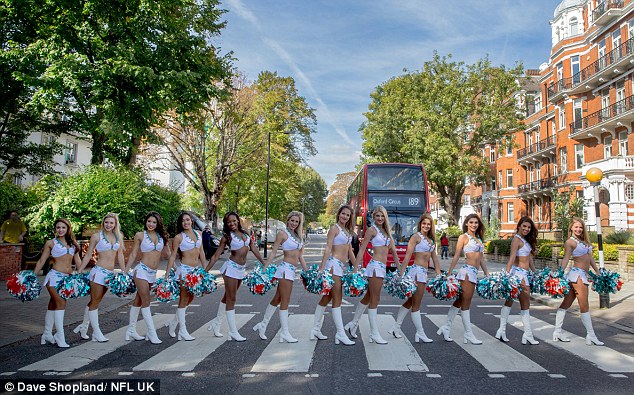 The cheerleaders went to Abbey Road and shot their own version of the iconic Beatles picture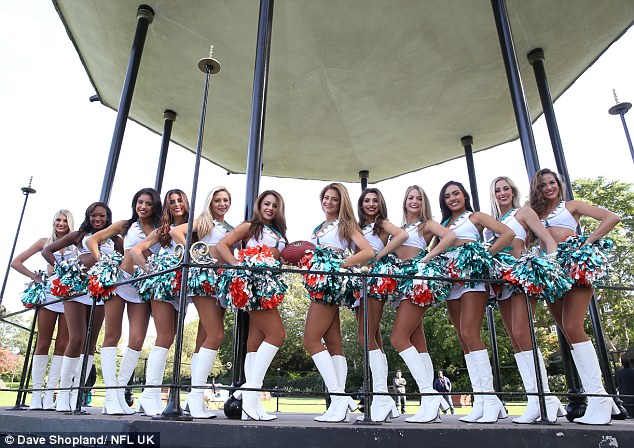 The Dolphins cheerleaders pictured in Regent's Park on Wednesday after arriving in London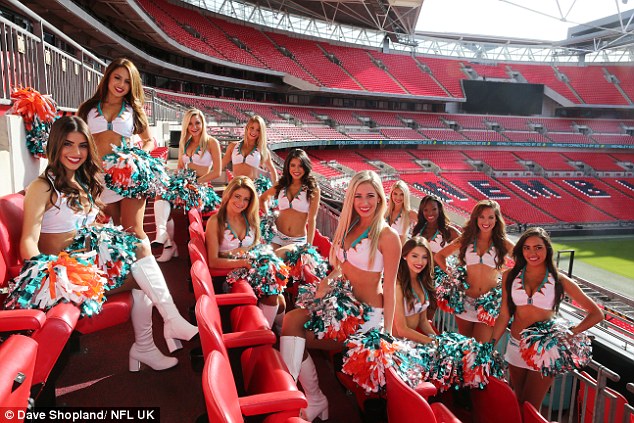 The group pose for a photo at Wembley Stadium, the venue for Sunday's American football contest
Although the Dolphins came to London last season, they were the designated away team which meant their cheerleaders did not perform at Wembley as the Oakland Raiders did instead. Come Sunday, the Dolphins will be banking on the support of their UK-based fans and cheerleaders to help them beat their divisional rivals after starting the season with two losses from their opening three games. The players themselves will practice at Saracens' Allianz Park on Friday having flown overnight from the United States straight after their practice on Thursday.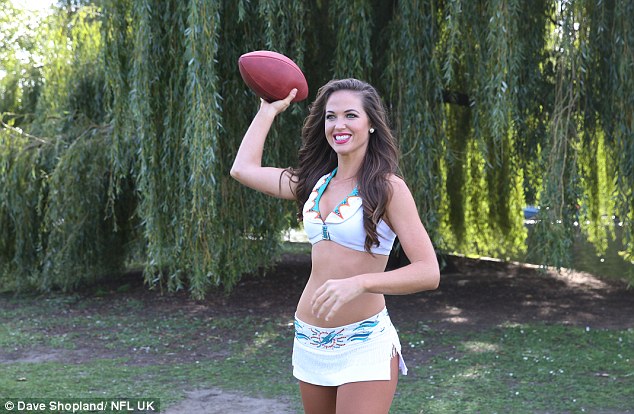 Kristina from the Dolphins cheerleaders practices her skills at quarterback in Regent's Park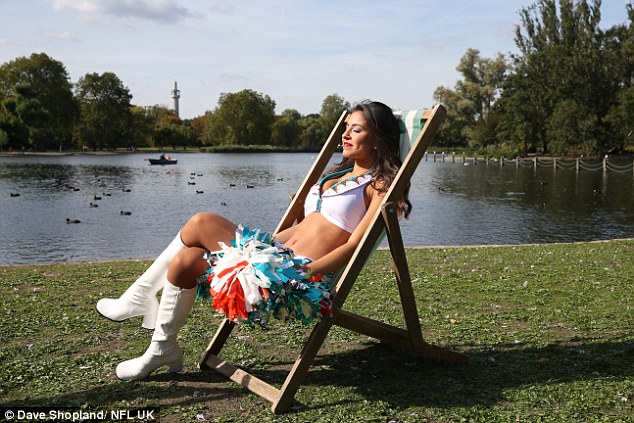 Jessica from the Miami Dolphins cheerleaders relaxes at Regent's Park on Wednesday