Here's the latest on the City Girls, from their director Lisa Sonberg:
Orlando City Soccer is a new team to Orlando bringing a professional soccer team to the mix of professional sports teams to the area (Arena football and the NBA are other pro teams of particular status). OCS is a USL team (United Soccer League) with a huge fan base after only one season. We were the USL "champions" our first season and we are looking to be an MLS expansion team by 2013. A huge, but very likely, advancement.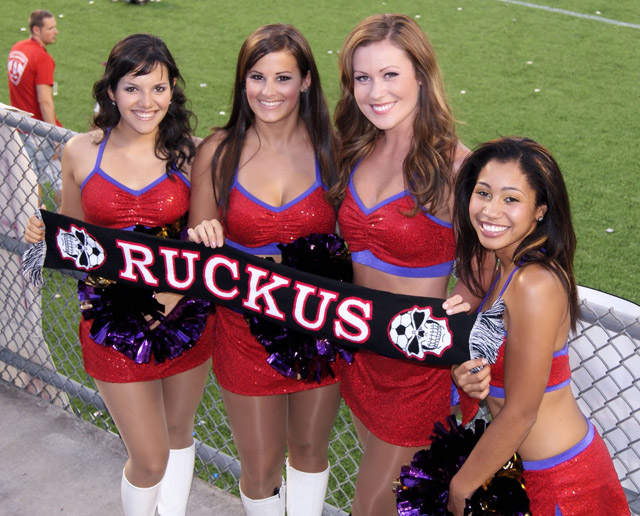 Our City Girls are not only dancers, but ambassadors to the team and have been involved in the community with appearances to charity events and and team functions to support our players.
Last season, being a new team, we had very little turn out to our dance team auditions. The team was comprised of 12 dancers. Our goal was 16. Every dancer was committed to our effort to make Orlando City soccer a "name" in the community. We rounded out the 2011 season with an offer to represent our girls in the Hank Williams Jr "Monday Night Football" pre-game video played for all the NFL games. Unfortunately, after only 2 showings, the commercial was cancelled. It was a great experience and exposure for the girls none-the-less.
We had a turn out of about 30 girls for our preliminary auditions this year (held at the Center for Contemporary Dance, a City Girl sponsor for rehearsal space, on February 4th). Preliminaries consisted of a $25 entry fee, an application highlighting prior experience, commitment level, and a "head shot". On arrival, the girls learned an across the floor combination and a short pom routine. After which, a cut was made, and another, more technical dance was taught. Finalists were announced after all had performed (20 progressed to finals round).
Finalists were required to present to the OCS office for interviews with the owner and director of community relations, Kay Rawlins, myself (Lisa Sonberg-director) and co director Peggy Bertwell Williams. The applicants learned about the club and the "vision" of OCS. They were able to ask questions about the team and were asked questions about prior dance experience and commitment level.
Finals were held at Mojo Bar and Grill (an OCS sponsor) on Feb 12th. We had 6 judges: 2 from the "Monsters in the Morning" local radio show, our assistant head soccer coach Ian Fuller, Mitch Doran (Office Furniture Outlet- another City Girl Sponsor), myself and Peggy (the City Girls directors). Finalist performed in Groups of 2 and were able to perform 2 dances (one pom and one technical). The dancers were also able to choreograph 2, 8 counts of their own to highlight individual talent.
After all had performed, the judges deliberated while a dance contest was held comprised of participants in the crowd.
The 2012 City Girls were announced and given OCS t-shirts, a rose, and OCS paraphernalia (temporary tattoos and window decals). Photos were taken of our newest ambassadors.
Karla-veteran
Kristin- veteran
Dominique-veteran
Debbie-rookie
Niki-veteran
Mippi-veteran
Amy-rookie
Renee-veteran
Melissa-rookie
Sasha-rookie
Taylor-rookie
Chelsea-rookie
Brenda-rookie
Ashley-rookie
http://www.facebook.com/#!/OrlandoCityGirls
www.orlandocitysoccer.com
Orlando City Soccer holds their dance team auditions in January or February each year for their upcoming season. Please contact Lisa Sonberg Lnorred@hotmail.com for more information regarding auditioning for the team.