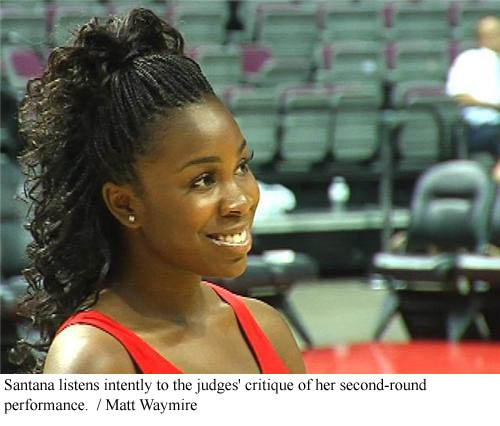 Dancing Towards a Dream: Part One
By Matt Waymire
< "http://www.connectmidmichigan.com/sports/sports_story.aspx?id=329161">Connect Mid Michigan
July 25, 2009
[photos]
AUBURN HILLS — There are those who can dance, and there are those who were seemingly born to dance. And it's easy to see which category Flint Northern alum Santana White falls under.
"I've been dancing since I was two around the house," said the 24 year-old White. "Christmas-time I would gather my family together, everybody would watch me dance. So, it comes naturally. The last two years of high school, I decided to try out for Majorettes. We called ourselves the best band in the land, basically. We won a lot of competitions."
"It was a great joy, it was really, along with other parents," added Diana White, Santana's mother. "And I even was a band booster, so I traveled along with the band, and was heavily involved in their activities. And it makes you as a parent, proud. 'Cause you want to be supportive of your children."
And just like her daughter's days in high school, there was Diana in the stands for Tuesday's auditions…and it didn't take long for mother and daughter to see the daunting competition that lay ahead. Altogether, there were nearly 150 young women auditioning for a mere 15 openings. And thus began a long, grueling day.
"In order to be able to dance at the level that they're dancing at, for this professional team, they have to be physically fit," said Rebecca Girard, Dance Team Director for Automotion. "You have to be able to endure through the tough choreography, and it's so much harder than people think it is. So, athleticism and physical fitness are really key components."
But there was another key trait to be displayed, as well: the ability to learn quickly, VERY quickly. The girls were taught an intricate dance routine which they would have to perform individually in front of judges.
After a number of run-throughs, it was Santana's turn to step to the plate and perform the routine, which would determine whether contestant number 484 would survive the day's first round of cuts.
"It was challenging but, you have to learn it so quick when you're just…you're trying to look like you're smiling and enjoying it, and still remembering the steps," said Santana. "It was challenging, but fun. I'm just praying and hoping for the best, I'm not sure. A lot of talented young ladies here, we'll see."
After a brief time to relax, Santana and the other ladies learned their immediate fate through a simple piece of paper, which contained the numbers (484) Santana was hoping to see.
Coming up in our next installment, we'll see how Santana fares in the second round of auditions, and also learn more about what it takes to become a member of the Automotion dance team.
---
Dancing Towards a Dream: Part Two
By Matt Waymire
< "http://www.connectmidmichigan.com/sports/sports_story.aspx?id=329304">Connect Mid Michigan
July 26, 2009
[photos]
AUBURN HILLS — In part one of our feature, we met Flint native Santana White, who made it through the first round of cuts in her quest to become a member of the Detroit Pistons' Dance Team "Automotion."
So it may surprise you to find out that Santana hasn't danced in front of a crowd in nearly three years. So how in the world did she shake off all that rust?
"I just pulled out my Michael Jackson greatest hits, Beyonce and all that, and just started dancing around the house," said a smiling Santana. "It's natural to me, but of course I'm still nervous. But dancing…you can either dance or you can't, usually. That's how it goes."
But make no mistake, Santana's been plenty the past three years, working as a promotional model for companies like Mattel and Sirius/XM Satellite Radio. And as it turns out, her work in this avenue directly corrolates to the numerous other traits that an Automotion dancer must possess.
"Number one, they have to be great ambassadors, and really in touch with the public relations and the community service aspect of the job," said Dance Team Director Rebecca Girard. "So dancing is almost secondary really, if you think about it. But they need to have great personal business skills."
That aspect of the audition took place on day two, but first thing's first. Santana needs to survive two more cuts of dancing tryouts on day one…and the routines only became more demanding, and more complex.
Though she struggled at times in front of the judges, Santana still put forth a solid effort, and she anxiously awaited her individual critique.
"484 (Santana's number), I need some confidence from you, as well, but a smile on your face," said Tricia Crawford, an Automotion choreographer. "Also, watch some of your arm placements. Sometimes they're being thrown there instead of placed there, so really watch your arm placement. Then separate your styles a little bit more. Jazz kinda looked the same as hip-hop, and vice-versa. So try and separate the two different styles."
After waiting over an hour, the numbers of the girls who advanced were finally announced. But unfortunately, the number 484 was not among those called.
With that, Santana's Automotion journey came to an end. She was obviously disappointed, but the positives still far outweighed the negatives.
"It was a good experience, even though it didn't, you know…the results I didn't get that I wanted, but it was a good experience," said Santana. "I haven't danced in a long time, so…it was fun. I got to meet interesting girls, and it was an interesting experience."
So even though her goal of joining Automotion is put on hold for now, Santana believes she will be dancing somewhere in the very near future…and gearing up for the 2010 Automotion tryouts all the while.