UPDATE!
The people have spoken! Or at least a couple several quite a few people have spoken. Some quite loudly. Just some friends and relatives (who shall remain anonymous) making sure their loved ones get the appropriate props, and I can't blame them.
Clearly I'm not the only one who thought "You think you can keep us in the dark, DCC? I think not. I'll have the answers before the sun sets on your pretty white boots tonight. Mwahahahahahahaha…."
One of my newbies was incorrect, and the three missing DCCs have been identified. This is about as "confirmed" as it's going to get until the show airs. The bottom part of this post has been corrected so scroooooooll down.
---
UltimateCheerleaders.com exclusive! Eh…not really. The "official" team announcement will not be made until this season's "Making the Team" airs. However, the team was announced last night, and the internet being what it is, the names of those who made the team won't be secret for long. It just takes a little rudimentary detective work. Having said that….
Spoiler Alert! Avert your eyes! Scroll away from here!
(Is that enough of a warning? I really hope this is the last time I have to post that this season, because it is starting to annoy me.~ sasha)
Veteran DCC Jasmine posted this photo on her twitter account. Jasmine knows how to keep a fan in the loop, is all I'm saying. She isn't one of "my girls," but if I knew her, I feel certain she would be.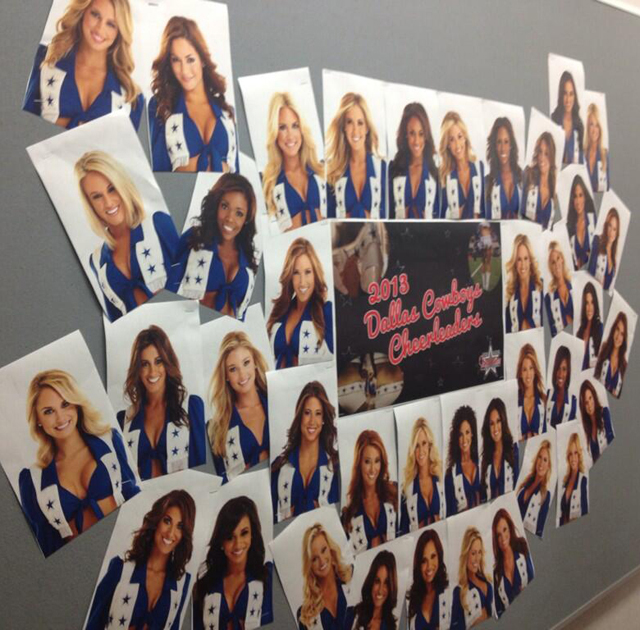 All but two of the newbies are on the righthand side of the photo, so it's not much of a clue, but it's something to work with.
39 cheerleaders were chosen for this year's team.
If you are obsessed with the show, or like myself, someone who views secrets like "who made the team" as something of a challenge, you will know that three veterans were cut at finals this year (Colin, Kali, and Teri). Two more left during training camp. (According to my sources, Chelsea was cut and Courtney was kidnapped by aliens. Or something.) This year's team consists of 27 veterans and 12 rookies. These 9 rookies are pretty solid. I haven't found out who the other three are. I'll make additions/corrections as I learn more.
Veterans (pre 2013 headshots):

Noobs UPDATED