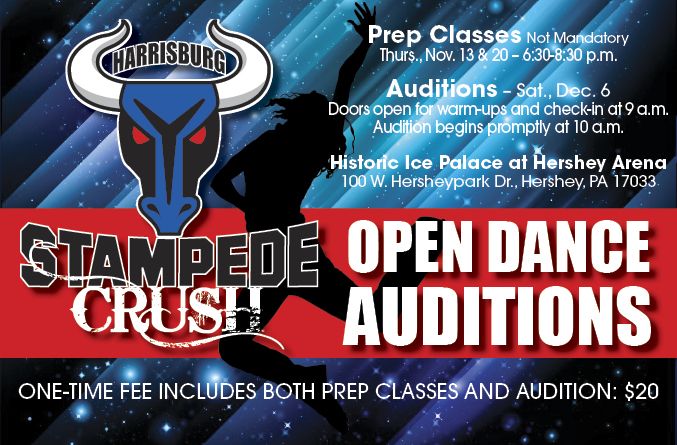 The Harrisburg Stampede's "Crush" Dance Team is seeking beautiful, physically fit women with energy, dance ability and charisma to represent the Stampede in the community and perform during home games at the Giant Center.
Audition location: Historic Ice Palace at HersheyPark Arena
Date: Saturday, December 6, 2014
Time: 9:00 a.m.
Attire: 2-piece audition outfit (sports bra and dance trunks/briefs or shorts) and performance-ready hair and makeup.
Interested candidates can learn more by attending Crush prep classes, which are designed to help applicants feel more confident during the audition. Prep classes allow potential candidates to learn the different dance styles incorporated into Crush's season performances. The environment is supportive and non-competitive. Participants will be exposed to new choreography each week and will have the opportunity to participate in Q&A sessions with Crush Director Julia Powers.
Prep Class Location: Historic Ice Palace at HersheyPark Arena
Dates: Thursday, November 13 and Thursday, November 20
Time: 6:30-8:30 p.m.
Attire: 2-piece workout attire
Fee: $20 (includes admittance to both prep classes and audition)
Requirements:
Must be at least 18 by 12/6/14 and have a high school diploma or GED
Complete online registration process at www.harrisburgstampede.com
Bring photo ID, non-returnable picture and water
Auditions are CLOSED to the public
This is your chance to:
Perform at the Giant Center in front of thousands of fans
Model for photo and calendar shoots
Attract local media attention
Represent the Stampede at community and charity events
Dance for a championship-caliber team
Meet new people and make lifelong friends
To learn more and pre-register, visit www.harrisburgstampede.com/crush/
For questions, email julialpowers@gmail.com
View 2014 Crush performances on YouTube by visiting their YouTube Channel