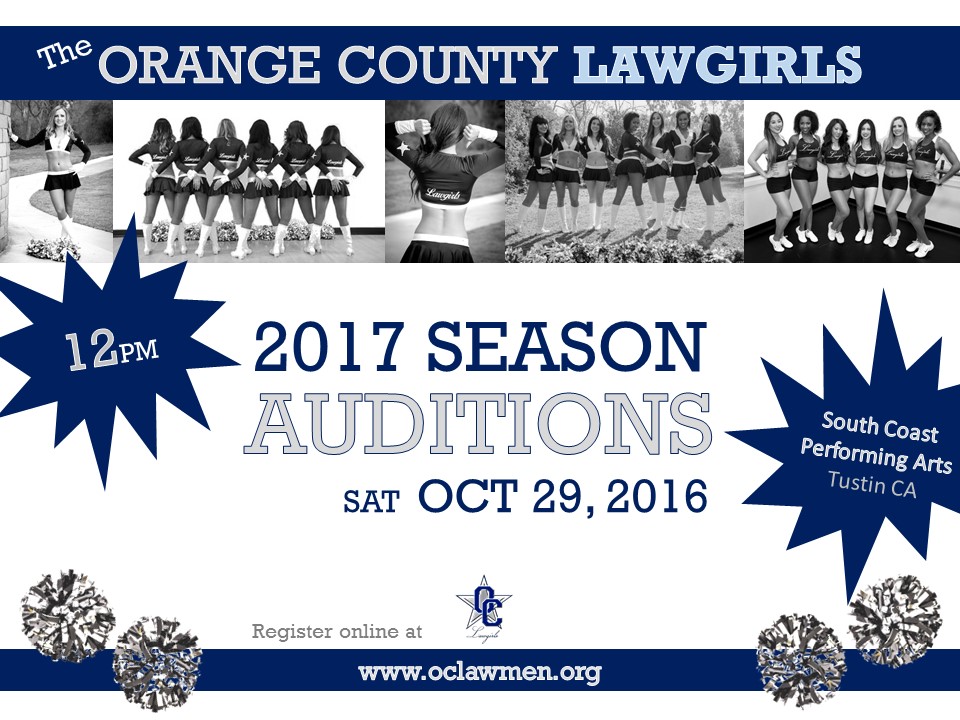 Want to be a Lawgirl? Being a Lawgirl is about being an ambassador to the community, entertaining people at public and charity events and, of course, DANCING!  We are looking for talented and outgoing dancers that want to help us continue to build a tradition of excellence, both on and off the field.  If this is you, please sign up to audition for the 2017 team!
The 2017 Lawgirls LAST CHANCE auditions are set for Saturday, October 29, 2016 at South Coast Performing Arts Studio (14711 Bentley Circle, Unit A, Tustin, CA 92780).

Check-in at 12 pm
.  Audition will begins promptly at 12:30pm
Cost to audition is $15
(Online Pre-Registration) / $20 (Same day walk-up Registration) and can be paid by clicking on the PayPal button below AFTER YOU FILL OUT THE REGISTRATION FORM ON OUR WEBSITE (
http://www.oclawmen.org/oc-lawgirls.html
).  Register TODAY by filling out the form below! Same day walk-up applicants accepted.
Requirements:
-Must be 18 years or older on October 29, 2016
-Must have a flexible schedule for rehearsals, games and appearances
-A commitment to the team is required for 1 year
-A 5×7 or larger photo (head shot or full body) photo is required. (photo will not be returned)
Audition Attire – Crop top. shorts/briefs, skin-toned nylons, jazz or athletic shoes, hair down, make-up done.
For further information, contact Dance Team Director, Michele Aurelio at michelen.aurelio@hotmail.com.
We look forward to seeing you there!