By Phillip Ramati
Macon.com
May 2, 2014
Alexa Gregory has danced nearly her entire life. However, it's a safe bet that she's never danced on as big of a stage as she will this fall.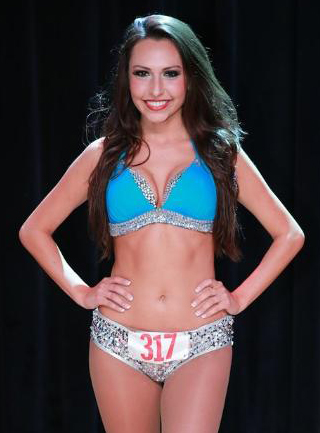 As a new member of the Atlanta Falcons cheerleaders, Gregory, 21, a graduate of Mount de Sales Academy, will be dancing in front of nearly 75,000 fans at the Georgia Dome — and millions more on television — when she takes to the sidelines this fall.
"I've never performed in front of that many people," Gregory said Friday with a laugh. "But it's something exciting to look forward to."
Gregory nearly made the cheerleading squad last season, but she fell just short. But over the past week, Gregory was one of the 36 dancers who stood out among nearly 200 women who auditioned.
Gregory said the audition was a grueling process in which the dancers had to learn routines, survive the early cuts, then be interviewed before the final round of dancing.
Chato Hendrix, the cheerleading team's coordinator, said Gregory managed to stand out among so many.
"She had a great performance," Hendrix said. "She did exceptionally well in the interview, which is 50 percent (of the criteria). She had great showmanship. We really thought she would be an asset to our team."
Gregory, a senior at Georgia College in Milledgeville, is majoring in biology. She said she hopes to become a physician's assistant. Gregory said the Falcons require cheerleaders to be either employed in a full-time job or be a full-time student.
"They're always looking out for your best interests," Gregory said. "They want women who have something in their lives besides the Atlanta Falcons."
She said she's not worried about time conflicts between her studies and the team because the Falcons know all the dancers have full-time jobs or are in school, so they plan their schedule accordingly.
While Gregory has never before been a cheerleader, she said she's danced competitively throughout middle and high school. She said she had a feel for what she needed to do during the tryouts.
"I've always had a passion for dancing," she said.
The Falcons cheerleaders work on one-year contracts, Hendrix said. Veteran dancers must try out along with everyone else for positions on the cheerleading roster.
That means Gregory had to go against many veteran Falcons cheerleaders during her audition. But Hendrix said the team uses a blind judging process that puts everyone on equal footing.
"We try to give everyone a fair shot," she said. "The judges aren't familiar with who was on the team last year and who wasn't."
Gregory said she wants to put the money she earns into a savings account and use it to help pay for her post-graduate studies.
After learning routines and getting to know their fellow cheerleaders in May and June, Gregory and the squad will make their first appearance in August at the Falcons' Friday Night Lights exhibition. The NFL's preseason starts soon after that.
"I'm just grateful for everyone who has encouraged me, especially my parents," she said.
"They told me that anything you set your mind to, you can achieve."