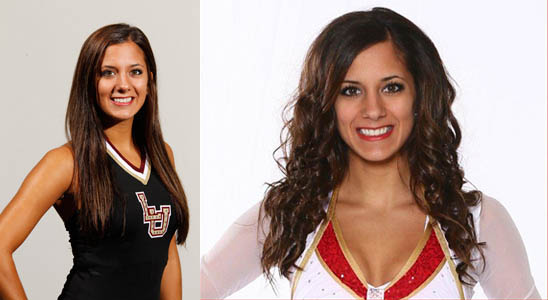 Becomes third Rambler in recent history to join professional ranks
Loyola Ramblers
Feb. 28, 2013
CHICAGO – Katrina Badowski, who has been a member of the Loyola University Chicago Dance Team for the last four years, has been selected to the Kansas City Chiefs Cheerleading Team, it was announced earlier this week. She was one of over 200 rookie candidates to audition for a roster spot for the 2013 season.
Badowski joined other aspiring cheerleaders in Kansas City, Mo., on February 23 for the first day of a grueling weekend tryout. Beginning with preliminary round screening, candidates participated in public speaking and performed a routine for the judges. From there, the candidate pool was trimmed down to 90 individuals who would then compete against the returning veterans for a spot on the team.
The extensive opening day of activities concluded with on-camera interviews with a former Chiefs cheerleader, an evening audition, which was open to the public at Arrowhead Stadium, and a walk down the runway. A total of 65 finalists were then selected to compete in more tryouts on Sunday, February 24.
On the final day of tryouts, candidates participated in five different stations: public speaking, football knowledge, photo shoots, fitness evaluation, and dance skill evaluation. The 2013 Kansas City Chiefs Cheerleaders were named on Tuesday evening.
"I am excited and blessed to begin the next chapter in my life doing something that I love," Badowski said. "I want to thank everyone who has supported me along the way. Go Chiefs!"
Badowski is the third former Loyola Dance Team member to join the professional ranks, following in the footsteps of Catherine Slack and Chelsea Troutman, who both danced for the Luvabulls, the dance team of the Chicago Bulls.