Davie, Fla. – The Miami Dolphins Cheerleaders have selected 36 women for their 2016 Squad. These ladies represent eight countries, 28 cities and speak a combined five languages.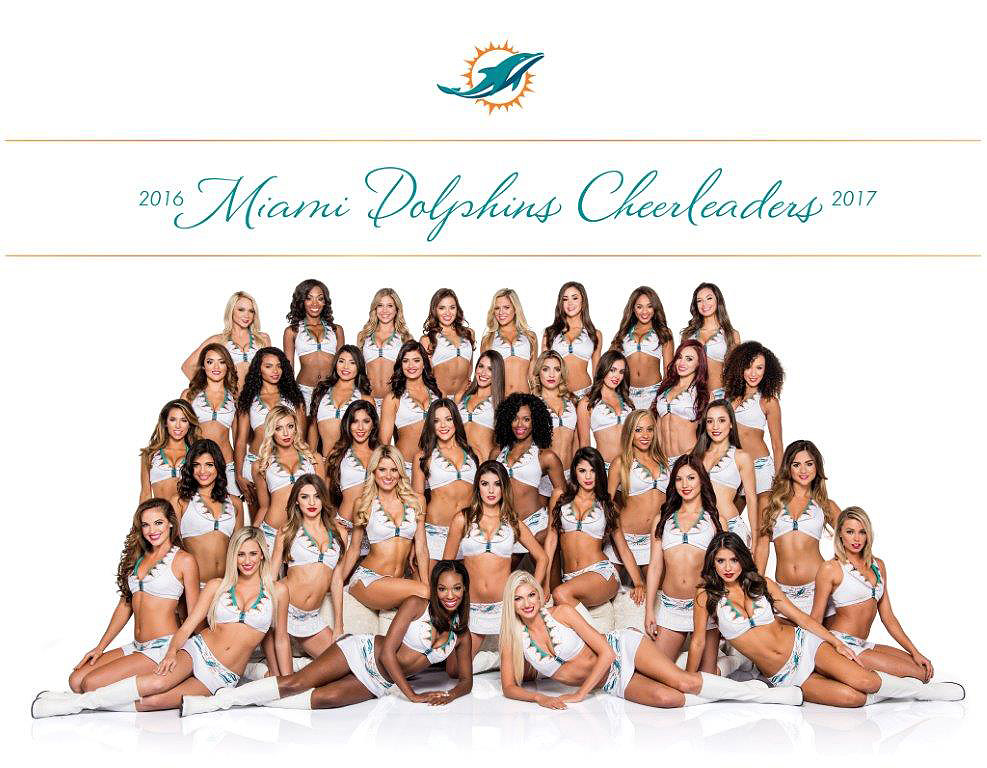 These 36 ladies were selected from the largest turnout for Miami Dolphins Cheerleader Auditions. More than 800 ladies registered to be the next Miami Dolphins Cheerleader. The organization became the first NFL team to host auditions internationally, searching for enthusiastic, charismatic and talented women in Bogota, Colombia; Buenos Aires, Argentina; Mexico City, Mexico; Rio de Janeiro, Brazil and South Florida to represent one of the most prestigious teams in the NFL.
One of the most visible entertainment groups in all of professional sports, the Miami Dolphins Cheerleaders have traveled to more than 30 countries on five continents over the past decade and continue to be an iconic and international face of NFL Cheerleaders. The cheerleaders are on the sidelines for all home games and are extremely active in the community; visiting schools and hospitals, as well as charity and corporate events.
The full squad is below, with their hometowns listed:
Abril (Acapulco, Mexico)
Adrianna (Parkland, FL)
Agustina (Capital Federal, Argentina)
Alexandra (Lighthouse Point, FL)
Alison (Lighthouse Point, FL)
Allison (Boynton Beach, FL)
Ally (Coral Springs, FL)
Amanda (Boca Raton, FL)
Amina (Port-Au-Prince, Haiti)
Ana (Sao Paulo, Brazil)
Breann (Cooper City, FL)
Britt (Miami, FL)
Chelsea (Port St. Lucie, FL)
Érica (Sao Paulo, Brazil)
Etta (Winter Park, FL)
Felicia (Hollywood, FL)
Holly (Westbury, England)
Jennifer (Havana, Cuba)
Jess (Miami, FL)
Jessica (Miami, FL)
Jessica Anna (Staten Island, NY)
Jodi (Miami, FL)
Kiana (Dallas, Texas)
Kristan (Sumter, South Carolina)
Monica (Miami, FL)
Morgan (Chicago, IL)
Nidia (Jalisco, Mexico)
Paige (Jupiter, FL)
Rachael (Wichita Falls, Texas)
Rebecca (Miami, FL)
Romina (Buenos Aires, Argentina)
Stephanie (Miami, FL)
Tamara (Posadas Misiones, Argentina)
Terra (Lincoln, Nebraska)
Vera (Brasilia, Brazil)
Yosy (Caracas, Venezuela)