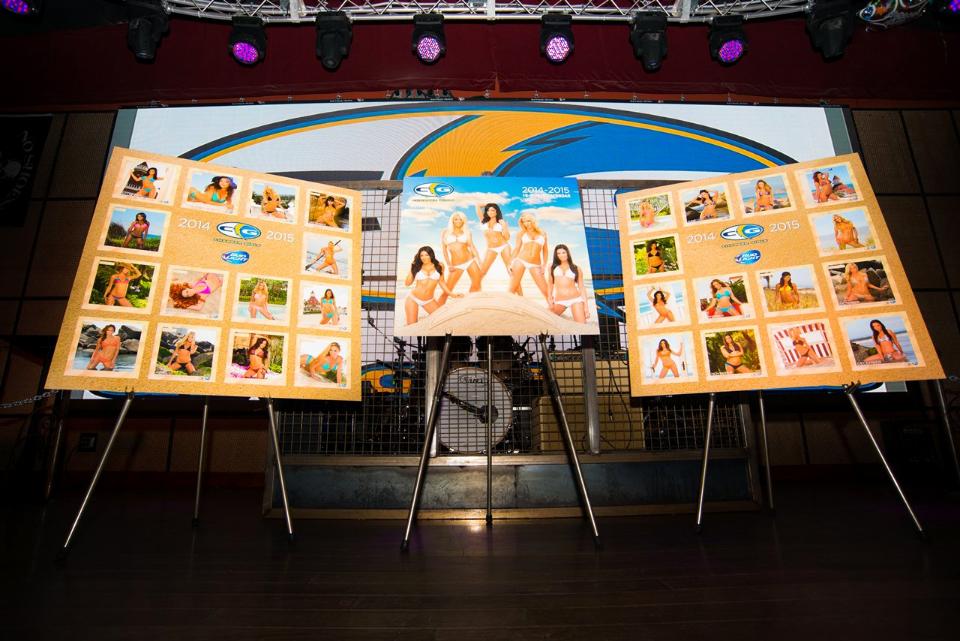 Ricky Henne, Managing Editor
Chargers.com
September 4, 2014
The hottest dance team in the NFL debuted their calendar Wednesday night.
For the Charger Girls, nothing beats cheering on the Bolts from the sidelines of Qualcomm Stadium each and every home game.
However, their annual swimsuit calendar is an awfully close second.
"This is definitely second to game day, and at this moment right now it may even be first," said Natalie, a team captain and longest tenured member of the squad. "It's just a different experience when they unveil the photos because you don't know what to expect. You were there and wore the outfits but you don't know what it looks like until tonight. So this is a really nice surprise for all of us and it came out great."
The Charger Girls honored San Diego by shooting against the backdrop of the iconic Hotel Del Coronado. Team photographer Mike Nowak has shot the calendar since 1999, and this year's ranks among the most proud finished products of his tenure.
"We went back to the beach this year, but we had the opportunity to shoot at the Hotel Del," he said. "You can't beat that because it's iconic San Diego with the hottest dance team in the NFL! The girls are amazing to work with. They're all professional women, amazing dancers and are very easy to work with. They make every day fun to go shoot on location, and the calendar came out great."
Overall, Charger Girls Director Lisa Simmons is particularly proud of the 2014-15 calendar because of this iconic tie to America's Finest City.
"This year's calendar is extremely special because it represents San Diego in a way we've never been able to capture it," she said. "Shooting at the iconic Hotel Del Coronado, we were able to get the beautiful surrounding beaches and the unique parts of the hotel that truly represent San Diego and what a beautiful city it is."
The shoot occurred over a four-day stretch earlier this summer, and the finished product was held tightly under wraps until Wednesday night at Moonshine Flats in the Gaslamp Quarter. With the entire team in attendance, Simmons unveiled each photo to loud cheers and a standing ovation. The girls also learned who would grace the cover, which was especially moving for veteran Tawnie who was selected to be on it for the first time.
"Seeing my photo on the cover, I just couldn't believe it!" she said. "When they showed it my view was kind of blocked, but then all the girls starting shouting 'Congratulations' and then it kind of hit me. It's an incredible honor to be on this team, so it's incredible to even be on the cover."
Be the first to showcase the 2014 Charger Girls Cheerleaders to your home or office! The 2014-15 Charger Girls Swimsuit Calendar is now on sale for $17 or get an Autographed Calendar, signed by all 28 Charger Girls for $45