Tour De Force: \ˌtu̇r-də-ˈfȯrs\ noun – an impressive performance or achievement that has been accomplished or managed with great skill.

This past Sunday, the Jacksonville Jaguars roared into town to play the San Diego Chargers, who were fresh off a disappointing meltdown loss to the Kansas City Chiefs.   Things would be different this week as the Chargers stormed out to a 35 point lead and never took their foot off the accelerator.  Philip Rivers threw four touchdown passes, tying a career high, and Melvin Gordon ran for 102 yards and another score.  A strong defensive effort by the home team doomed the hapless Jaguars, who crossed midfield only six times during the game. This game was over at half time.
Final Score: Navy Blues – 38, Teal Blues – 14.
However, the news wasn't all good.  For the second week in a row, the Chargers lost a key player for the year due to injury.  Versatile running back Danny Woodhead tore his ACL and joined Keenan Allen on injured reserved.  Who's next?  Philip Rivers?
Well…on to the good stuff…the hottest dance team in the NFL, your San Diego Charger Girls!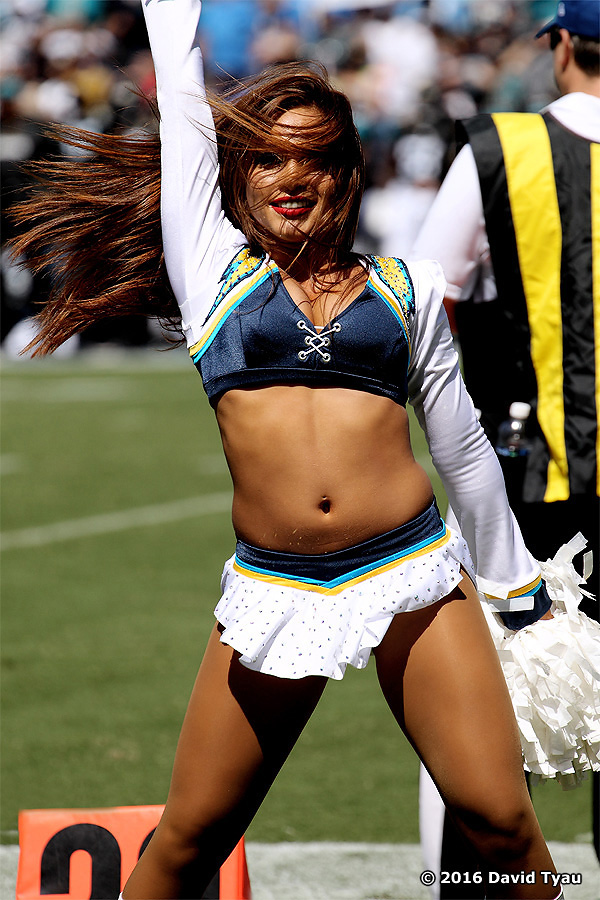 I play fantasy football (five championships and counting!) and I have never seen a beginning to a season like this, where there have been so many serious injuries to key players…star players. It's mind boggling. Let's hope this misfortune doesn't plague our favorite sideline entertainers, our beloved cheerleaders.
Okay, let's begin this week's coverage of the Charger Girls with the Captains: Marissa, Delani, Bridget, and Teran.