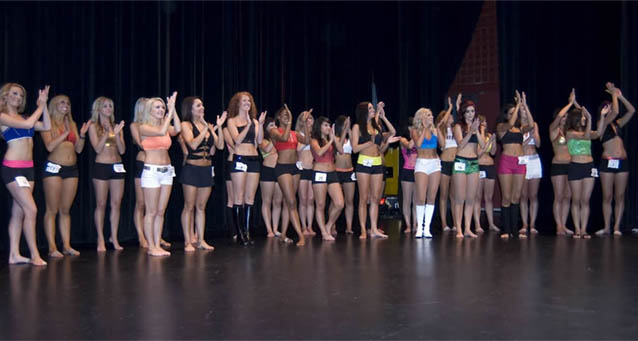 Thirty five finalists took to the stage at the Winningstad Theater in Portland's Center for the Performing Arts for the final round of auditions to determine which 16 ladies would grace the Rose Garden floor as BlazersDancers during the 2009-2010 Trail Blazers season. Hundreds of family members and friends packed the theater to support the dancers and were treated to a fantastic show.
Comcast SportsNet was also on hand again this year to record the auditions for a reality TV show set to air this fall, adding to the excitement for both the dancers and their fans.
The dancers came prepared to perform the two group routines that they had learned the previous weekend along with a solo routine. However, when the dancers arrived they were surprised with an additional dance to perform and only one hour to prepare for it. Luckily, this was a free-style "hot time-out" dance that didn't require any choreography, but instead was meant to test the dancers' ability to have fun and play to the crowd.
Once the show was underway, the finalists danced their hearts out for an expert panel of judges and an enthusiastic crowd. Four routines and five hours later, the auditions were over and the dancers could breathe a sigh of relief. But now came the toughest part of the audition process for the dancers, waiting until the following day to find out the results.
The next afternoon, when the dancers arrived at the Rose Garden they were anxious, nervous and excited to find out if they had captured one of the 16 spots on the team. Each dancer was led one by one into the Trail Blazers locker room where they found a locker with their name on it covered by a curtain. Behind the curtain they would find either a BlazerDancer uniform – meaning they made the 2009-2010 BlazerDancers, or an empty locker – meaning their quest to become one of the final 16 was over, at least for this year. For some, the wait was well worth it, for others the day ended in disappointment.
The lucky 16 who found uniforms in their lockers greeted each other with excited screams, hugs and tears. This season's team has familiar faces with eleven returning dancers and two dancers who were on the team in previous years, as well as three rookies.
The Trail Blazers are happy and proud to introduce you to a group of young women the fans will come to know very well.
CLICK HERE FOR PHOTOS OF THE 2009-2010 TEAM