By Kurt Backscheider
Communitypress.com
July 10, 2009
Charlotte Jacobs said she may have discovered some future Cincinnati Ben-Gals cheerleaders.
Nearly 70 girls between the ages of 5 and 16 spent their summer evenings July 6-10 at Oak Hills High School participating in the first ever dance camp put on by the Cincinnati Ben-Gals cheerleaders.
Jacobs, the director of cheerleading for the Cincinnati Bengals, said campers learned basic techniques, choreography and general fitness from some of the NFL's best dancers during the week-long camp.
"The camp is all about having fun," she said.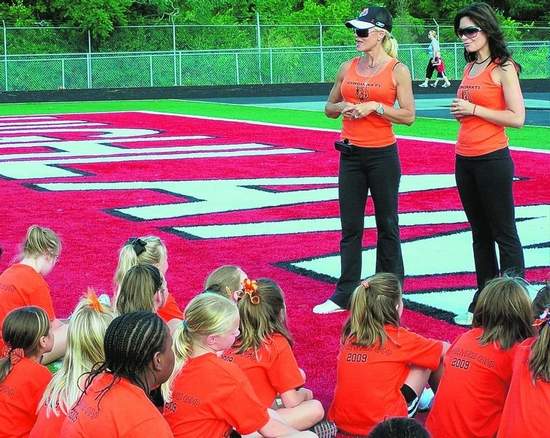 "We have several cute little girls who really know how to show off."
Green Township resident and former Ben-Gal Julie Raleigh, coordinator of the camp, said more than half of the camp's participants are underprivileged girls from around the Tristate.
She said girls from St. John's outreach program in Over-the-Rhine, Rees E. Price Academy in Price Hill and the Special Olympics were given free scholarships to the camp thanks to sponsorships from the Shayne Graham Foundation, Mercy Hospital Western Hills and Mercy Franciscan at West Park.
"We think this camp is a unique opportunity," Raleigh said.
"Some of these girls will experience another avenue of life that is not usually open to them. This experience is an opportunity for the girls to learn dance and just have so much fun," she said.
Jacobs said the camp also helped kick-off this year's Cincinnati Junior Ben-Gals program, an annual cheerleading program for young girls that culminates with a half-time performance during a Bengals game at Paul Brown Stadium.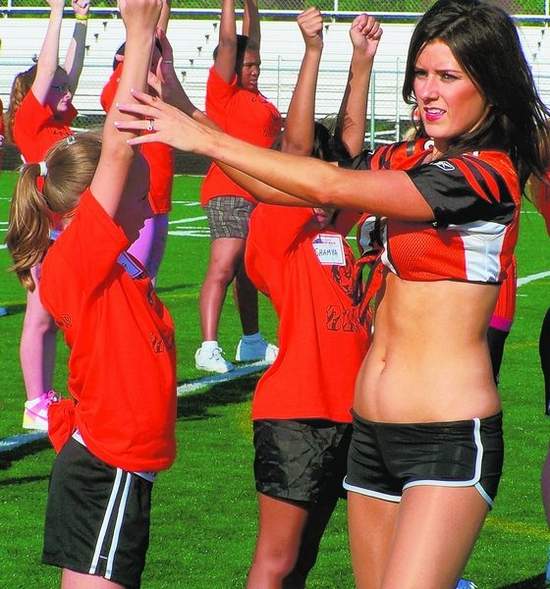 "The camp is a way to better prepare these young ladies for when they go into their school seasons, and help the girls in our Junior Ben-Gal program get ready for their season," Jacobs said.
Raleigh said campers learned two dance routines, which they performed for fans at the Florence Freedom baseball game on Thursday, July 9, to raise money for Special Olympics.
She said the camp featured special guest speakers each night, including a Hamilton County Sheriff's deputy who talked to the girls about personal safety and the dangers of drugs and alcohol.
Members of the Oak Hills High School Oakettes drill team and cheerleading squads also helped out to make the week possible.
Additional Facts
Be a Junior Ben-Gal
Parents and girls who would like to learn more about the Cincinnati Junior Ben-Gals program can visit www.bengals.com/cheerleaders/junior-cheerleaders
The program runs from August to December and is open to 100 girls between the ages of 5 and 15 from around the Tristate. The Junior Ben-Gals season offers clinics designed to create and promote self-esteem, pride and confidence, and girls in the program learn performance fundamentals from Cincinnati Ben-Gals cheerleaders.
The program's highlight is an on-field performance in front of 65,000 fans at Paul Brown Stadium during the 2009-2010 season.