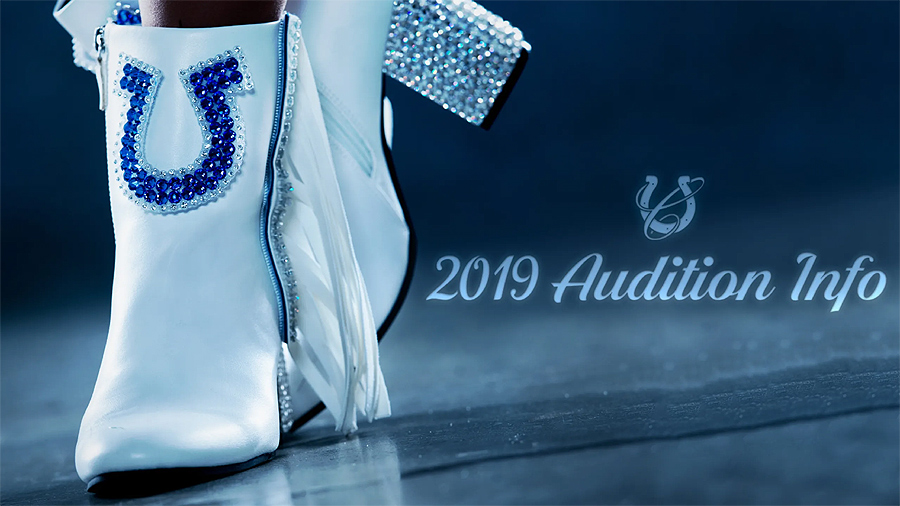 Preliminary auditions will be held at the Indiana Farm Bureau Football Center – 7001 W. 56th St., Indianapolis, IN 46254 on Saturday March 16, 2019
Doors open at 11:00 AM
Auditions begin at Noon
Audition choreography will be taught starting at noon and performed immediately afterwards. The majority of this choreography will also be taught at the Audition Master Workshop on Saturday, February 23rd. To register for the Audition Master Workshop, CLICK HERE.
This portion of the audition process is CLOSED to the public.
Applicant is at least 18 years of age as of May 1, 2019
Applicant has received (or will receive) a high school diploma or its equivalent as of July 1, 2019
Athletic Leggings/Capri's
Athletic Tank or Athletic/Supportive Half Top
Sneakers or Jazz Shoes
Pre-registration is FREE and ENCOURAGED! Registration at the door is available; however, there will be a $25 registration fee for same day registration.
To pre-register for auditions FOR FREE, please CLICK HERE
---
Saturday, March 16, 2019 (Approx times)
| TIME | |
| --- | --- |
| 11:00 AM | Doors open |
| NOON | Applicants will begin with a group stretch and learn the preliminary audition routine. |
| 1:30 PM | Applicants will perform 30 seconds of improvised dance followed by the preliminary audition routine in groups of three for a panel of judges. There will usually be a small group that is requested for a call back audition. |
| 3:30 PM | Approx. 50 finalists will be selected for the Final Showcase. There will be an hour meeting with those that advance to finals. |
| DATE | TIME | LOCATION |
| --- | --- | --- |
| Monday, March 18th | 6:00 to 10:00 PM | Indiana Farm Bureau Football Center |
| Tuesday, March 19th | 6:00 to 10:00 PM | Indiana Farm Bureau Football Center |
| Wednesday, March 20th | 6:00 to 10:00 PM | Indiana Farm Bureau Football Center |
| Thursday, March 21st | 6:00 to 10:00 PM | Indiana Farm Bureau Football Center |
| Day | Time |
| --- | --- |
| Wednesday, March 20 | Afternoon (you will select a 30-minute time slot) |
| OR | |
| Thursday, March 21 | Afternoon (you will select a 30-minute time slot) |
| Sunday, March 24th | Hilbert Circle Theatre – Open to the Public |
| --- | --- |
| 10:00 AM | Finalists Arrive |
| 3:00 PM | Show Begins |