Columbus Crew set cheerleader auditions for Dec. 4-6 The Crew's professional cheerleading and dance squad to hold tryouts at Crew Stadium's Huntington Club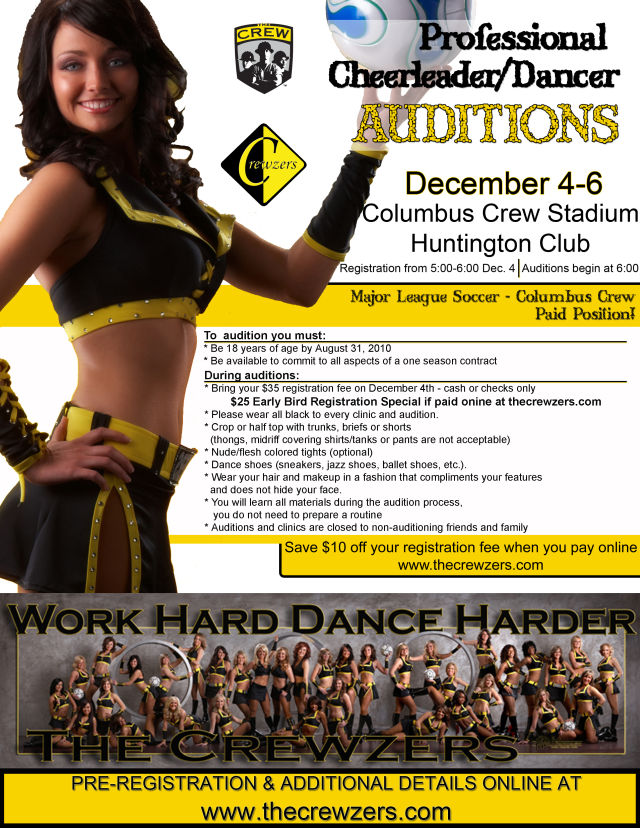 The 2008 MLS Cup Champions, The Columbus Crew, will be holding auditions for women interested in performing for the Major League Soccer team's paid, professional cheerleading and dance team, The Crewzers, December 4-6 at Crew Stadium's Huntington Club starting at 5:00p.m. Monetary compensation and additional benefits are provided for full-time, full-season members of the team. Details will be provided at the first night of auditions.
Registration and the first round of clinics will be held December 4, the second clinic and semi-finals will be December 5, and the final auditions will be December 6. Attendance is mandatory at all clinics to be eligible for the final auditions. Registration for walk-ins will begin December 4 at 5:00 p.m.. Pre-registration, additional information and a full audition
schedule is available anytime online at www.thecrewzers.com.
The Crewzers perform during half-time at all Columbus Crew home games as well as performing sideline cheers throughout game time, pre-game Kicker Plaza routines and autograph appearances before and after the games. In addition to game commitments, the squad will participate in various community and charity events ranging from parades and grand openings of local stores to corporate sponsored functions.
Previous performances and special engagements have included the MLS All-Star Game and MLS Cup half-time shows in Washington, DC, Los Angeles and Chicago. The Columbus Crewzers have also been the featured performers with top recording artists including Saving Jane, Bowling for Soup, Ravin Simone, Paulina Rubio, O-Town, Jenna Handler, Everclear and Third Eye Blind. 2004 saw the Crewzers across international borders in Cozumel, Mexico for that season's on location swimsuit calendar photoshoot.
To be eligible for the 2010 Season squad, girls must be 18 by August 31, 2010.