Cheers through the years
By Kristy Brownlee
Sun Media
Sept. 21, 2009
[Photos]
Pompoms and kicks might be in the past for 50-year-old Judith Ellis. But she's not letting go of her 1970s heyday cheering for the green and gold.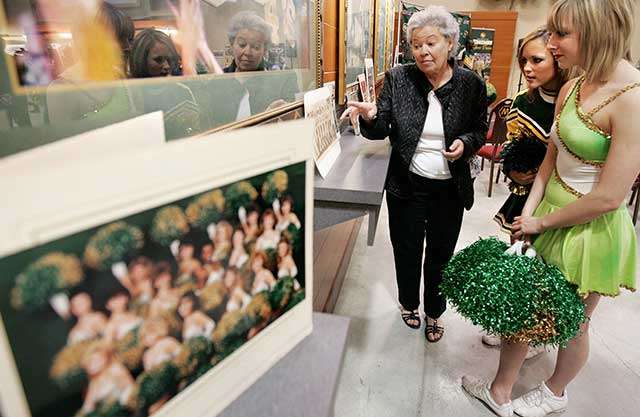 At Saturday's Edmonton Eskimos home game against the Saskatchewan Roughriders, Ellis and about 350 past and present Esks cheerleaders will perform a 60-year reunion show.
"We are going to rise to the occasion no matter how many pounds we've gained," said the spunky Ellis, a cheerleader from 1974 to 1980, now married with two teenage daughters.
Cheerleaders from each decade — 1950s to 2000s — will perform a number at the halftime show.
"We have our old costumes but nobody can fit into them anymore," said Heather Sheremeta, 43, a cheerleader in 1987 and 1988, now married with three sons.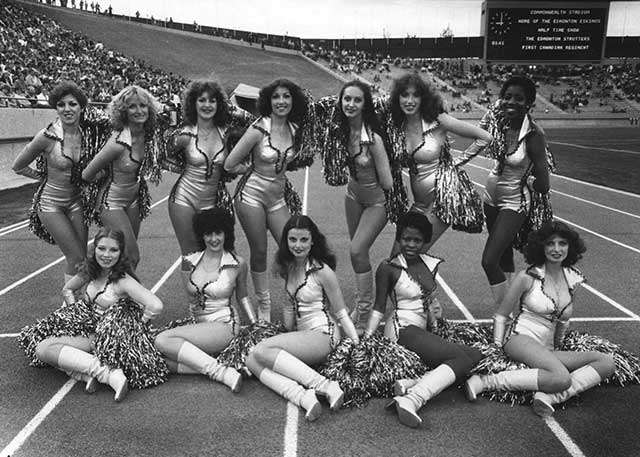 Former cheer team members and coaches are descending on Edmonton from as far away as Germany and Austria.
A banquet will welcome nearly 500 alumni on Friday evening to reminisce and relive memories with a slide show. A fashion show will also feature the former Eskimo cheer uniforms.
"So much has happened. We are able to share this with each other," said Ellis.
Doctors told Ellis she would never walk again after a driver ran a red light and T-boned her station wagon in north Edmonton in 2001. Ellis broke her lower back in two places.
Now she's back to dancing her heart out.
Head cheer team coach Diane Greenough, who's coached Esks cheerleaders for 14 years, said the experience promises to be nostalgic.
"I've known some of these girls since they were 14. It's been really special."