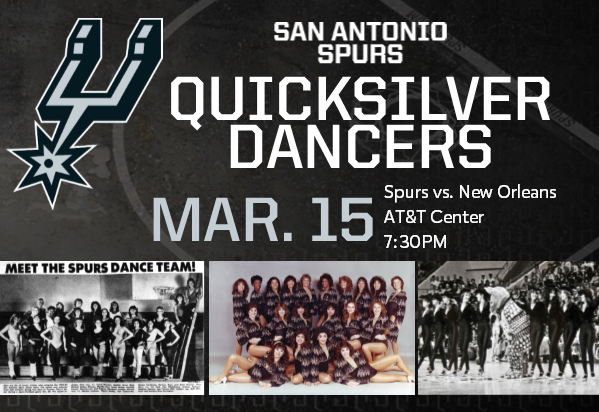 The NBA San Antonio Spurs will be acknowledging the 1982-83 NBA Spurs Quicksilver Dancers celebrating their 35 year reunion with an on-court presentation at the March 15, 2018 Spurs game in the AT& T Center in San Antonio, Texas. There will be a total of 14 Quicksilver Alumni and the choreographer that will be introduced on the court after a video presentation of when they performed for the Spurs 10th Anniversary season in the HemisFair arena.
From MySanAntonio.com:

Before the Spurs Silver Dancers started winning San Antonio hearts, there were the Quicksilver Dancers.

About a decade before the current dance team was formed, the Quicksilver dance troupe fired up the Hemisfair Arena for the 1982-1983 season. On March 15, the Spurs are slated to recognize the team with an on-court presentation, but the squad is missing a few of its members.

Cynthia Trinidad, who was part of the 22-member team, said most members are in communication and are preparing for their reunion. However, they are hoping to find five missing dancers: Lisa Whitehead, Debbie Struss, Monica Lutz, Sally Montoya and Monica Lochner.

A Facebook group has been created to share memories of their dance days within the squad and the Spurs fan community. Trinidad is hoping the page will help them reconnect with their teammates before the March game.

The Spurs will recognize the Quicksilver team with a video shown on the AT&T Center screens, Trinidad said. She said the Quicksilver Dancers are working with Silver Dancer choreographer Katie Gibbons on the reunion.