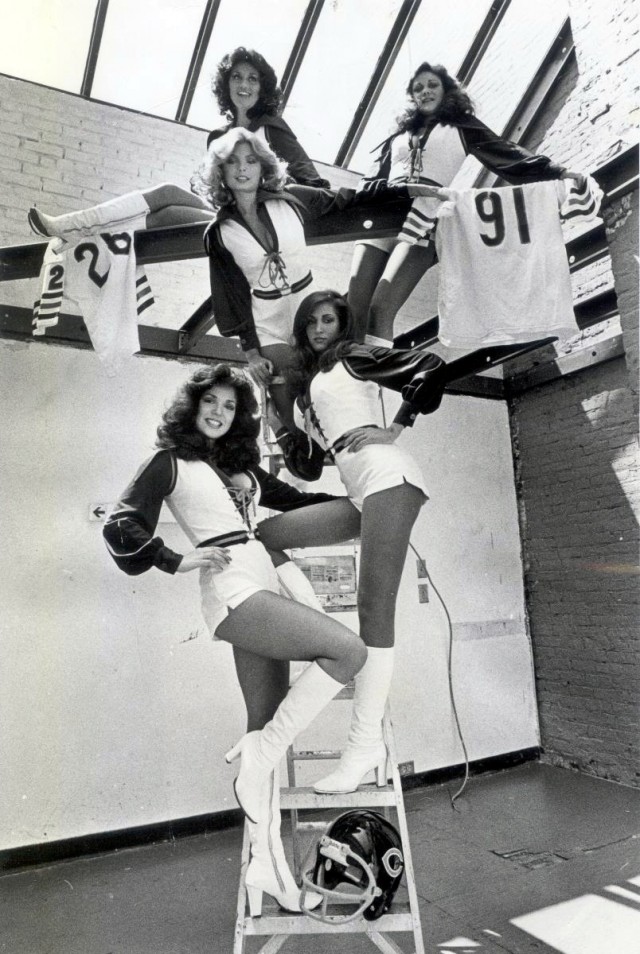 Twenty-five years ago tomorrow, the Honey Bears, the cheerleaders for the Chicago Bears, cheered officially for the Bears the last time, for Super Bowl XX, January 26th, 1986. So it has been a while since the Honey Bears have cheered on the Soldier Field sidelines. But that does not stop the former Honey Bears from still getting together and cheering! For instance, Honey Bear Renee Halverson attended the Miss USA pageant last year with some of her squad mates to cheer on one of the contestants, who is the daughter of one of her Honey Bear sisters. But before we skip ahead to 2010, let's go back to 1976.
Based on the success and popularity of squads like the Dallas Cowboys Cheerleaders, many NFL teams added cheerleaders to their sidelines that provided a more dance-based, glamorous look than college cheer teams. The Bears owner at that time, George Halas, one of the founders of the NFL, also wanted to add cheerleaders to Bears games. He put General Manager Jim Finks on the case, and a Finks' friend recommended someone with experience with junior high cheerleaders, Cathy Core, who had recently re-located to Chicago from New Jersey. When the Bears GM called Cathy, she thought it was a joke and hung up. Later, friends interceded and eventually explained, bringing brought Core, Finks, and Halas together. Halas told Core, "As long as I'm alive, we will have dancing girls on the sidelines." So in 1977, the Honey Bears debuted at Soldier Field, which was also a year that the Bears returned to the playoffs after 14 seasons away from the post-season.
The Honey Bears continued on, but Papa Bear Halas passed away in October 1983. His daughter, Virginia McCaskey gained control of the Bears, and tried to discontinue the Bears association with the Honey Bears. However, the Honey Bears continued to cheer on the Bears because they were under contract through 1985, which also was the only Super Bowl victory season for the Bears. Since Super Bowl XX, the Bears have not had cheerleaders.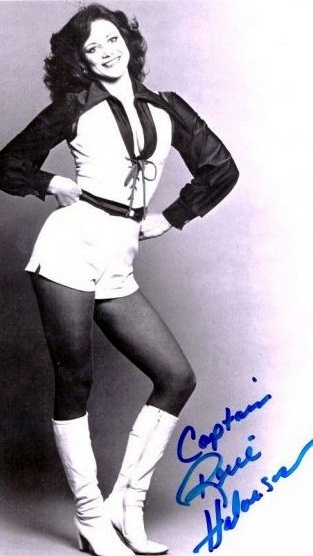 In 1978, in their second year of existence, aspiring actress and professional dancer Renee Halverson made her first Honey Bears squad, the first of three seasons, eventually as one of the captains. Renee was on the sidelines when the Bears needed to win by 34 or more on the last game of the 1979 regular season, coupled with a Redskins loss, to make the playoffs, and the Honey Bears cheered them to a 42-6 victory on a bitterly cold December 16th as the Bears returned to the post-season.
Renee's Honey Bear journey started a bit north of Chicago, "I grew up in a small town in Wisconsin called Dodgeville." She began her training by, "Starting dance lessons at the age of four, and I was a cheerleader throughout high school. I am a diehard football fan. My father played football for the Wisconsin Badgers." So the lines were connected for her interest in the Honey Bears, as Renee says, "I love to dance and cheer AND I loved football."
Renee tried out in for the 1978 Honey Bears and made the squad on her first attempt, being one of 28 selected from a field of 1,500. Renee recalls her feelings at the Honey Bear auditions as, "Nervous but excited to being trying out. But didn't think I would make the team." Renee heard the good news of making the squad long distance, "My roommates in Evanston called me while I was on spring break in Florida. I was VERY surprised!" Most excited in her family, according to Renee, was, "My Dad, even though he was a Packer fan. My parents bought season tickets. They loved it!"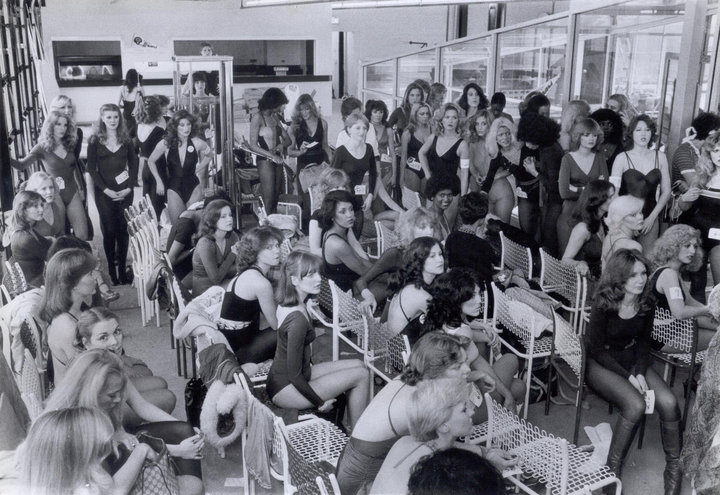 Remembering her first time on the field as a Honey Bear, Renee recalls, "So much excitement! It was a thrill to be cheering in Soldier Field." During Renee's three years of the squad, some of the more interesting moments on the field included, "Walter Payton ripped his pants and they brought him a towel to walk off the field. Also, one of the Honey Bears heel broke off her boot and she had to walk all the way to the locker room with a limp in front of the fans." The Bears fans loved Renee and the other Honey Bears, even trying to collect some souvenirs, "A few tried to take strands from my pom poms."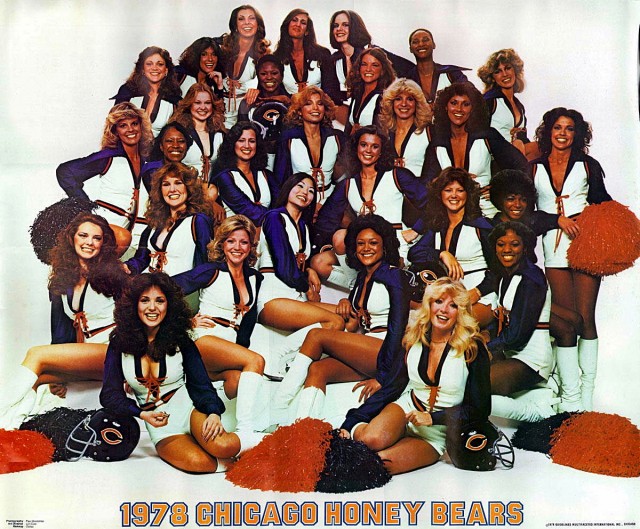 During late 1978, the earth shook the momentum that pro cheerleading was building in popularity when some of the NFL cheerleaders posed in varying states of disrobe for Playboy, including one of the Honey Bears. The furor was felt across the nation, including disbanding the Chargers cheerleading squad at the time because one of their members posed in the magazine. Honey Bears coach Cathy Core was very unhappy with the Honey Bear who posed, as it ruined many opportunities because some businesses were scared off by the negative publicity. When asked in the rest of the Honey Bears agreed with Cathy, Renee replies, "Yes, we were shocked." Thinking back to that time, Renee remembers being, "Upset, and I remember doing a radio show about the girls that posed for Playboy. " When asked if Playboy approached Renee, she says, "Yes! But, myself and my roommate Tina would only agree to shots on a dance floor clothed at a popular bar called BBC."
The Honey Bears continued a few years after Renee left the squad, but were there rumblings during her time that some within the Bears organization were not fans of the Honey Bears? Renee says, "Not at first, but later on we did hear of some rumors." When the Honey Bears were disbanded in 1985, Renee recalls feeling, "Sad, but it makes the past Honey Bears special to this day."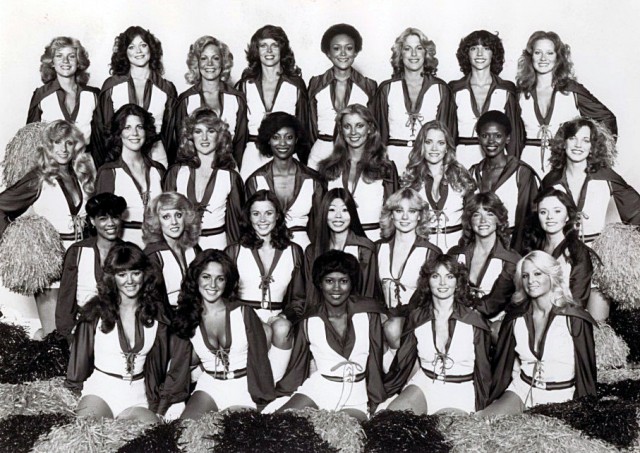 As a professional actress and dancer, being part of the Honey Bears provided opportunities for Renee to meet many interesting people and enhance her entertainment career, "We did many promotions with famous people. I worked with Bill Cosby and was also on a TV series called 'The Duke' starring Robert Conrad. As Honey Bears, we were hired out to do promotions with many different companies. I was also on the Talent Team that sang and danced. We shot a TV show at (Six Flags) Great America called you're 'Never Too Old.'" Besides appearing in many commercials, Renee continued her connection with football by later working on the movie Wildcats with Goldie Hawn.
By 1980, Renee decided it was time to end her time with the Honey Bears, saying, "I wanted to get back to my dance and acting." She remembers her last game as, "Sad, but I was ready to move on. However, looking back, I wished I had stayed longer."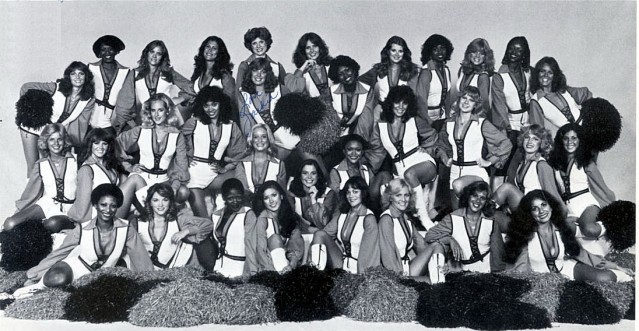 But she carries the gift of a wonderful experience and continuing friendships until today. On the Bears team, she remembers, "Walter Payton was a class act." And her Honey Bears experience was 100% positive, as Renee says, "It opened many doors for me regarding dance and acting. I met the most incredible women who are my dear friends today. We spent four days a week together, sometimes more, and became very bonded with each other. So many good memories and friendships! Facebook helps us stay in touch!"
Last May, some Honey Bears traveled west to see one of their daughters compete in a major pageant. Renee tells, "Recently many of us met in Vegas for the Miss USA pageant to see one of the Honey Bears' daughters, Lacey Wilson (Miss Massachusetts), also daughter of Doug Wilson (former Chicago Blackhawk player), compete. Lacey's mom, Kathy, was Miss Illinois. We lived together with other Honey Bears and we are still best friends today. There were five of us that flew to Vegas to see Lacey compete in the Miss USA Pageant. Actually, it was very emotional seeing everyone. We loved cheering for Lacey!"
Today, pro cheerleaders seem to be regularly featured on reality and game shows. For example, cheerleaders have been featured on the "Amazing Race," "The Bachelor/Bachelorette," "Don't Forget the Lyrics!," "Are You Smarter than a Fifth Grader?," and "Deal or No Deal." When asked if she was a cheerleader in 2011, which of these shows would be exciting for her to be on, Renee responds, "A dating reality show. Most women love this kind of show."
Today, Renee is an "Actress, fitness consultant, and personal trainer. I work in the health and fitness industry, and I am the creator of the Power Pole Kick Butt and video workouts. Personal training is a big part of my life. I currently work at Health Solutions Precision Spinal Care as a Thai Massage Therapist. I am very grateful to have a job that I love which allows me to heal and teach others through my passion, fitness and Thai massage! "
Regarding the future of Bears cheerleading, Renee says, "We would all like to see the Honey Bears come back. But, I don't think it would be the same." If she was asked to consult on a new Bears squad, Renee's vision would be, "A clean, sexy, next door look. Talent is a must, and attitudes must be in the right place. Plus, understanding the game of football." Renee's advice for current cheerleaders is, "To smile and enjoy every minute!"
But even without current Bears cheerleaders, we still have the legacy of nearly a decade of Honey Bears excellence. During Renee's time on the Honey Bears, "It was about cheering, friendship and football." For Renee, the final theme of the Honey Bear story was, "That the fans loved us! We loved the Bears, but Virginia (McCaskey) sadly didn't love us. (The Honey Bears) all came from different backgrounds and became a family and each of us has a story to tell."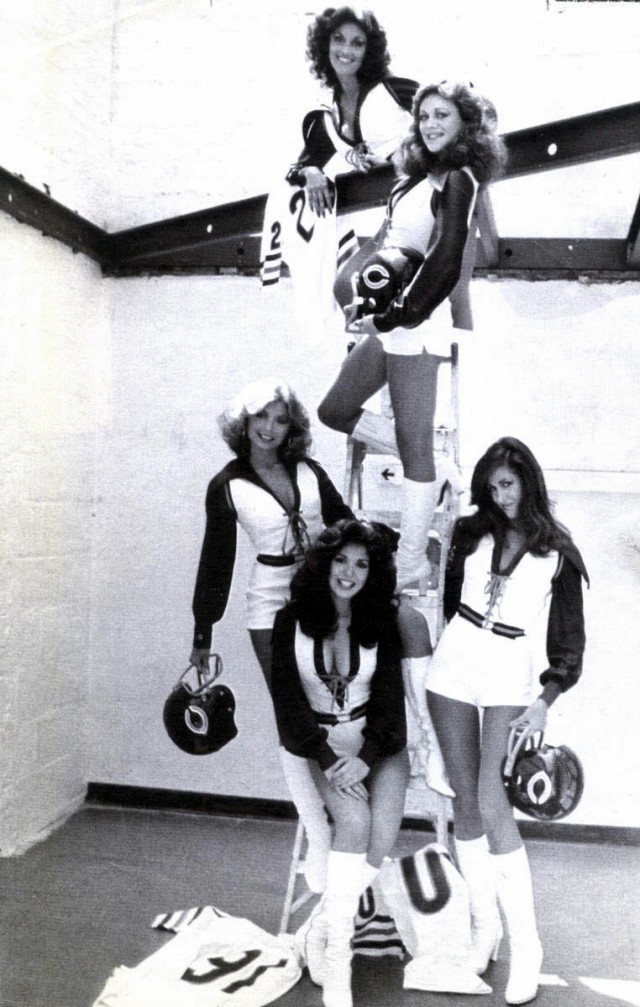 We thank Renee for taking time out from a busy, globetrotting schedule to share her story with us! We will continue tomorrow with Part II in our series, an interview with Maribeth Duffy-Bolger, one of the Honey Bear Captains during that magical 1985 Super Bowl season.