Despite being the "unofficial" Detroit Lions dance team, the Detroit Pride Cheerleaders draw women from miles and miles away to be part of the squad. Of course, there are women from the local metro area, like second year veteran Sierra, but three of the dancers, including co-captain Shannon, roll in from practically "Another World" away, from Bay City, Michigan, up north. And, as you would expect from someone whose dad was a Cowboy (a Dallas Cowboy, that is), Kaiti drives in from the Wild West; two hours west, from East Lansing, Michigan. What prompts these young women to devote such time and effort to be part of the Lions unofficial team? Sierra, Shannon, and Kaiti shared with UltimateCheerleaders their motivations to be part of the popular DPC.
Shannon, in her second season with the squad was born and raised in Bay City, which is about a two hour drive from Detroit. "I attended college at Saginaw Valley State University where I received my Bachelor's Degree in Psychology and Business/Communications," Shannon says. "I am currently employed as a customer service representative with a Michigan-based bank. I hope to return to school in the near future to earn my Master's degree and pursue a job in human resources."
Meanwhile, two hours to the west, Kaiti drives in from Michigan State to be part of the team. "I grew up in the small town of Hartland, which is about an hour outside of Detroit," explains Kaiti. "My family has always instilled in me a big love of football! My father was an MVP player at Michigan State in the early 1970's and was actually drafted to the Dallas Cowboys, where he played for a short time. I always knew that if I couldn't play football myself, I would get as close to the game as possible! I currently attend Michigan State University. I am a senior majoring in Health, and I plan on attending nursing school next year to obtain my RN license. My 'full-time job' is school right now and I also work part-time as a bartender at a local college bar. My big goal is to become an Emergency Room nurse and work at a hospital downtown."
Sierra was born in Detroit and has always lived in the Detroit metro area, including a time near Pontiac, the location of the Lions' former dome field. Next semester, Sierra will begin her studies at Wayne State, as she explains, majoring in, "Criminal Justice, my minor is Dance. My dream job is to go into law enforcement, leaning towards forensic science."
Unlike most cheer squads, the big performances by the Detroit Pride Cheerleaders occur long before kick-off, as they perform extended dance sets at tailgate locations around Ford Field. So, the DPC members don't have to just be there early, they have to be in Detroit for hair, make-up, and in uniform to be ready to perform at 9:30 in the morning. Shannon explains, "Game day for DPC is a very long day especially for me and the two other girls that come from Bay City. Our day begins between 4:30 and 5:00 a.m.; shower, eating breakfast, and then heading out for our two hour trip to Luigi Bruni Salon to get our hair and make-up done. We spend about an hour there getting prepped and ready, with lots of hairspray and lip gloss to ensure our style will last all day. Somehow, with the excitement of the game, each other's support, and a lot of coffee, we make it through the almost ten-hour day with very little down-time."
For MSU's Kaiti, planning to the n'th degree is key, as she says, "My preparation begins days in advanced. I try to follow a strict sleeping, nutritional, and fitness regimen as closely as possible at all times. However, that can be challenging when you live in a big college town like East Lansing! The self-discipline pays off though as I am usually not struggling to get in work-outs or diet in unhealthy ways when it's time for games. On game days, I wake up about four hours before I am scheduled to be in attendance for hair and make-up, because my drive is just under two hours. My wake-up ranges from 3 a.m. to 5 a.m. I try to get a lot of sleep, and even pack up my game-day bag days before, just in case! I fill up my gas tank and have a new CD ready to go the night before as well, my expressway pump-up CD!" Wow, anyone under the medical care of Kaiti when she begins her career as a nurse will benefit from one well-prepared health care provider!
And although Sierra doesn't have a long drive to get to Detroit, it doesn't mean that sleep was abundant for her either prior to this season's first real home game. "I was rolling around all night long, because this is the first regular season game," recalls Sierra. "Nerve wracking!"
The game day for the Detroit Pride Cheerleaders extends from morning performances at tailgates, to greeting fans for extended periods after the game. When asked if her cheeks ever get sore from a day chock full of smiling, Kaiti responds, "My cheeks can get a bit sore from smiling, but I've noticed that right at the moment when I feel my smile hurting is the same time a fan will come up and say, 'I am so happy to see cheerleaders at a Lions game, finally!' When a lifelong season ticket holder makes that remark, it hits you what this is all about."

What prompted these young women to devote the time and effort to their team, which is officially unofficial? Shannon shares, "I found out about auditions for DPC from a friend of mine, and since I was done with my college dance team, I knew that I wanted to tryout to continue dancing. I was thrilled to be a part of the founding team and hopeful that we would get on the field soon."
Just like filling the gap in Shannon's dance career, the Pride Cheerleaders help Sierra fill in the gap of college dance because she chose to remain at home. "Well, I danced in high school," explains Sierra, "and all of my friends went off to Michigan State, and I opted to stay home; I did not want to go away. So, I saw this actually on Yahoo one day, and I emailed Andrea (Wilamowski; DPC Director of Operations) saying, 'I'd love to try out!' The season had actually already started, and she had second auditions in October, and my friend Danielle and I made the team."
For Shannon and Sierra, dance has been part of their lives since they were tiny tots. "I have been dancing basically ever since I could walk," Shannon recalls. "I started out at Bay Valley Dance Academy, where I was trained in ballet, jazz, lyrical, tap, and also as a competitive gymnast. Dance had always been a passion of mine, but after high school was when I realized that I needed it to be a part of my life. At that point I joined the Saginaw Valley Dance Team and also went on to be a part of the Saginaw Sting Dance Team for the professional arena football team."
Sierra started dance at four, and now gets to see her little sister at the same stage. "When I was four I started dancing, and I actually have a little baby sister who is four years old, and she just had her first real, real, dance recital yesterday," Sierra explained during the morning of the first home game. "We are completely opposite. I was really, really shy, so my mom put me into dance, so I could be more interactive with girls, because I was so shy. I wouldn't talk, wouldn't do anything. But my little sister is just the opposite, she is a wild woman! She wants to turn on a soccer ball, and my mom said, 'Let's put her in dancing class,' but she loves it. After the recital, she said, 'I want to go dance tomorrow!'"
Sierra continues, "My main thing was ballet. I did hard core ballet forever, and then, when I was in middle school, I began jazz and hip hop." Sierra qualified during seventh grade to be part of the Michigan Ballet Theatre, but decided to be part of a wider range of activities instead, such as cheerleading. Sierra says, "I maybe wish that I would have done it, but I am here now!"
Part of the Detroit Pride Cheerleaders organization, is an Ambassadors program, which make numerous public appearances at a variety of events. This appealed to Kaiti, who says, "Actually, I auditioned for a role as an Ambassador on the team because I don't have very much experience in dance and hoped I could pick up on dance techniques throughout the season, while still being part of the team and representing us. I have been a cheerleader and tumbler since the first grade! I think cheerleaders serve an important role in athletics, as they form an important connection between spectator and athlete. In addition, cheerleaders have the special opportunity to be role models. I was the captain of my high school cheerleading team, which was state finalists for all four years of my participation."
Kaiti explained how she learned about the DPC, saying, "I had a friend who was a member of the team last year and I contacted her about the team. When she explained to me how the DPC was pioneering to become the first official Detroit Lions cheerleading team, I knew I had to be part of it. Regardless of its affiliation with the NFL, it was clear to me that DPC had a mission to truly engage and unite the city of Detroit. And, although we are working very hard to be sanctioned and accepted by the Lions organization, our impact on the community is uplifting and unwavering, and that's what many official teams can only hope for."
Now that she is part of the organization, what would Kaiti tell others that might consider being part of the Detroit Pride Cheerleaders? "I would tell them that the DPC is a magnificent organization that requires sincere dedication both physically and mentally," answers Kaiti. "In addition to this, one must truly love the city of Detroit and be willing to represent how amazing our hometown is! I get asked this question quite a bit because I drive all the way from East Lansing to metro Detroit for practices and events. But I would say our team is absolutely worth being a part of! You can literally feel our impact on the community by the everyday encouragement of our fans! It is a priceless feeling and a wonderful opportunity."
This is the second season of the Detroit Pride Cheerleaders, and Shannon was one of the original members at their very first game. "Our team has a very unique situation which allows us to be involved in different activities that many NFL teams may not get to do," explains Shannon. "One example is interacting with fans at tailgates and in the stands. One of my most memorable experiences of DPC was our very first game last year. We were welcomed by the fans who were excited to finally have a cheer team supporting the Lions even if we weren't official. This year we have even more support and fans are constantly reminding us how much they appreciate our efforts. We were recently guests at the Michigan Sports Hall of Fame Induction Ceremony which was a great honor to be a part of with many amazing athletes."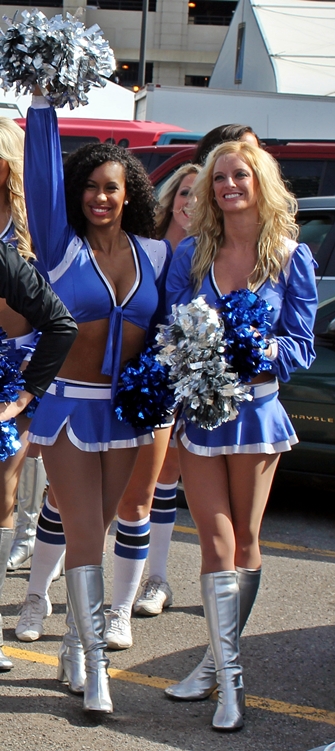 Sierra also notices the differences from last season, saying, "It is a lot more put together than it was last year. A lot more girls! It is a fun experience. I most like being able to talk to the fans. That is probably the best part, and dancing!"
As Kaiti explains, Michigan's fans are numerous and enthusiastic, "Sports serve to unite the entire state of Michigan, not just Detroit. It connects all of us, regardless of our background or circumstances. Especially during difficult times like these, sports (especially football) remind us about the importance of believing in your hometown and defending its character."
Shannon and Sierra were able to participate in the P-R-O Convention in Atlanta this past summer, with numerous other pro squads, and valued that experience to take into the second season. "P-R-O in Atlanta was a great opportunity for the girls that were able to go," Shannon shares. "We had so many great dances and insider tips to take back to the rest of the team in Michigan. Dancing alongside other teams also challenged us to work harder to prove that we can do everything that they do. It was an amazing experience and I definitely look forward to it next year."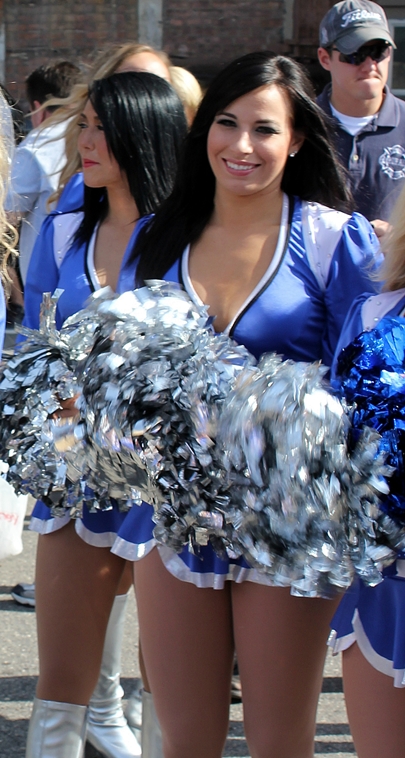 In addition to dance, Sierra found that P-R-O was, "An experience in itself. I think it taught a lot of us how to carry ourselves, how to dance like the pros. Even meeting the women, they're just wonderful, they are so nice." Sierra has had NFL goals for years, explaining, "When I was younger, my mom always wanted to move to Florida, so I always told her when I turned 18, I wanted to try out for the Buccaneers or the Dolphins cheerleaders." Between DPC and P-R-O, Sierra's now knows for certain that she wants to be on the sidelines, somehow, somewhere, as she says, "I know I want to dance, that I want to put it to use in some way."
With Kaiti's dad's connection to the Cowboys, the DCC have a special place for her, saying, "I like to keep up on all Professional/NFL/NBA cheerleading teams because I think each have aspects that they excel in or qualities that are unique in that team. Of course, the Dallas Cowboy Cheerleaders are the main team I am inspired by. To me, the most important part of finding inspiration for a pro team is to find a way to derive from your home city and your home team. You can't copy that."
And being part of the DPC has provided Kaiti with an extra special bonus of really discovering the Lions' home city, explaining, "The adventure has been awesome! Although I grew up only an hour outside of downtown, I never truly got to experience the atmosphere of the city! Coming downtown for our events, and being able to share the experience with fans, has been so exciting. I have also had the opportunity to form bonds and build friendships with women who are both beautiful and talented."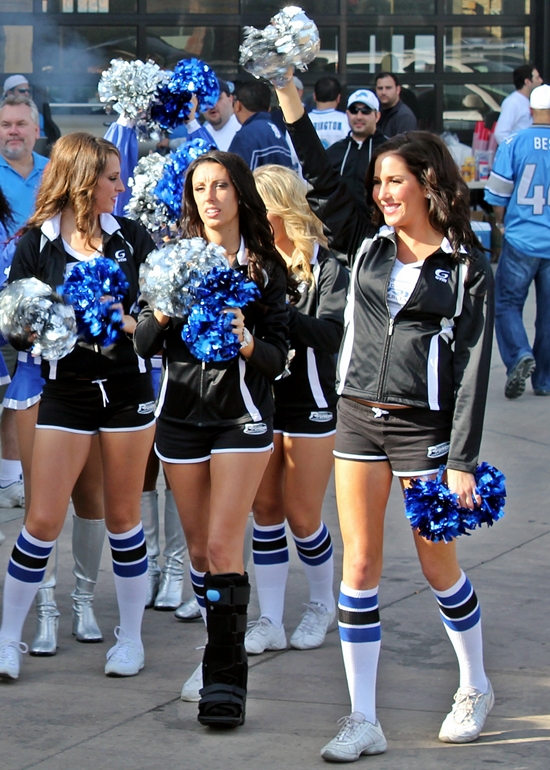 With all of this time and dedication to the DPC, what would it mean if they were welcomed officially into the Lions' pride, and were cheering and dancing on the Ford Field sidelines? Shannon answers, "If given the opportunity to be on the sidelines, I know that DPC would not disappoint the fans or the Lions administration. We would complete the game day experience by bringing spirit and pride back to Lions football. We would also add entertainment to the slow parts of the game such as timeouts and halftime to keep fans in their seats. Nothing would make me happier than to be on the sidelines and to truly be a part of the Lions organization."
Kaiti echoes, "I would be absolutely thrilled and honored to perform on the sidelines! I feel that we are prepared for this task and that our presence would fill a void that the games have had for a very long time. In meeting and interacting with the fans, I am confident that they feel the same way. I think the Detroit Lions fans would be ecstatic to see us lining up at the tunnel to welcome their team onto the field each game."
Sierra knows that if the Pride Cheerleaders made it to the sidelines, it would be overwhelming for her, with a significant impact for the fans. "My emotions probably wouldn't hit until after the game," Sierra speculates. "I would have my game face on during performing, but after I would be in shock getting to experience it. I would ecstatic to be on Ford Field's sidelines. If we were the official squad we could add entertainment to the sidelines during the game and the halftime show. Also increase sales for organization with merchandise and ticket sales. And just a good time for the fans, and someone for the youth to look up to."
Any team would be happy to have the dedicated young women who are part of the Detroit Pride Cheerleaders, and you throw in their talent, personality, and beauty that is embodied by Shannon, Sierra, and Kaiti, the Lions would have an amazing squad. Anyone who sees the DPC on game days will see how the fans would vote on the issue, with their smiles.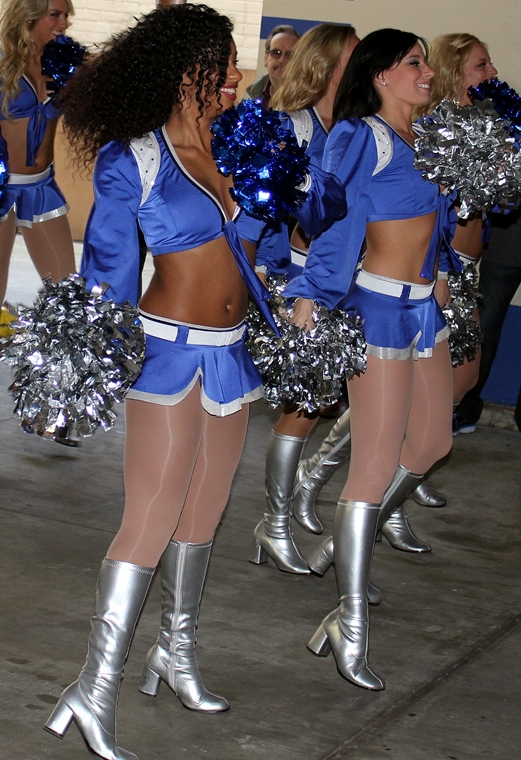 Many many thanks to Shannon, Sierra, and Kaiti for their time and insight, and thanks to wonderful Detroit Pride Cheerleader Directors Andrea Wilamowki and Stacey Latona for coordinating these interviews. Here are some more photos of Shannon, Sierra, and Kaiti from their DPC day before, during, and after the Lions-Chiefs game on September 18th. Click on it once to see the entire photo, then click on that to see the full size image.