By John Przybys
Las Vegas Review-Journal
Sep. 11, 2011
Photos by Jessica Ebelhar and Bill Hughes
[Photo Gallery]
Visit the Locomotion Dance Team online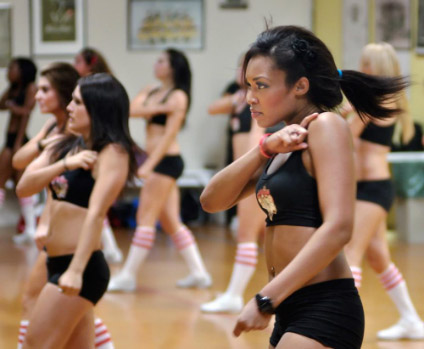 Put some helmets on them and cover them in pads — which would be the dumbest thing ever, by the way — and the Las Vegas Locomotion's pre-rehearsal routine isn't all that different from the Las Vegas Locomotives' pre-practice routine.
Locomotives players do warm-up and agility drills. So do Locomotion members, who begin their rehearsals with a series of hamstring and quadriceps stretches, leg lifts and push-ups (the guy kind, not the girl kind).
The Locomotives then spend their practice running plays, memorizing blocking assignments and pass routes and mastering the details that, together, create a foundation for success. So do Locomotion squad members, who spend their rehearsals tuning up previously learned routines and learning new ones, every one of which is complicated enough to set the head of a QB with a 46 Wonderlic to spinning.
And the fact that the Locomotives do this wearing full pads while Locomotion members work out in sports bras, shorts and tennies? Just a function of the job, really, because while the Locomotives will spend the upcoming 2011 United Football League season on the field trying to win their third straight UFL title, the Locomotion will spend its upcoming season on the sidelines, presenting the most energetic dance recital in town.
This season — which begins Saturday in Sacramento, Calif.; home games are Oct. 8, 22 and 27 at Sam Boyd Stadium — marks the second in which Las Vegas' UFL franchise has had its own dance team/cheerleading squad. And just like the guys, the Locomotion's 25 members have survived tryouts, and two separate cuts, to make the team.
Tami Birch, the Locomotion's assistant director, says the current squad was whittled down from 85 walk-ons who, back in April, had to impress team administrators, judges and members of the public with their personality, their dance talents and even — given the Locomotion's packed slate of public appearances, youth cheerleading clinics and dance camps, and charitable activities — their public speaking skills.
Members of this year's squad range in age from 18 to 33 and come to the Locomotion with varied backgrounds, says Kim Diaz, Locomotion director and herself a veteran of the Orlando Magic (NBA) and Orlando Predators (arena football) dance teams. "We've got some who are in shows, some who are teachers, some who are professionals working 9 to 5, and some of them are students who are going to UNLV. We've got a variety."
But all are dedicated to their art. Locomotion members attend two rehearsals a week at the Fern Adair Conservatory of the Arts. Each of those rehearsals is two to three hours long. Then, members are required to attend two one-hour "boot camps," or physical training sessions for "endurance and muscle training," each week, Diaz says. Then, they'll practice routines at home, on their own, with the aid of videos Diaz posts online.
Diaz estimates that members typically devote about 10 hours a week to Locomotion business. Dancers receive $55 per game, and may also make $25 an hour for selected public appearances, although they're required to make at least 12 appearances at community and charitable events each season for free.
The Locomotions' game day begins two to three hours before kickoff. During each game, the team will perform about a half-dozen full routines and numerous sideline dances.
"A lot of times, even NFL cheerleaders do only maybe a few routines and not a whole lot of dancing," Diaz notes. "We really try to jam-pack as many performances in the game as possible so fans really get to be entertained and the girls get to perform. They really love dancing."
And fans — who can follow the squad via Facebook (www.Facebook.com/LocosCheerleading) and Twitter (@LVLocomotions) — love watching, Diaz says. "That's why we've made such an effort to perform as many times as we do, so (fans) can see how really talented these girls are."
Standards are high, and Diaz says members can be benched for such offenses as not being in shape for a game or not having learned a routine well enough. "They're expected to be dancing-ready in every way," she says, and members who repeatedly miss rehearsals or boot camps may be — and, Diaz says, have been — dismissed.
"We take it seriously," she adds.
In the studio, Birch walks Locomotion dancers through a new routine that, not to get all technical about it, involves spins and other dancey stuff. The routine is broken into a seemingly endless series of eight-count chunks, probably because it'd eventually become too unwieldy to say, "one-hundred-and-twenty-two, one-hundred-and-twenty-three …"
To an outsider, it's pretty much indecipherable and confusing. But Locomotion members make it look easy, finishing up the exhausting-even-in-slow-motion routine with a few discreet huffs and puffs and scattered "Whews."
Then they run through it again, a bit faster this time. By the time it's over, the routine lasts a total of 20 eight-counts plus one dramatic one at the end.
It's a grand total of 161 counts in eight-count time. Kimie Seta hears that and laughs.
"Really?" she says, surprised. "We go to eight or 16. We don't know."
Seta, 22, has been dancing since she was 3, and was in sixth grade when she started dancing competitively.
"Everyone asks me: 'How do you not mix up routines? How do you remember every step?' I guess since I've been doing it for so long, it's natural to me to not mix things up."
Seta was on the dance team while attending Foothill High School — Locomotion squad mate Lana Carey was her high school dance coach, while squad mate Jenny Ammon coached her in middle school — and says she likes being a Locomotion member, first because it keeps her in shape at an age when, she jokes, "I could go, 'Whoo, let's party.'
"But I love the fact that I can come here and do what I love to do. It's not a workout for me. I love to dance and I also love the performance aspect of it, the games. I love to go to games, and I love to have the crowd interact with us."
Carey, like Seta, is returning to the Locomotion for her second year. Carey's resume includes stints as a UNLV Rebel Girl, and says that now, in her seventh year of teaching, "I just wanted to be back on the field again. I do it for fun."
"It's not all fluff and pompons. It's definitely a lot of hard work," adds Carey, 29. "We've been together since April, working out and training and learning dances. We perform at least four or five times per game, and it has to be different each time."
For Carey, it's all about "just a love for dance and love for cheerleading and, also, a love for football. A lot of us are huge football fans, and it's fun to be able to incorporate all of those together right on the field in the middle of the action."
It doesn't hurt that being on the team "keeps me busy," adds Carey, whose husband, Brian, is an Air Force captain and combat rescue specialist who's serving in Afghanistan. They married in March, and "he should be home by the first football game," Carey says. "I'm not sure, but I hope so. I'd love for him to see me dance."
In the meantime, Carey enjoys her own student-led cheering section at home games. "I have a little group that follows me around," she says. 'They usually make posters that say, 'Go Mrs. Carey.' It's awesome."
It's Katy Veneris' first year on the Locomotion squad, although Veneris, 20, a junior dance major at UNLV, has been dancing competitively since the second grade.
Locomotion members bring to the squad a wide range of experience, Veneris says. "We all learn from each others' strengths. One of the girls may be really good in hip-hop and she'll help me, who is newer to hip-hop, but I can help her with jazz technique. So it's more of a team bonding thing."
Many fans understand what it takes to be a Locomotion member, Veneris says, "but I know there are certain people (who), I tell them I'm a professional cheerleader, and they're like, 'Oh, that's an easy job.' Then I have to tell them I have to do two boot camps and I have to do this and I have to do this, and they're like, 'Ohhh …' "
Ammon, 33, is a second-year Locomotion member and, she says, smiling, "one of the oldest ones."
She was born and raised here and began dancing — at the Fern Adair Conservatory of the Arts, coincidentally enough — when she was 10. Ammon danced competitively throughout her youth and also has been a UNLV Rebel Girl, a Las Vegas Outlaws (XFL) cheerleader and a Las Vegas Gladiators (arena football) cheerleader.
When she's not dancing on behalf of the Locomotives, Ammon is an aerialist/dancer at Studio 54 at the MGM Grand. There, she says, "we do routines, but a lot of it is individual. But this is a team effort. You get to meet new people and just have that group orientation — 'Let's do this together.' 'We can do it.' "
"For me, the performance is the best part of it," Ammon says. "The roar of the crowd, just being there. We have little girls looking up to us and wanting to take pictures with us. When I was a little girl, I'd go to Rebels games with my dad, and I said: 'That's what I want to do. I want to be out there.' "