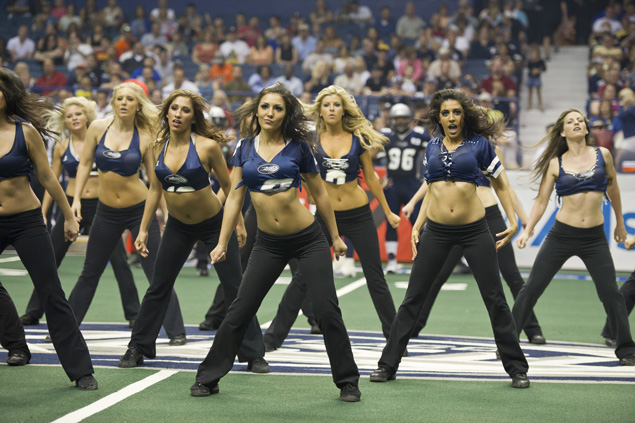 The Chicago Rush is excited to announce that the audition process for the 2012 Adrenaline Rush Dance Team is set to begin on Sunday, November 27th. The Rush is looking for 16 multi-talented dancers to represent the team as members of the Adrenaline Rush Dance squad.
"We are extremely eager to begin our search for the 2012 Adrenaline Rush dancers," said Dance Coordinator Gloria Esposito. "It is always exciting to see these women striving to achieve their dreams. There were so many talented women who auditioned last year, we are anxious to see what this year brings."
There will be three rounds of auditions before the final squad is named. Dancers who wish to auditions for the 2012 team must be at least 18 years old by January 1, 2012.
Dancers are encouraged to attend the audition prep classes prior to the first round of auditions. The class will review technique and will provide the opportunity to learn a new routine as well as speak with the dance team's personal trainer. Each class will cost $20 to attend. However, if the dancer attends both prep classes they will receive a $10 discount off the audition fee. The classes will be held on Tuesday, November 15th and Thursday, November 17th from 7:30 p.m. to 9:30 p.m. at the Donald E. Stephens Convention Center. Applications for the prep class are due on Monday, November 14th and can be found at Arenarush.com.
The first round of auditions will take place on November 27th from 8 a.m. to 5 p.m. at the Donald E. Stephens Convention Center. All choreography will be taught throughout the day of the audition. The audition fee is $50. Applications along with the audition fee, a completed waiver and release form and a recent photo are due by Friday, November 25th. The top 30 or 40 dancers will move on to participate in Mini Camp.
Mini Camp is mandatory and will be held on Tuesday, December 6th and Thursday, December 8th from 7 p.m. to 10 p.m. This camp will prepare dancers for the final round of auditions.
The final round of auditions will be held on Saturday, December 10th from 8 a.m. to 3 p.m. The location will be announced at a later date and will be open to the public.
For questions regarding the 2012 Adrenaline Rush Dancer auditions please call 855-RUSH-WIN or email dancers@arenarush.com.