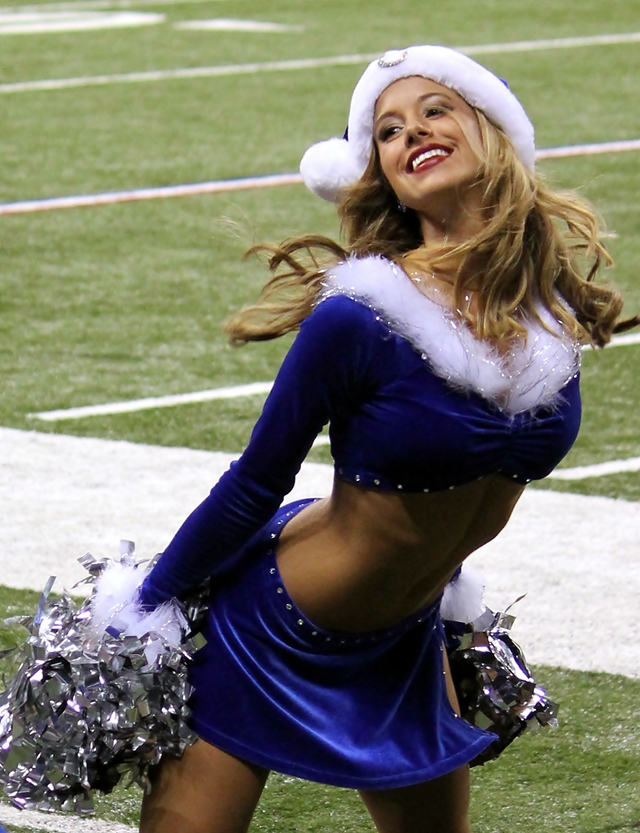 During the pre-Christmas Colts Thursday night game against the Texans, entertainment by Colts Cheerleaders present, future, and past was so abundant, it was sort of like Dickens' A Christmas Carol. Christmas Colts Cheerleaders Present? The current squad donning their holiday apparel, of course, from signing autographs during pre-game to cheering on the sidelines to routines to seemingly every Holiday song imaginable. Christmas Colts Cheerleaders Future? The Colts Junior Cheerleaders, with their annual holiday game performance at halftime. Christmas Colts Cheerleaders Past? Why, it was Alison, a former Colts Cheerleader who is so devoted to the Colts, that she married mascot Blue. Alison was back on the sidelines assisting hubby, horsey Blue in routines as a ballerina and as a Santa Blue helper (click here to see some pics of them when Alison was a Colts Cheerleader at the holiday game two years ago).
As the gates opened, Colts Cheerleaders Julia, Anna, Kristine, and Stefanie were the first group signing autographs on their individual cards and the ICC team photo.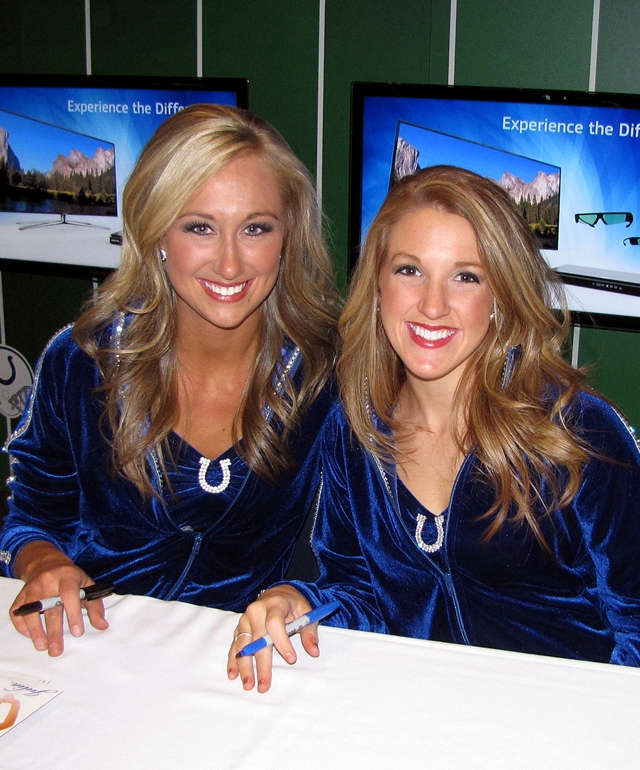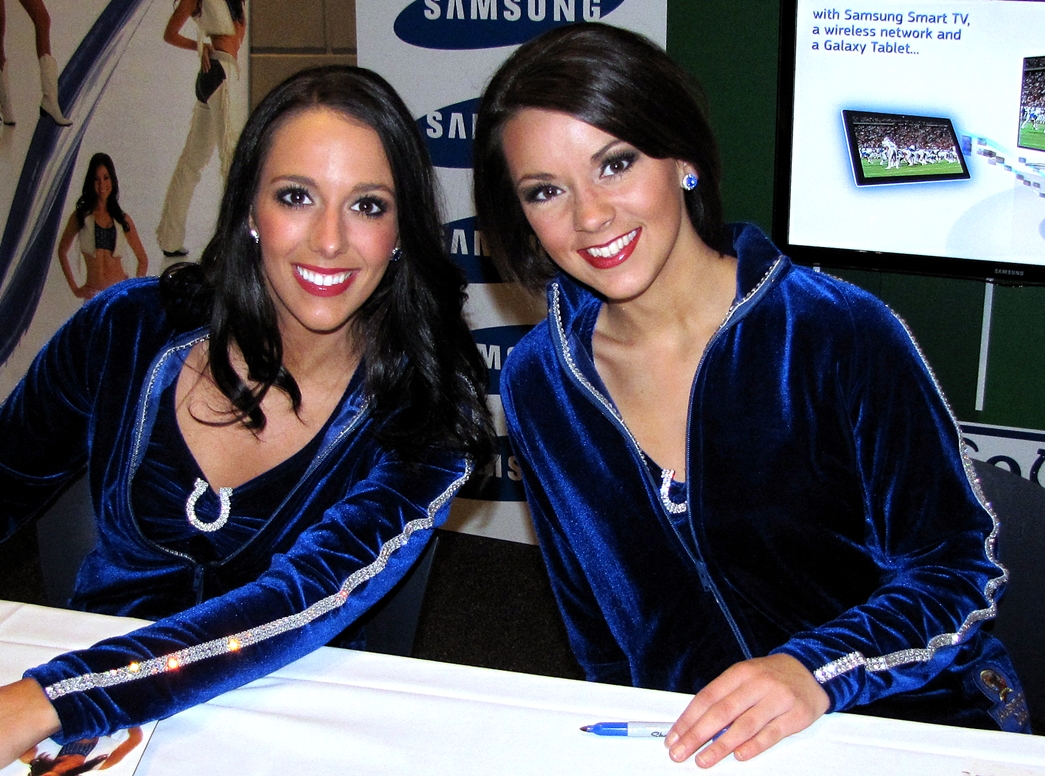 Soon, it was time to get to our seats, and after the Colts Cheerleaders' excellent pre-game routine, mascot Blue hit the field for some holiday levity. Former ICC Alison joined Blue to try to class up his act, decked out in a holiday flair-fest of a tutu for a little ballet. Well, surely Blue will appreciate Alison's classical contribution…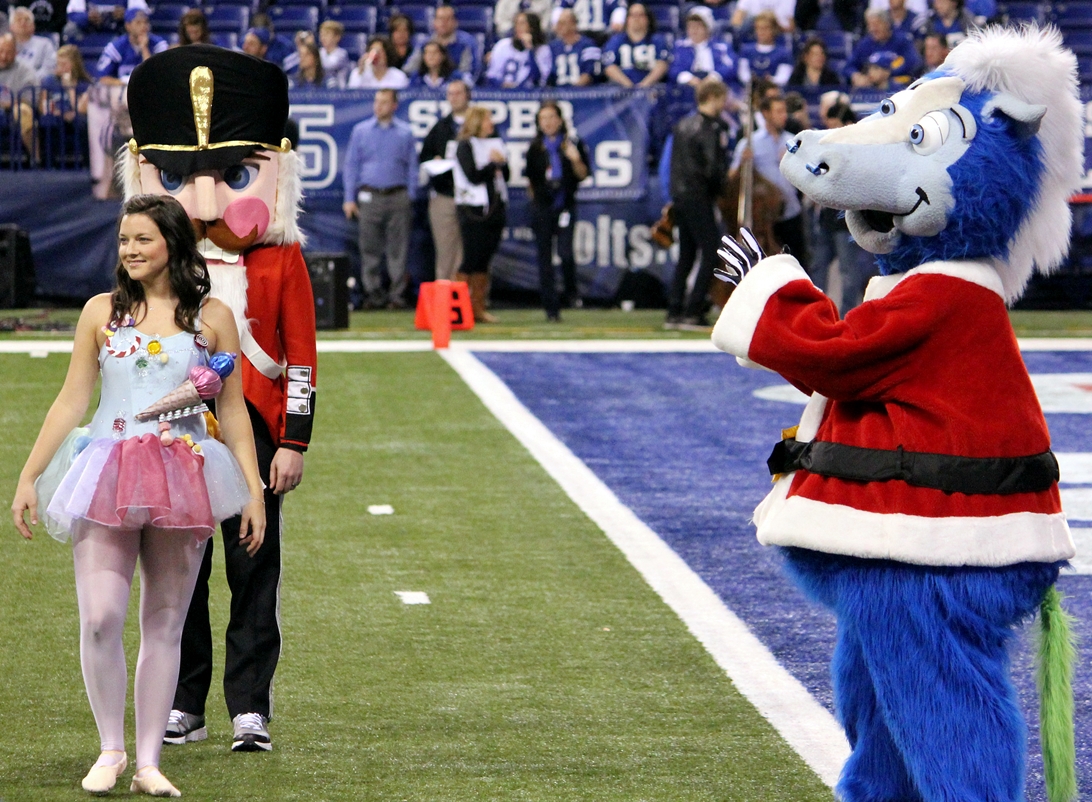 Well, seems hubby Blue is quite the arts critic, because soon he was holding up signs expressing his opinion, "BORING," and then "EXTREMELY BORING," before bringing out his own pair of dancers, a couple of guys more Chris Farley than Baryshnikov.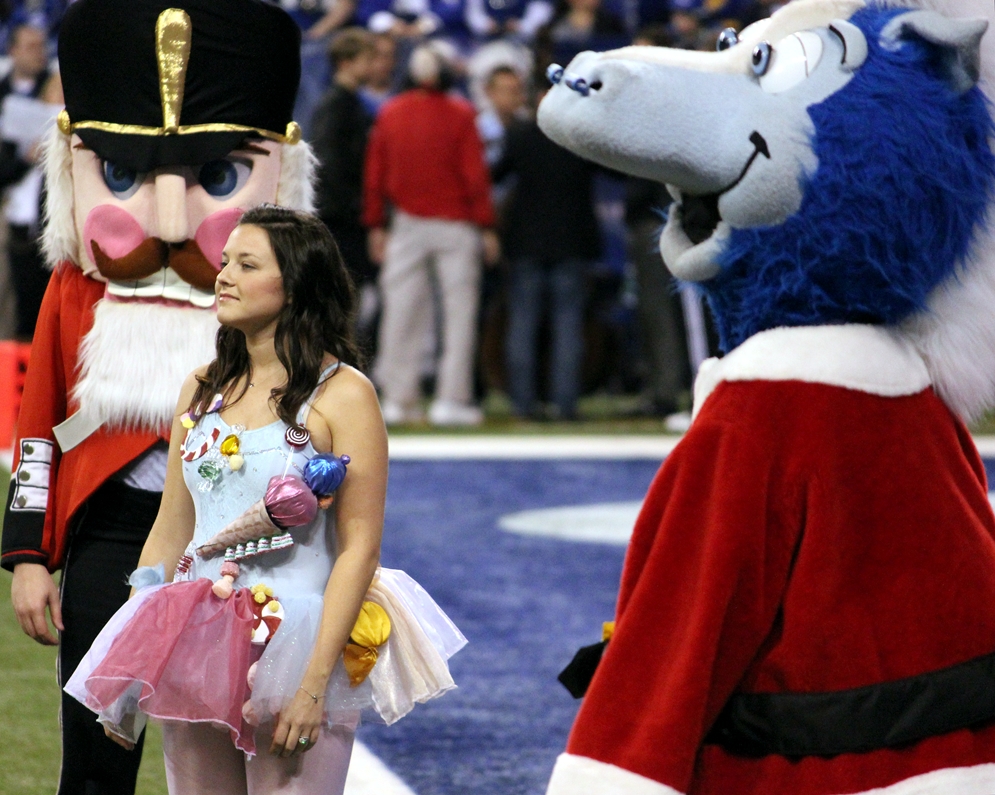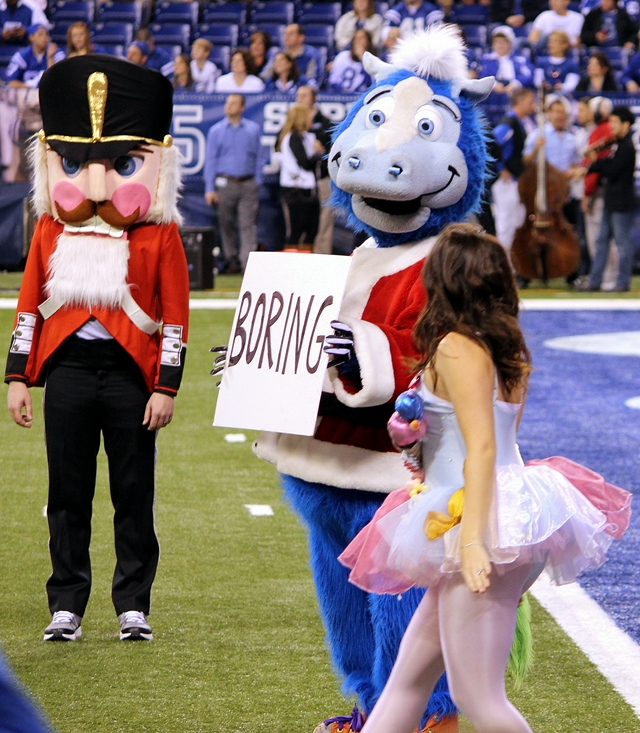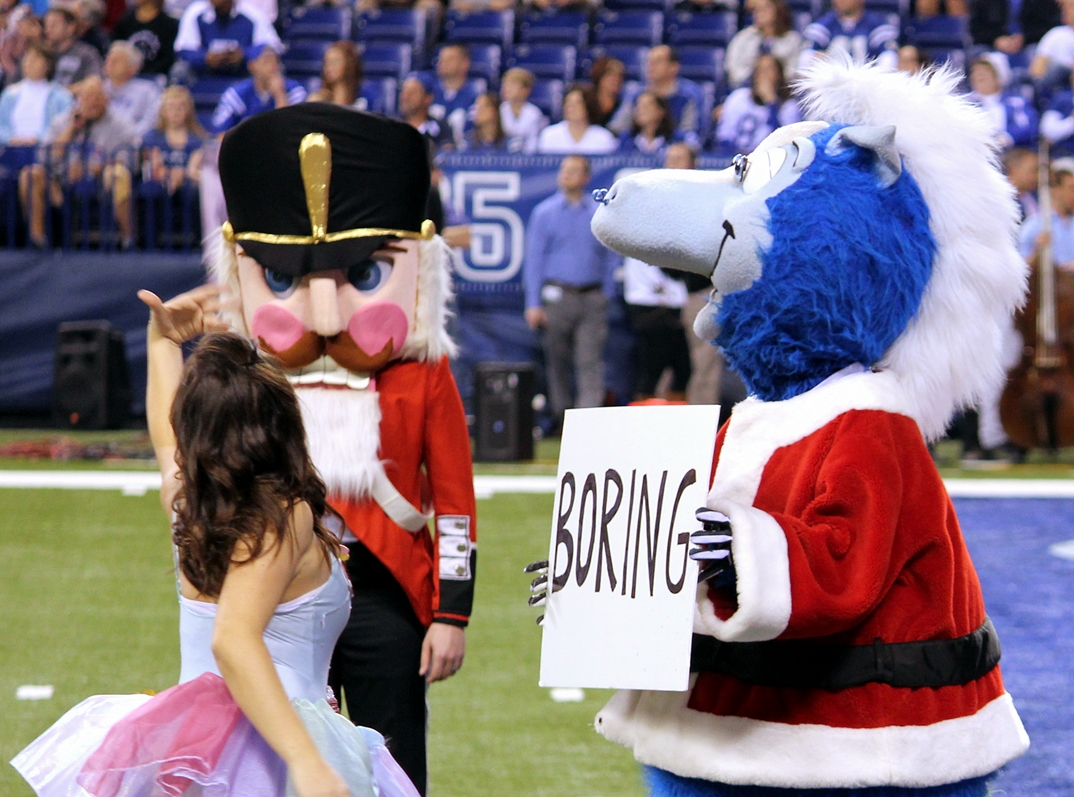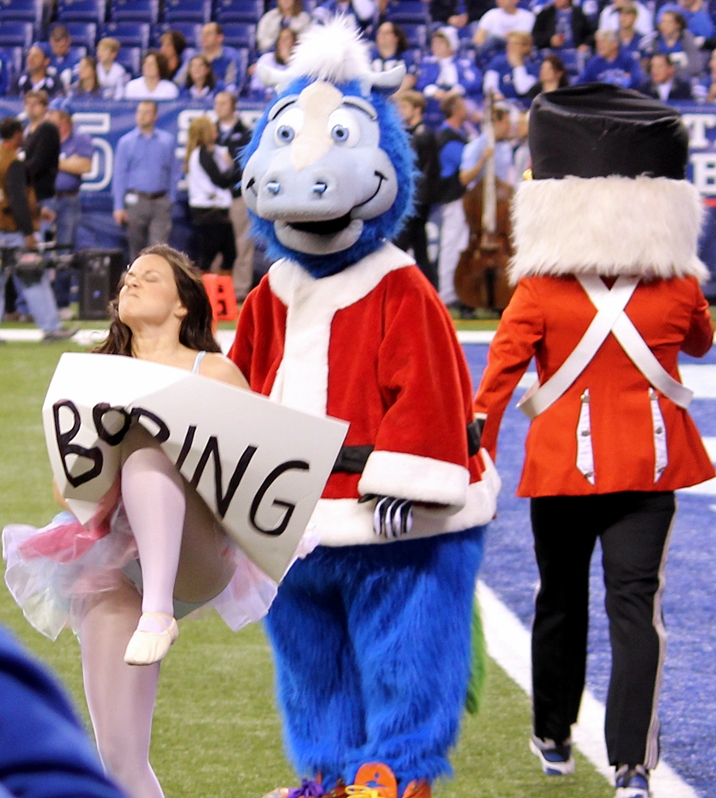 Alison then helped out Santa Blue and other elves for the remainder of the game. Blue's festive activities included having a pole with mistletoe on the end that he would hold over the heads of fans to elicit some holiday cheer of his own. Kind of like "Kiss-Cam on a stick."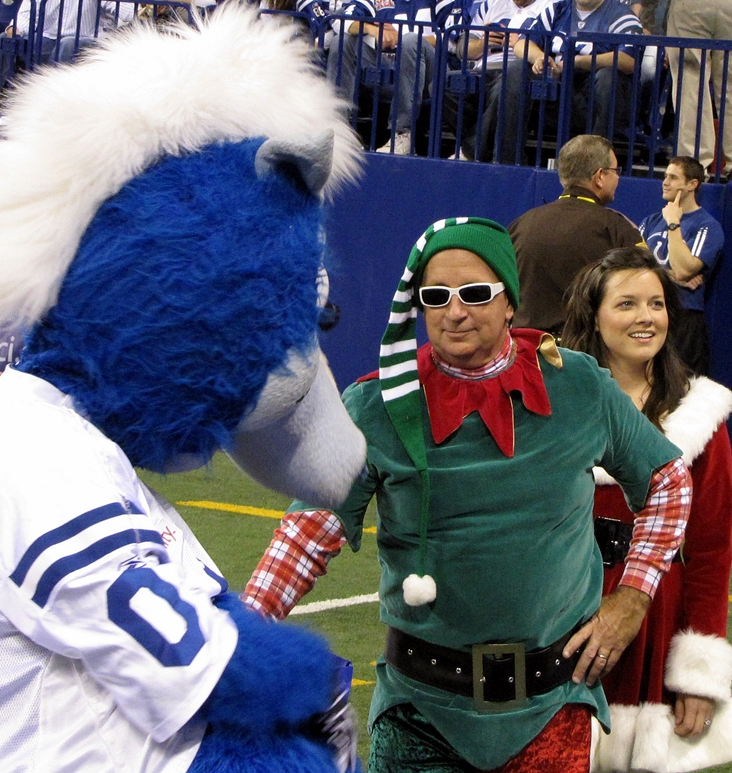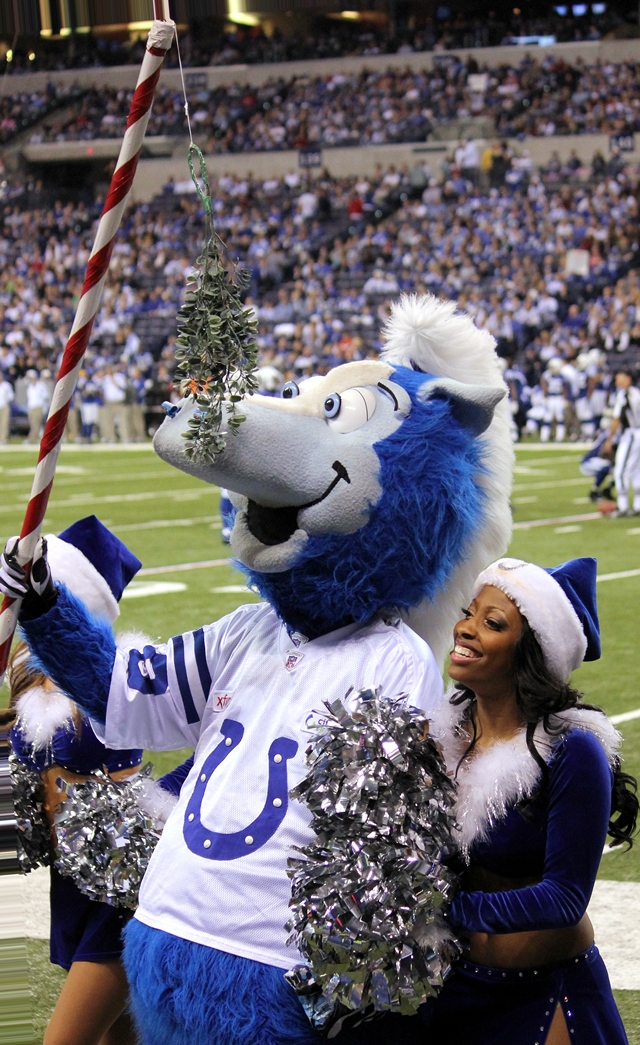 At halftime, it was time for the Colts Cheerleaders to be joined by the Junior Cheerleaders for an extended performance to a medley of holiday tunes. Christmas Colts Cheerleader Present and Future, a resounding success!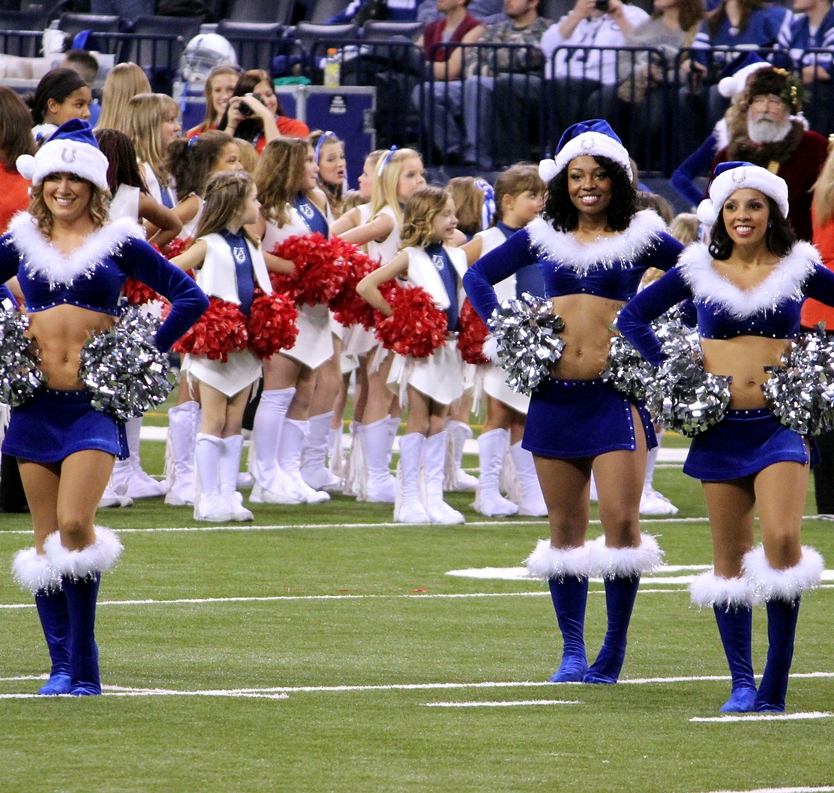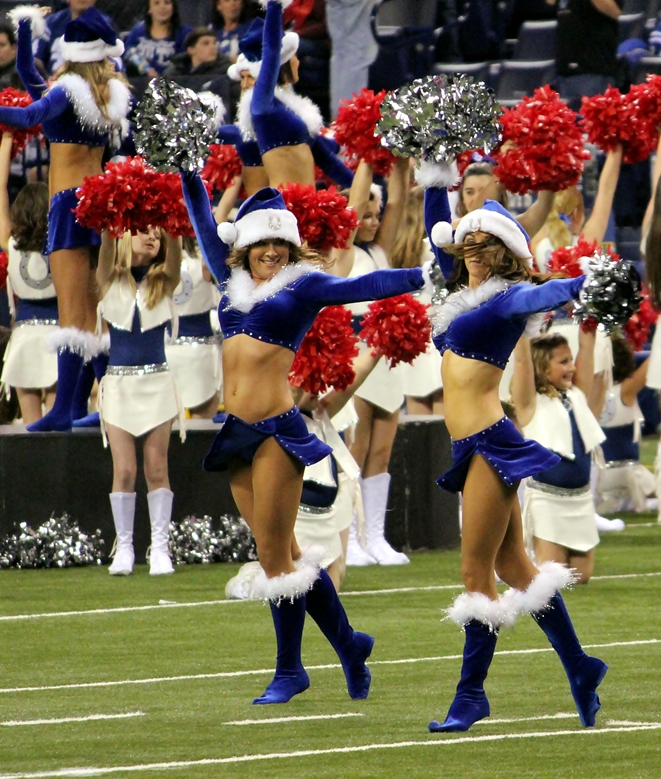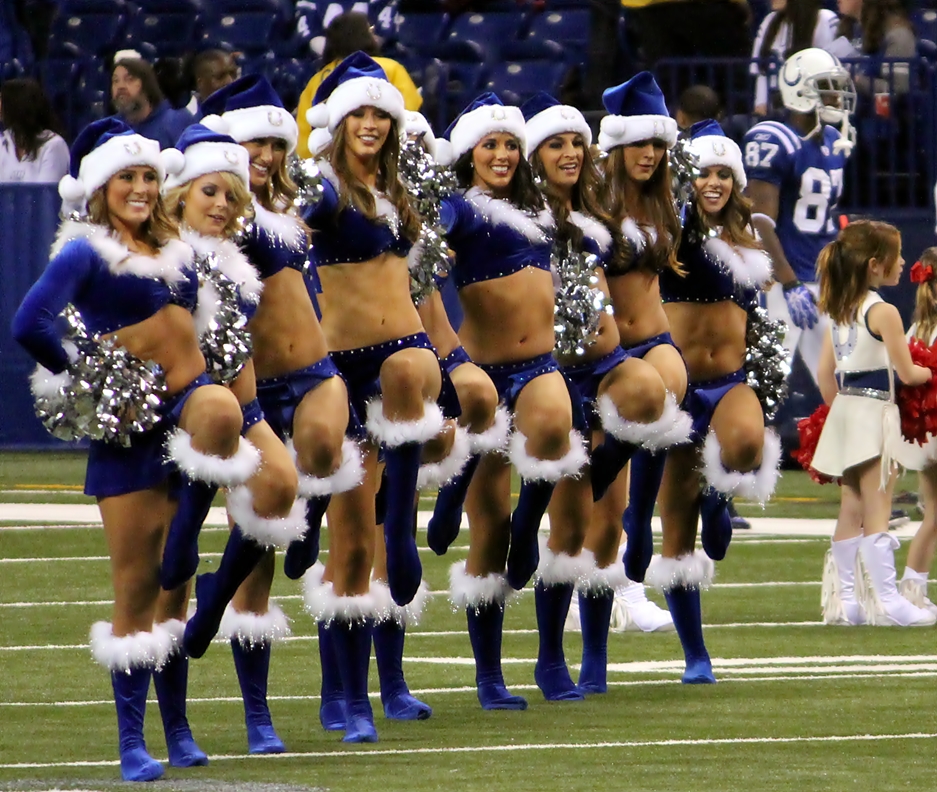 The Thursday night game had the atmosphere of Colts Seasons Past (coverage by NFL Network, a loud crowd, an exciting finish to give the Colts the "W") to help Indy fans forget Colts Season Present (2-13, gulp), but hope it doesn't ruin Colts Seasons Future (by maybe losing out on the number one draft pick).
Here are some more photos of the lovely Colts Cheerleaders during the game, then a big festive gallery below to fill all of your ICC holiday photo needs (in the gallery, left click once to see the entire photo, then left click again to see all of its full-size holiday glory).