Catching Up With…Laura Vikmanis
By Lauren Bishop
Cincinnati.com
Dec. 28, 2011
At 43, Cincinnati Ben-Gal Laura Vikmanis is the oldest cheerleader in the NFL. She's also the only one whose life will soon become the subject of a movie and a book.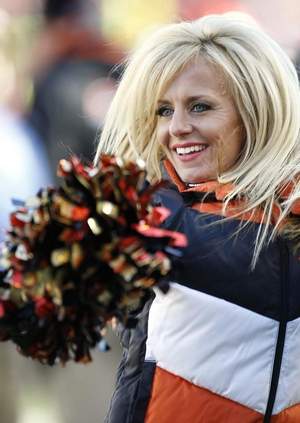 Vikmanis of Springboro made national news this year when a video about her on Yahoo.com told the story of how the dietitian and 42-year-old single mother of two teens became the NFL's oldest cheerleader two years ago.
Hollywood came calling, and by the end of March, she had sold the rights to her life story to New Line. The studio has hired screenwriters Emily Cook and Kathy Greenberg – whose credits include "Gnomeo & Juliet" and "Ratatouille" – to tell the story of show she became the NFL's oldest cheerleader after the collapse of her marriage.
The film likely is still at least two years away, but Vikmanis's memoir is due out March 20 from Ballantine Books, a division of Random House. Vikmanis wrote the book, titled "It's Not About the Pom-Poms: How a 40-Year-Old Mom Became the NFL's Oldest Cheerleader and Found Hope, Joy, and Inspiration Along the Way" with Brooklyn-based author Amy Sohn.
Sohn's books include the novels "Run Catch Kiss" and "Prospect Park West" and a companion guide to HBO's "Sex and the City" titled "Sex and the City: Kiss and Tell."
"I met her last March and we just clicked instantly," Vikmanis said of Sohn. "There's a lot of fun and interesting insight into the NFL cheerleading world."
The book also delves into Vikmanis's marriage, a topic she said she can't discuss in detail until the book comes out. But she said it's highly personal.
"I've totally opened myself up," she said. "I know there's a lot of judgment out there, and I just hope that people look at the broader picture, which is, if you're struggling with something, it doesn't mean you're going to be struggling the rest of your life. You can turn yourself around."
The book's release will coincide with a national book tour that includes dates in Greater Cincinnati.
In the meantime, she's trying her hand at blogging on SkinnyMom.com under the heading "A Mom to Cheer For" about topics like avoiding weight gain during the holidays and gifts for fitness-minded people. And fans can still see her at Bengals games.
The Bengals' last home game is Sunday against the Baltimore Ravens. And after that, she said, "I'm definitely trying again out next year."