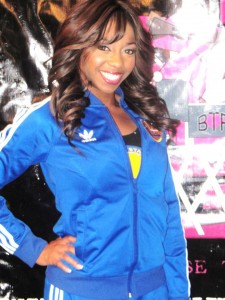 Brickhouse Talk: Ramonda Cutrer Chats With Golden State Warriors Cheerleader Amber Browning
By Ramonda Cutrer
BrickhouseTalk.com
January 16, 2012
Brickhouse Talk kicks off the year with a great interview with the lovely Ms. Amber Browning. Amber speaks with Ramonda Cutrer on her life as a Oakland CA Golden State Warrior Cheerleader along with clearing up mis-perceptions of a professional cheerleader.
Amber possess a positive attitude with a winning smile. She's a intellectual and her "young" life is filled with many great accomplishments. She openly spoke with and answered question posed by current cheerleaders, aspiring cheerleader and their parents who were in attendance. Amber instilled in them the importance of education! Being a professional cheerleader can certainly be a career choice, however working full-time or going to school full-time is a requirement.
This was very genuine and pleasant interview. Amber Browning is a very determine young lady with a bright future ahead. She has great energy and represents the Warrior organization professionally. She followed her dream and is reaping the benefits of her hard work and dedication! A true BRICKHOUSE!
Thank you Amber for your support and Brickhouse Talk supports you!