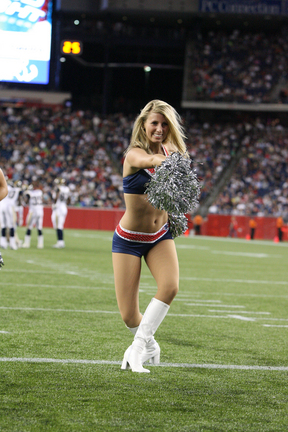 Cheerleader tries out for third season
By Jesse Roman Staff writer
Salem News
March 30, 2012
SALEM — Salem native Siobhan O'Keefe will learn tomorrow whether she is one of 25 women chosen to be a New England Patriots cheerleader for the upcoming season.
It's not quite as dramatic as it sounds. O'Keefe, a 22-year-old student at the University of Massachusetts Amherst, has been on the squad for the last two years and might seem like a shoo-in for another season.
"But every year, you have to retry out for your position," O'Keefe said, sounding confident, but still a little anxious. "I've been practicing a lot and working very, very hard. I wanted to come in prepared."
She's up against 327 other determined women, so anything could happen.
As a Pats cheerleader, O'Keefe has already had experiences she will remember all her life.
She has been on the field in front of 70,000 fans for every Patriots home game during the last two years and was even on the turf in February at the Super Bowl in Indianapolis.
"It was breathtaking," she said. "I was speechless, standing on the field next to the players tunnel and taking it all in."
She has made television appearances and traveled the world, visiting U.S. troops in Afghanistan, Qatar and Kyrgyzstan, and has been whisked away to exotic locales for annual calendar shoots.
Understandably, O'Keefe likes being a cheerleader for perhaps the most successful franchise in the National Football League; the position is the perfect synergy of her two passions.
"I love dancing, and I love the Patriots," she said.
O'Keefe has danced most of her life at Dance Enthusiasm in Salem, and she captained the Salem High School cheerleading squad her senior year. She joined the UMass dance team almost immediately after arriving on campus and, on a whim, went with a few of her dance teammates to an open Patriots cheerleader tryout. After showing off her dancing for the coaches, she passed public-speaking tests, kick tests, fitness tests and other measures of ability. Then she had to get through the four-page written test all about football.
That was not a problem. Some of O'Keefe's fondest memories are of Sunday afternoons with her family gathered around the television to watch the Pats.
"My family is really close, and we all love the Patriots," she said. "My uncle would make a big family dinner every Sunday, and we'd get together and watch the game."
Soon, she will be back with her family in front of the TV watching those games because even if O'Keefe does make the team tomorrow, the upcoming season will be her last. On the Patriots, there is a three-year limit for cheerleaders.
"It's bittersweet. It will be good because it's such a huge time commitment," said O'Keefe, who has already signed on to be an accountant in Boston after she graduates in May. "It will be nice to have some time again, but there's nothing like it."
The benefits are great, but being a Patriots cheerleader is no cakewalk.
Cheerleaders must attend three-hour practices twice a week, every week. On practice days, O'Keefe spends most of the day in class at UMass, hits the gym, then drives two hours to Gillette Stadium in Foxborough. When she arrives at 6 p.m., she has an hour to warm up before the rigorous three-hour practice that finishes by 10 p.m. Her day is finally over when she gets back to school at midnight.
On game days, O'Keefe gets to the stadium five hours early to go over the routines the squad has been working on through the week.
It's that dedication, and all that time with her teammates, that will also be the hardest to let go of, she said.
"I'll miss all the girls there. You're working so hard in practice and sweating next to the best ladies in New England," she said. "It's wonderful to be surrounded by such great personalities. People who are just like you, striving for the same goals."
And during Patriots home games, she admits, "I'm not even going to know what to do with myself."