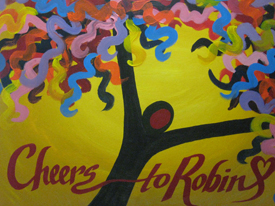 Stacie Kinder
Titansonline.com
May 16, 2012
NASHVILLE, Tenn. — The Titans Cheerleaders will host the 5th Annual Cheers to Robin fundraiser benefitting the Leukemia and Lymphoma Society on Saturday, May 19th. The party will begin at 8 p.m. at Buffalo Billiards on Second Avenue.
Cheers to Robin celebrates the life of Robin Roach Towe, a former Nashville Kats Cheerleader who lost her battle to leukemia in 2002. The money raised goes toward the Woman of the Year Campaign of the Leukemia and Lymphoma Society to directly fund medical research.
The event is open to the public, and the $50 ticket buys each patron a meet and greet with the 2012 Titans Cheerleaders, one free drink, appetizers, door prizes, live music and more. Several Titans players are also scheduled to attend along with many former Nashville Kats players and coaches. This year's party is also serving as the 15-year reunion of the Nashville Kats.
Cheers to Robin: A Party with the Titans Cheerleaders
Benefitting the Leukemia and Lymphoma Society
8 p.m. May 19 at Buffalo Billiards, Second Avenue
Tickets: http://cheerstorobin.eventbrite.com
The society's key priorities will ensure that: The Leukemia & Lymphoma Society helps blood cancer patients live better, longer lives.