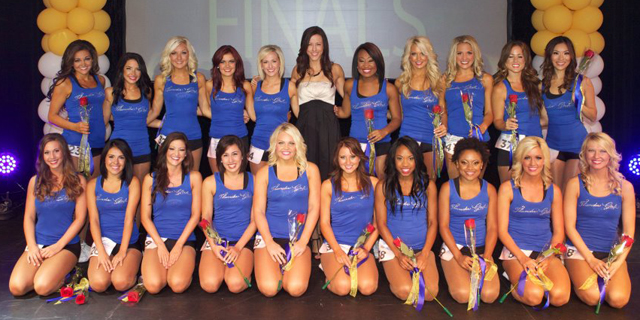 OKLAHOMA CITY, Friday, August 03, 2012 – The Oklahoma City Thunder announced the 2012-13 Thunder Girls dance team Thursday night at Riverwind Casino in Norman. Judges selected 20 ladies to be on next season's squad. More than 1,000 fans attended the live event.
The final team consists of women from Oklahoma, Texas, Utah, and as far away as Japan. This year's team includes 12 veterans and 8 rookies.
*Click here for individual photos of this year's team
The audition process began last Saturday, on July 28, with more than 100 hopefuls. The process included preliminary tryouts, interviews and practices. Thirty-eight girls performed Thursday night for a spot on the team. Judges included Wayne Coyne, Miss Oklahoma 2012 Alicia Clifton, Joey and Heather from WILD 104.9 HD and Thunder officials.
"This year's talent and caliber exceeded my expectations," said Thunder Girls manager and choreographer Paige Carter. "It was a difficult selection process for us to narrow it down to 20 members. I'm confident these ladies will uphold the standards and character it takes to be an ambassador for the Oklahoma City Thunder and the NBA."
The Thunder Girls make more than 200 appearances throughout the region for the Thunder at community and sponsorship events. The 2012-13 Thunder Girls are as follows (last names are not used so as to protect privacy):
Alexis
Hometown: McAlester, Okla.
Ashley
Hometown: Edmond, Okla.
Bailee
Hometown: Moore, Okla.
Dominique
Hometown: Tulsa, Okla.
Hayle
Hometown: Choctaw, Okla.
Jada
Hometown: Oklahoma City
Jenni
Hometown: Tulsa, Okla.
Jessica
Hometown: Madison, Wis.
Kaci
Hometown: Hayes, Kan.
Kei
Hometown: Chiba, Japan
Kelsey
Hometown: Oklahoma City, Okla.
Kim
Hometown: Houston, Texas
LaTeshia
Hometown: Moore, Okla.
Marisa
Hometown: Dowagiac, Mich.
Marysa
Hometown: Layton, Utah
Michelle
Hometown: Del City, Okla.
Molly
Hometown: Waco, Texas
Sarah
Hometown: Cyril, Okla.
Shereka
Hometown: Muskogee, Okla.
Whitney
Hometown: Kansas City, Mo.