Oh, those "fish out of water" stories, ranging from Aesop's Fable about the scaredy-cat country mouse and his cousin the city mouse, to reality TV's The Simple Life with Paris Hilton and Amish in the City. These tales seem to say that going from small town to big city, or vice versa, will make people miserable and yearn to go back to their comfort zone. Well, Brittany, captain of the Boston Cannons Dance Team, finds fun and excitement whether she is in her home town of less than 5,000 or in her life in Boston. Brittany rocks it no matter if she is on the ski slopes in winter, or dancing on the Cannons sidelines in summer. The constant for Brittany, no matter where she is, is maintaining and building her personal connections to the people in her life, be it in her small town network or meeting new people in Boston. So Paris H, you should hang out with Brittany and make her your new BFF. Brittany can find her comfort zone anywhere, and always make sure she find an adventure "that's hot."
Brittany shared with UltimateCheerleaders how she went into the so in-demand field of accounting, how she craves what she sees on her favorite TV show, and what will make her hit her horn if she sees you in Boston traffic.
Brittany is a New Englander through and through. "I was born in Massachusetts, grew up in Lunenburg and then moved to Southern New Hampshire when I was about seven years old," Brittany explains. "My favorite memories growing up are spending every summer on the Cape with my grandparents. Going camping, eating seafood, riding bikes, and digging for clams on the beach."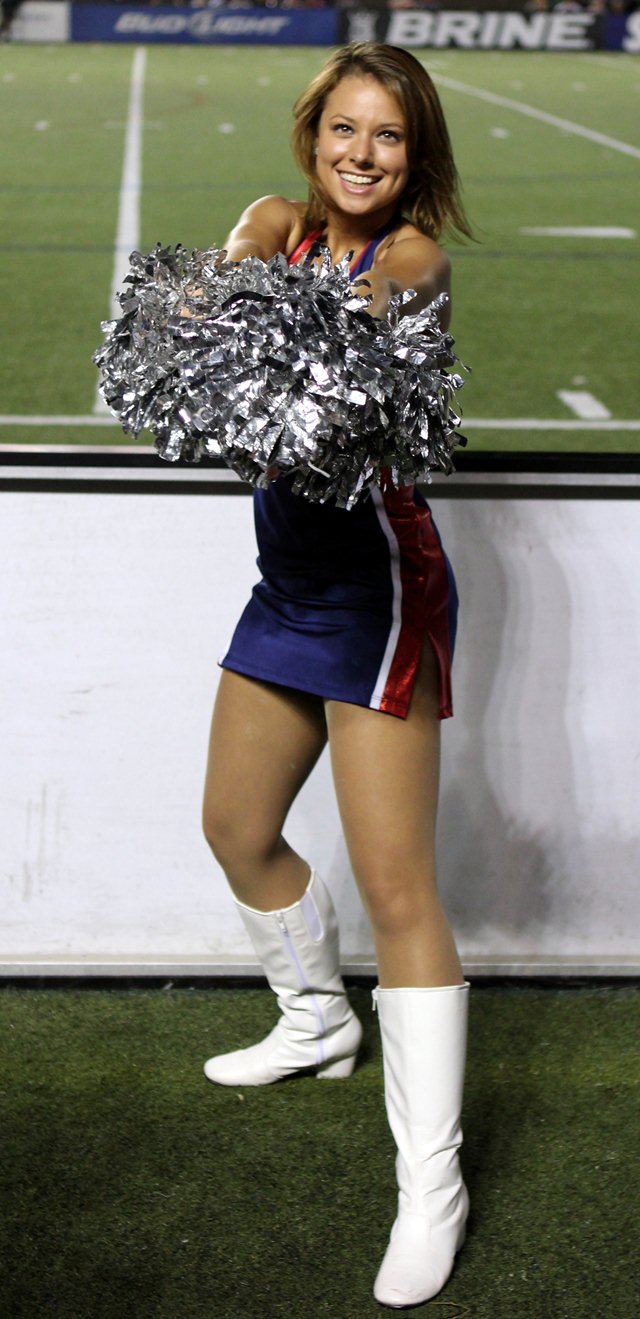 Brittany's small home town is Brookeline, New Hampshire, but much of her life now is centered in Boston. "I am absolutely in love with New England; the food, the ocean and being able to have all four seasons," Brittany says. "My favorite part about being from a small town is knowing people. I can't go anywhere in my town without seeing at least one person I know. I also love being able to go for walks or a hike in the woods whenever I get restless."
"What I love most about Boston is all the different restaurants and meeting new people," shares Brittany. "Boston is full of so many different cultures and people you can't help but what to try new things and be adventurous."
And adventurous is a perfect description for Brittany. In her Cannons bio, when asked about what is in her trunk, Brittany answered, "Camping chairs, boogie boards, and my snow boots. Ready for anything!" As far as her favorite outdoor activities, Brittany lists, "In the summer I love going camping, hiking, and just being around the water, ocean or lake. In winter I enjoy skiing and snowmobiling." So, is dancer Brittany just as graceful in all this outdoorsy endeavors? "I am a lot more graceful dancing than I am on the slopes," explains Brittany. "I started skiing before I started dancing, but I really don't think there has been a time when I haven't face planted the mountain."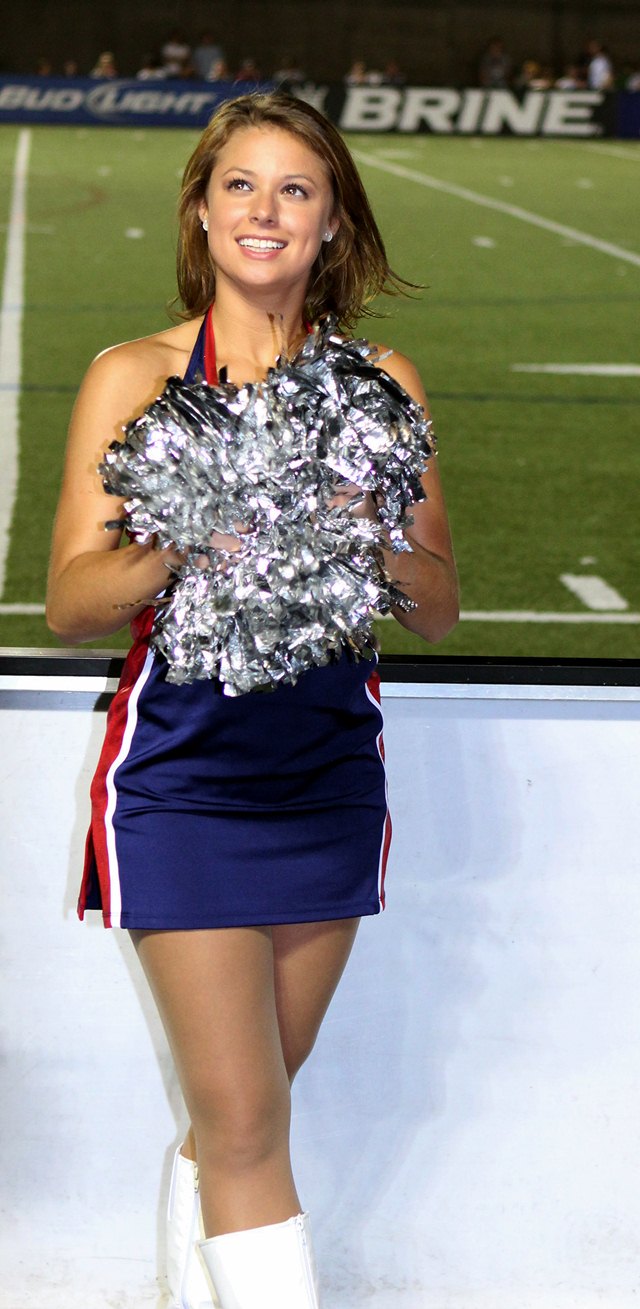 Brittany graduated Cum Laude from Suffolk University's Sawyer School of Management, double majoring in Accounting and Marketing, and is now an accountant. "I was a sophomore in college when I decided to major in Accounting at the time my major was solely Marketing, as was everyone else's major," Brittany recalls. "My first accounting class, I aced, and after that I knew that if accounting was going to come easy to me, that I should do it. And I quickly learned that accounting was not as popular as marketing and this could possibly help me get a job faster."
Accounting is a big "in-demand" field, and would Brittany encourage other young women to consider accounting as a field? "I would love to see more young women study accounting," answers Brittany . "I believe if something comes naturally easy to you, it something you should be doing."
So Brittany, do you have any advice for young people to make them better aware of how to prepare to income taxes, and what mistakes do you think they often make in their taxes? "My first word of advice I would tell people is, 'You're smarter than you think you are,'" Brittany responds. "Being young and not having much to input on your tax returns is the time to save your money and do them on your own. I would also advise doing some research, there are so many deductions out there that people don't know about that could make your tax return a whole lot larger!"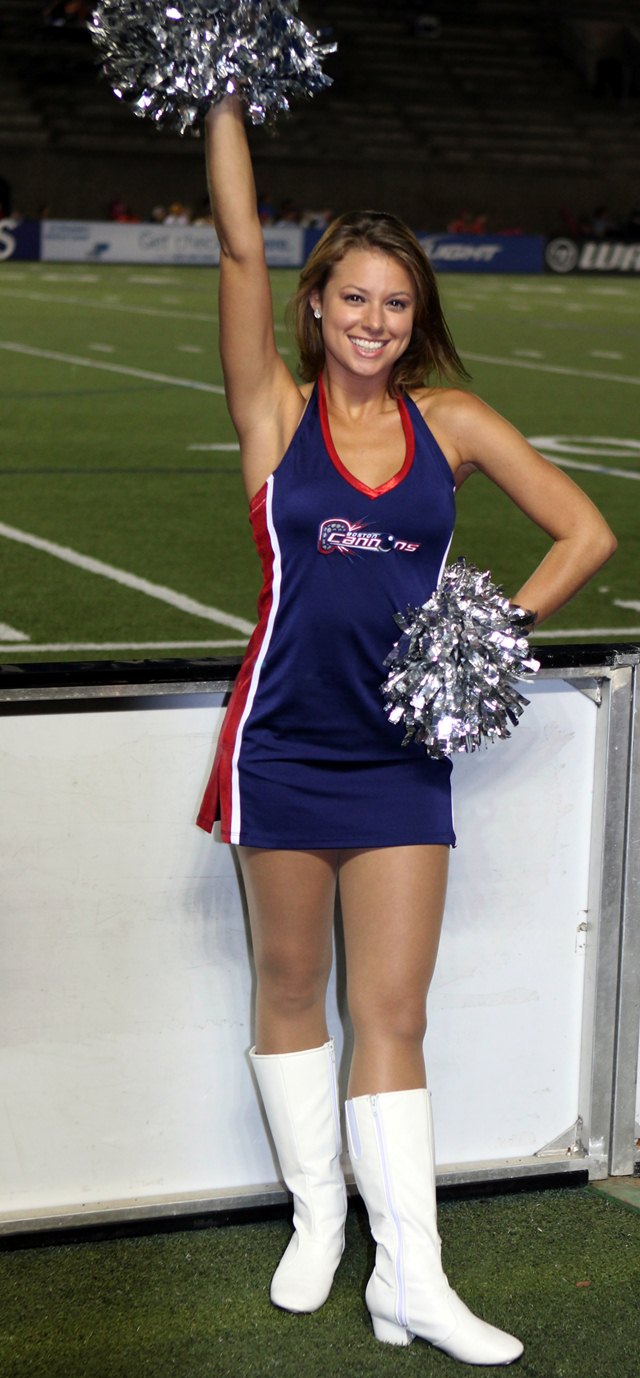 While in college, Brittany worked at the tasty restaurant, Legal Sea Foods. Brittany, as a native New Englander and as a long time employee of Legal Sea Foods, what is the perfect seafood meal? "The perfect seafood meal has got to be fried clams to start and a either a large Maine lobster or a local piece of Tuna," Brittany responds. "Legal Sea Foods does all of those to perfection." This 'fish out of water' story is making me hungry!
And Brittany not only worked for years at a restaurant, she watches TV about food, listing Diners, Drive-in's & Dives as one of her favorite shows. So to contrast with the perfect New England seafood meal, what is Brittany's perfect guilty pleasure meal at a 'greasy spoon'? "Guilty pleasure meal, this is very difficult," replies Brittany. "Every time I watch the show, I immediately crave whatever they are cooking! I will have to say a big juicy bacon cheese burger with fries OR a large helping of homemade Mac n' Cheese. Dessert is a must, either Cheesecake or a Brownie Sundae!"
Luckily, Brittany is active, including dancing, to burn off some of those guilty pleasures. Dance started young for Brittany, as she explains, "I started dance and gymnastics when I was about five years old and have not stopped dancing since. I did try other activities growing up, but there came a time when dance became very demanding and I had to choose, and obviously dance was most important to me. I danced and competed in competitions around the US through high school and when I went to college, continued to dance on the team there, and was voted captain for two years. Once that was over I knew I couldn't stop dancing and needed to find other ways to fill my dancing void! The Cannons seemed like the perfect fit."
In her fourth year with the Cannons Dance Team, it all started for Brittany when, "One of my close friends told me about the Cannons and gave all the information for me," she recalls. "I decided the day of to go to the audition, and I am so happy I did! I keep coming back to the Cannons because I can't imagine not dancing! The team is made up of some fabulous girls and it is such a fun way to make new friends and spend your summer!"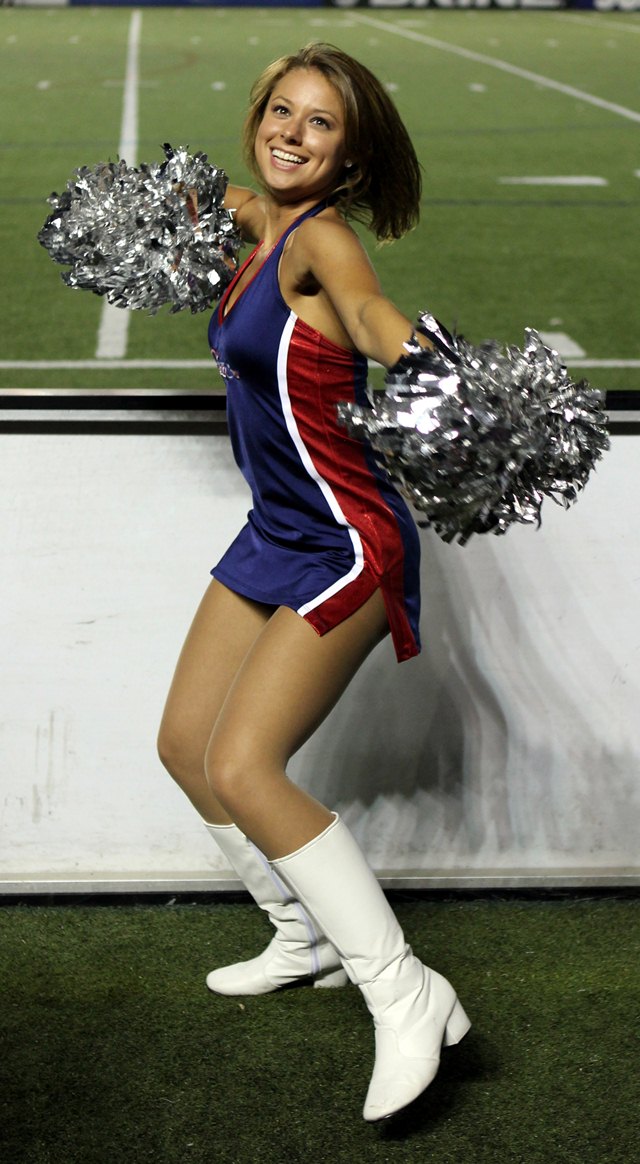 Dancing for the Cannons was also started a fanhood of lacrosse for Brittany. "I was never a lacrosse fan before I started dancing for the Cannons nor did I ever play, but now I am totally hooked on to the sport!" Brittany says. "I think the pace of the game will get anyone hooked it is a very fast moving game and the players show a lot of athleticism."
And the Dance Team must watch the game because the potential high speed of the ball puts the dancers on high alert. "We pretty much stand right on the field so I try my hardest to keep my eye on the ball you never know when it is going to come flying at you or bounce off the wall behind us," Brittany details.
Some of Brittany's memorable moments on the Cannons Dance Team, from weather to memorable games include, "Last season on the Cannons, it pretty much rained every single game, terrible, but also kind of fun," Brittany describes. "We thought it was pretty cool when we would whip out hair around and see rain drops go flying into the air. My favorite games to watch is when Boston hosts the All-Star game, this is when you get to see the best players in the league show their true talent."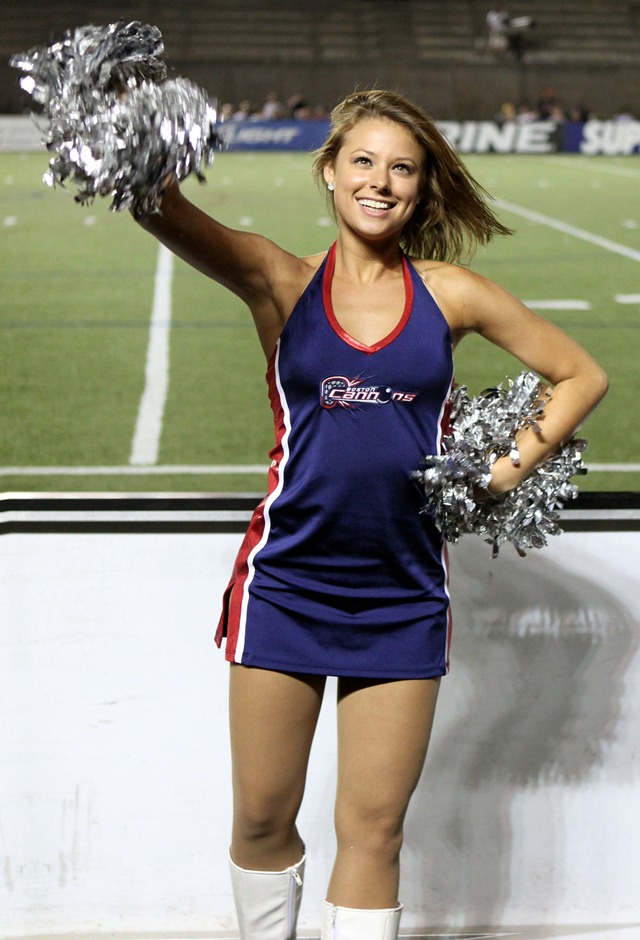 A little of Brittany's small town side comes out though when she describes her most memorable Cannons routine, saying, "Being a huge fan of country music my most memorable routine is when we did a dance to a country song and wore cowboy hats!"
In fact, Brittany's love of country music means she doesn't have a lot of interest in Boston's own notable musical acts. "(Favorite) musical artists from the Boston area is a little hard for me since the only thing I listen to is country music. But I do have some friends in some local bands around the area that are pretty good!"
In fact, as far as her own musical expression goes, Brittany keeps it to just dancing. "Unfortunately I am not musical in any other ways," Brittany claims. "I tried very hard to play the flute in middle school but could never remember the notes, and I can assure you my singing voice is not meant to be heard in public!"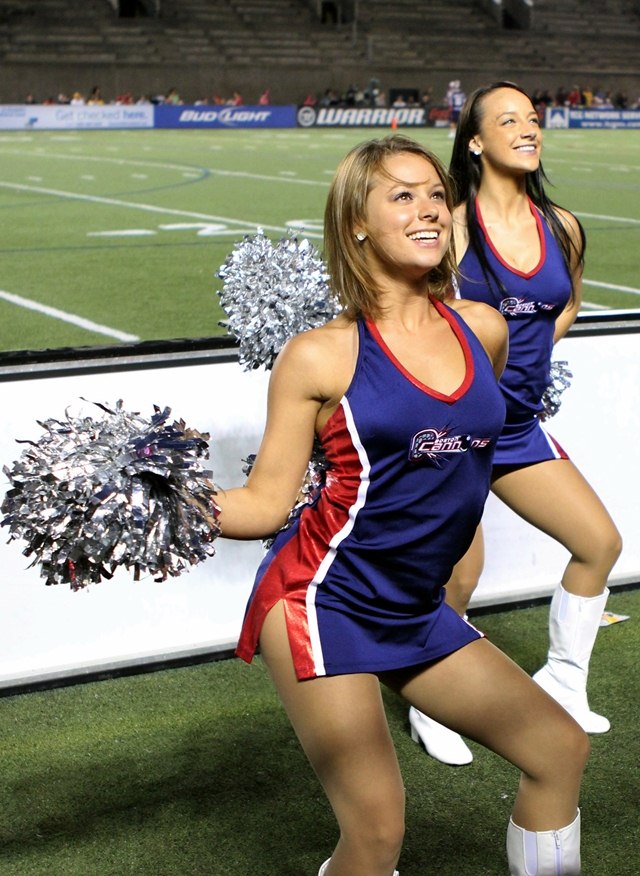 But according to her Cannons bio, Brittany does love to use her horn. The car horn that is. "I use my horn every time I step into my car," Brittany says. "I have numerous pet peeves but my biggest one would definitely be people not using their blinker! It is the easiest thing to turn on and it will save everyone around you a lot of headache!"
And the Boston Cannons and the Cannons Dance Team hope the city of Boston gets to honk their horns to celebrate another championship, with the top four teams in the league facing off this weekend at Harvard Stadium to determine whether the Cannons will repeat as champs. No matter what, the end of season four on the Cannons Dance Team is just another adventure in Brittany's action-packed journey. Those fables of country mice/city mice would be better off being inspired by Brittany, who demonstrates that grabbing all of the opportunities in life should not be limited to any boundaries.
Thanks so much to Brittany for sharing her experiences with UltimateCheerleaders, and Cannons Dance Team Director Ashley Wagner for all of her help! And if Brittany looks familiar and you have never been to a Cannons games, she also has been on the indoor lacrosse dance team for the Boston Blazers, the Sparks, and was even featured in these pages before, here. Plus, more photos of Brittany dancing for the Cannons in July are at this link.