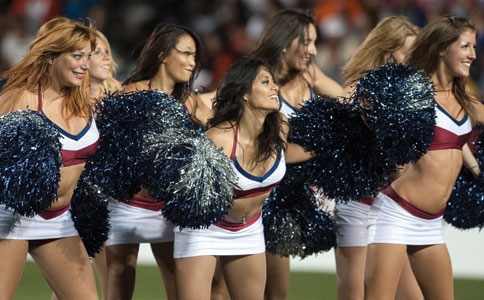 By Andrew Soong
The Suburban Newspaper
September 26th, 2012
The Montreal Alouettes Cheerleaders are not just a few pretty faces shaking pompoms on the football field's sidelines.
"We are the link between the stands and the football field," said Als' Cheerleaders' Coordinator Annie Larouche.
"We are also the ambassadors for the team and represent the team when the players can't."
The 32 members of the Alouettes cheerleaders are chosen from as many as 200 applicants annually from around Montreal drawn from various professional backgrounds contrary to pop culture. Returning cheerleaders are also subject to try-outs as well keeping the team sharp with the skills for on and off the football field.
According to Larouche cheerleaders must be "dedicated between February to November with solid dancing skills and energetic personality."
"I have been dancing since I was three-years-old and this is challenging with dancing," said four year veteran Als cheerleader Marjorie who is also a mechanical engineer. "The kids are always happy to see you and you get to interact with fans."
Practices are mandatory over the course of their season with the Als and can go late into the evenings as the squad practices and perfects their routines. All CFL cheerleading teams are showcased at each Grey Cup even if their team does not travel to the final. According to Larouche "everybody wants to be part of the team including practice."
"I danced with the team until one-week before I gave birth and we have another member who still helps out even though she's pregnant," said Larouche about the commitment of members of the team. "It may not be cute, but we still dance."
In addition to their practices and participation at games the cheerleaders interact with the community at large. Members of the cheerleaders often take part in the outreach programs offered by the Als' organization including visiting schools with the "Back to School with CN and the Montreal Alouettes." According to Marjorie "it's always nice to make at least one little kid happy."