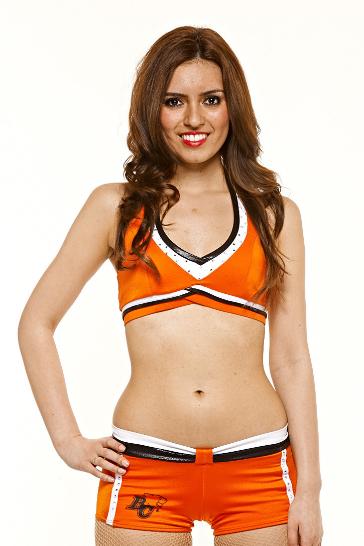 By Matthew Hoekstra
Richmond Review
July 11, 2013
Kara Gerlach is known to turn a few heads on game day. The Richmond woman is a member of the Felions, the dance team for the B.C. Lions tasked with cheering for the Canadian Football League team—and meeting fans.
"Interacting with fans is one of my favourite parts of being a Felion," said Gerlach, 25. "It's great to interact with them and feel all the love that they show for us."
The Felions prowl outside B.C. Place before games, selling calendars, signing autographs and, of course, posing with fans for lots of smartphone photos.
This is Gerlach's second season with the Felions, who cheered the home team to its first win of the season July 4. She's among 35 dancers in the group, many who balance full-time jobs, university schedules and dance training with their Felions commitments.
Gerlach grew up in Richmond and has been involved with dance throughout her life. She trained at Richmond Academy of Dance and Vancouver Academy of Dance, and was a cheerleader at H.J. Cambie Secondary. As a recent BCIT graduate, she's now interning at a public relations firm.
"The Felions combined my love for cheerleading and dance, so I was naturally drawn to it."
The squad rehearses weekly and don orange uniforms every home game to cheer on the Lions from the sidelines. Felions also make regular appearances in the community, representing the team at numerous charity and corporate events—about the only time they interact with players.
"The players are there to play football and we're there to cheer them on," she said.
As for how the Lions—now 1-1 on the season—will follow up last year's Western Final finish, Gerlach is hoping to cheer the team on in Saskatchewan for the championship game.
Said Gerlach: "I'm hoping that they'll make it to the Grey Cup and we'll get a chance to cheer them on in Regina."
B.C. visits the Edmonton Eskimos this Saturday before returning home to B.C. Place to host the Eskimos on July 20.