By Frank Luba
The Province
March 9, 2014
There are always more hopefuls for the Felions than there are spots on the B.C. Lions' dance team, even this year when the squad will probably be larger because the Grey Cup CFL championship is in Vancouver.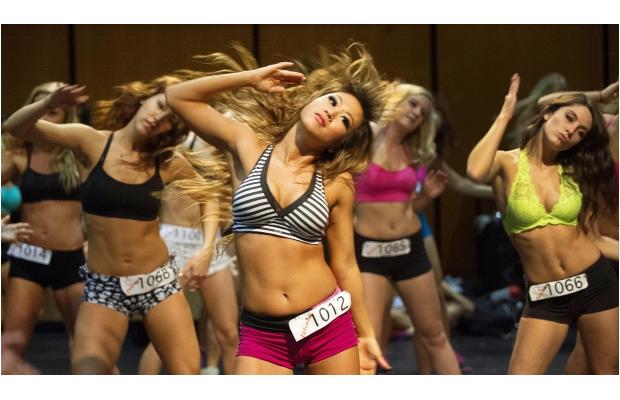 Tryouts for the squad began Sunday at the Scotiabank Dance Centre, with Lions dance team co-ordinator Alexandra Severyn overseeing the process of cutting down a group of more than 100 dancers to a maximum number of 42 Felions.
PHOTOS: SEE THE GIRLS GIVE IT THEIR ALL AT THE 2014 FELIONS TRYOUTS
Severyn, 36, is a former ballet instructor and looks like she could rejoin the squad she was a member of in 1998.
But the mother of three is looking for the next generation of dancers.
There were 34 dancers last year and 25 have come back but everybody still has to audition and be willing to do an awful lot more than just shake some pompoms.
"It's a commitment from March until December 1," said Severyn.
Dancers are required to attend three-hour practises every Sunday and then put in seven-hour shifts on game days.
There's also up to 250 promotional appearances dancers from the team make, so anyone selected has to be available for a share of those events.
The qualifications to be a Felion, according to Severyn, are "excellent dance ability, outgoing personality, physically fit and a B.C. Lions fan."
Marissa Culpin, 25, of Abbotsford has fit that bill before, winning a spot on the Felions the previous four seasons.
"I love to dance, I love being on a team, I love all the girls on the team and I love football," she said.
Being a Felion fits into Culpin's career as a dance teacher.
"I have been dancing since I was four or five years old and I still do it today," she said.
Culpin is committed to dancing.
"I will dance until my body will not allow me to anymore," she said.
At the other end of the Felion aspirational scale from Culpin was Sharmaine Duell, who just turned 19.
The Australian native, who also holds Canadian citizenship, actually tried out for the squad last year but didn't know dancers have be at least 19.
She also has extensive training.
"I've been dancing for about eight years," said Duell, who has a diploma in commercial dance and musical theatre.
Sports teams in Australia have more cheerleader-style squads instead of dancers, said Duell.
But what the Felions do interests her.
"I really love sports," she said. "I love the atmosphere of a live game and I love dance. So this has both."
And there's more.
"They [Felions] always seem to have fun when I've seen them," said Duell.
There's more fun, of course, if the Lions win — but that's up to coaches and players, not their dance team.