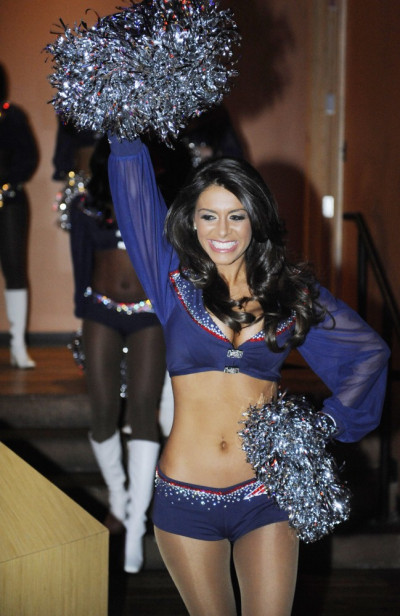 Juliet Pennington
The Sun Chronicle
August 15, 2013
FOXBORO – David Villegas, a 16-year-old high school sophomore from Roslindale, said luck was on his side Thursday.
Not only did he get to see New England Patriots star quarterback Tom Brady in action on the practice field, but he caught the first glimpse of the new Patriots Cheerleaders swimsuit calendar and got to meet several members of the squad.
"This is crazy," Villegas said. "First, I thought Brady was hurt and there he was playing today. And then, while we were at training camp, we saw signs saying that the cheerleaders would be at Toby Keith's – so of course we came here for dinner."
Villegas and his family were among many training camp attendees who had no idea there was a big to-do at the Patriot Place restaurant and bar, but were happy they picked Thursday to watch their beloved hometown team gear up for the season, which moves another step closer tonight with the exhibition home opener against the Tampa Bay Buccaneers.
In addition to the unveiling of the new swimsuit calendar, this season's 24-member cheerleading squad was announced and the young women revealed, for the first time, their new uniforms, designed by Waltham-based crystal couture designer Sondra Celli – star of the popular TLC show "My Big Fat American Gypsy Wedding," now in its third season.
The navy blue, long-sleeve uniforms are adorned with genuine Swarovski crystals (imported from Austria) in red, clear and blue.
Cheerleader Director Tracy Sormanti said she approached Celli because she wanted the new uniforms to be "different and exciting."
"The uniforms that she created are extraordinary. They are going to jump to life under the stadium lights," Sormanti said. "We have the best uniforms in the NFL."
Celli said that more than 100,000 Swarovski crystals were sewn by hand into the uniforms.
"As a lifelong Patriots fan, this was super special," Celli said at the swimsuit calendar launch party. "To be asked to do it was really an honor. I can't get over how lovely the girls are. They have great personalities, they're smart, they're beautiful and each one came up to me individually and thanked me."
Celli also designed one of the bathing suits (a crystal-studded camouflage suit for November, in honor of Veterans Day) worn in the calendar.
Rachel Swanson, 22, who lives in Boston and is a first-year member of the Patriots cheerleading squad, said she "absolutely, totally" loves the uniforms.
"I cannot wait to wear them in the stadium," she said. "I'm a sucker for Swarovski crystals, so this is great."
Swanson was one of two cheerleaders who landed on the cover of the swimsuit calendar.
"I can't put into words how excited I was when I found out I would be on the cover," she said. "It's the biggest honor in NFL cheerleading."
And while she was thrilled to be on the cover, so were many of those who waited in a long line to buy the $20 calendar (with 30 percent of the proceeds going to the New England Patriots Charitable Foundation).
"Look at them," said Russell Tanner, 32, an information systems analyst from Mansfield who was holding up the calendar so his friends could see the cover. "They are smokin'. Man, this was worth every penny."
Cami Dunn, 14, a high school freshman from Taunton, said she loved the bling-bling designs of Celli and wanted to see what she did with the uniforms. She and her friend Caleigh Hebert, 15, and also from Taunton, said they both want to be Patriots cheerleaders when they are older.
"It seems fun," Dunn said. "I love cheerleading and I like the Patriots, so it would be perfect."
After the cheerleaders were introduced individually, a video called "Sideline to Shoreline" that chronicled the making of the swimsuit calendar was shown, and the cheerleaders mingled with those gathered in the back of the restaurant/bar, signing autographs and posing for pictures.
"I'm having a great time," Villegas said, as he posed for pictures with various cheerleaders. "I was hungry, but now I'm in no hurry to have dinner. I'd rather being doing this."