The cheerleaders invite all fans to Toby Keith's I Love This Bar & Grill for a first look at the 2014 Patriots Cheerleaders Swimsuit Calendar and the squad's new uniforms.
Join all 24 Patriots Cheerleaders at Toby Keith's I Love This Bar & Grill, located within Patriot Place at Gillette Stadium in Foxboro, MA on Thursday evening, August 15th from 7:00 p.m. until 9:30 p.m. as they unveil their 2014 swimsuit calendar and brand new uniforms.
Fans of all ages can attend, though 21-plus only will be permitted after 10:00 p.m. There will not be a parking or entrance fee for the event. Swimsuit calendars will be on sale for $20.00, with 30 percent of each calendar sold being donated to the New England Patriots Charitable Foundation. The Patriots Cheerleaders will be wearing their brand new signature uniforms, designed by Sondra Celli, for the first time. The cheerleaders will be there to meet fans, take photos and sign autographs.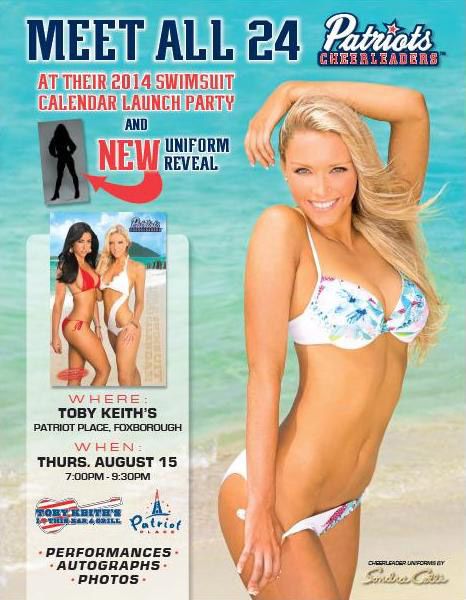 When I chatted with Patriots Cheerleader Captain Stephanie at the P-R-O Convention she was really excited about the new uniforms. She was sworn to secrecy, but promised that the look is glamorous.