The new Patriots Cheerleaders uniforms, which will be reveled at the team's on Thursday, were designed by Sondra Celli.
SONDRA – freaking – CELLI.
Now, I guess if I'd actually read the press release I would know this, but I feel like they should have put this information in HUGE RED LETTERS. And underlined it. Twice.
Do you know who Sondra Celli is? Do you?
If you don't, google her. Google her right now.
Unlike myself, you probably have not seen every single episode of "My Big Fat Gypsy Wedding" (both the original recipe and the Yankee spinoff) I have watched the specials. I have watched the Stanley Sisters spin-off (really not proud of that last one). I've even read the books written by the dressmakers. Not because of some innate fascination with the Gypsy/Roma/Traveller cultures, but because their fashion fascinates me. The wedding gowns, the bridesmaids dresses, the formal wear, it's like…whoa. There is no way to adequately describe the over-the-topness that happens on those shows.
So, who is Sondra Celli? Sondra Celli is THE couturier of choice for gypsy bridal fashion in the US of A. Why? Because she does things with Swarovski crystals that you have never even imagined. And she does it with crystals by the truckload. I imagine her shop is like Scrooge McDuck's money vault, except hers is piled high with glitter and crystals, not gold coins. I want to go there and put on a princess crown, and dance around in the mountains of tulle. But I digress.
Sondra serves a clientele that views "completely absurd" as the jumping off point for any design. So she sparkles gowns, pumps, tuxedos, baby booties, christening gowns, hand bags, go go boots, baby strollers, first communion dresses, sweet 16 outfits, mens shoes, hot pants, motorcycle helmets, and anything else you can imagine. If you can make it stand still, she can bedazzle it.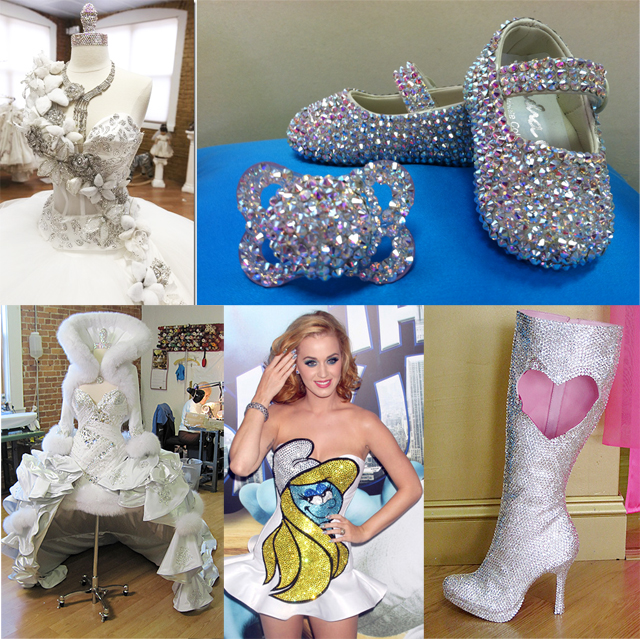 Yes, that is Katy Perry, in the midst of her mercifully brief "just broke up with my man, gotta change my hair" blondish phase. (Hard to believe that woman is a natural blonde. She is so stunning with dark hair. Oops, there I go, off topic again…)
Sondra Celli is famous for making wedding gowns so enormous the bride can barely walk, gowns so heavy they leave the wearer with permanent scars. Exhibit A: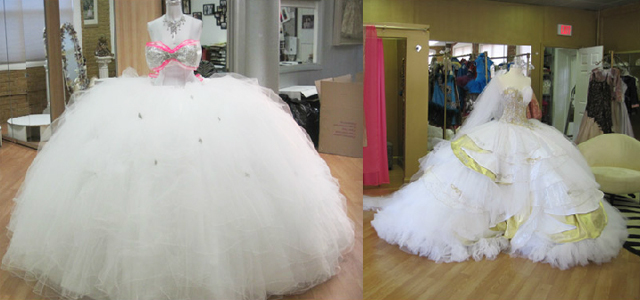 Indulge me while I go completely off topic for a moment…Here is one of Sondra's recent creations for one of her most outrageous gypsy customers. The bride wanted hot pink, leopard, and sparkles, and oh boy did Sondra give it to her! The first impression is one of intense cray, but there is some serious workmanship in there, and I don't even think she had a week to make all of it. (Sadly, the marriage didn't even last half that long, but that's a story for another day. Oh, that wacky Mellie Stanley…)
So, as I ponder "Sondra Celli + Pats Cheerleaders," this is the kind of thing that comes to mind: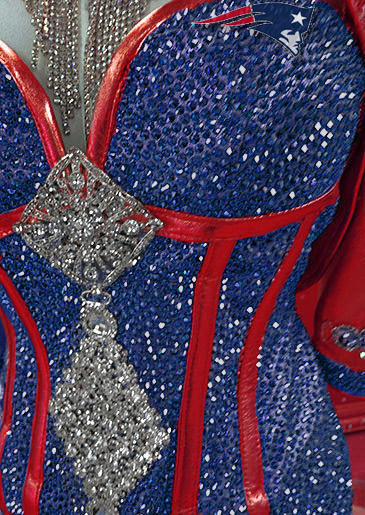 I cannot wait to see how she translates her specialty into cheerleader costumes, which must of necessity be lightweight and breathable.
Now, having terrified you with all of the above, let me put your mind at ease. Yes, Sondra Celli refers to her assistants as "The Blingettes," but she also has a whole other side of her formalwear business where she dials the glitter gun down several notches. That side of her business caters to a different clientele. One that now, apparently, includes the Pats Cheerleaders. But both sides of her business involve a lot of Swarovski, so whatever she came up with for the NEPC will definitely sparkle.
Check out Sondra's facebook page for examples of her blingiest productions. [here]