Only a few minutes after meeting Kim of the Hamilton Tiger-Cats Cheerleaders, her bountiful ebullience and laughter, reflecting a truly positive spirit, is readily apparent. A story from childhood about her joyous attitude towards going to school still reflects Kim's personality today. "I would always skip to school," Kim remembers. "My parents' house was backed onto the schoolyard. I would skip across the schoolyard and skip to school, and my mom would be dragging my brother, and he would be screaming and kicking. My mom would say, 'Okay, I understand him; I don't understand her. Where did she come from?"
Kim just comes from a truly joyful place, and instead of skipping to school to see her classmates, these days she dances to the Tiger-Cats sidelines with the teammates that she treasures. And this weekend, Kim and her Tiger-Cats Cheerleaders peers will be there as the Tiger-Cats take on Montreal in the CFL playoffs. Earlier this season, Kim shared with UltimateCheerleaders her loves of performing, the outdoors, art, and the ways her dad would drain her high energy as a child, and how brushes and canvas utilize her abundant energy today.
Kim is from the Cambridge, Ontario area, and is in her third year as a Tiger-Cats Cheerleader, and she absolutely loves it! After many years of recreational rhythmic gymnastics, in tenth grade Kim started cheerleading. "I did competitive cheerleading, stunting, all of that," Kim recalls. "I went to World's three times, and then my body was like, 'I can't do this anymore' (laughs)."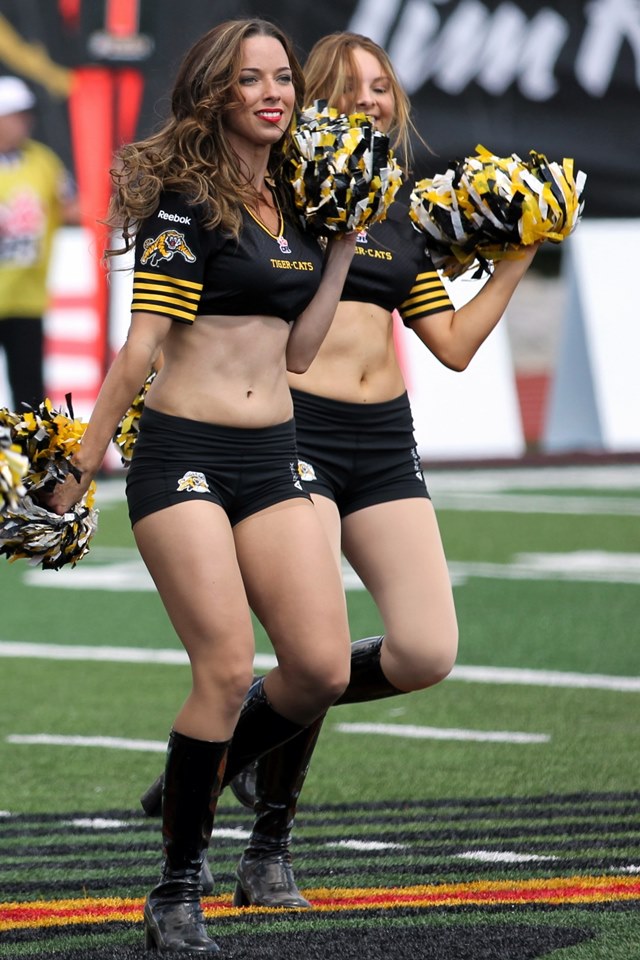 What was the most physically demanding aspect? "Stunting; I was the thrower and the catcher," Kim answers. "On the younger teams, the 'tops' are little, and as you get older, then you are throwing people your height and your size, and I couldn't do it anymore. So I hated to have to leave that, because I LOVED cheerleading. Then, I knew this was dance, so I could still do the performance and the team aspect, but not kill my body."
So how did Tiger-Cats Cheerleading get Kim's attention? Kim says, "I had a friend that was on the team, and she said, 'You should try out, it's super fun!' And so I did, because I knew I could not do competitive cheerleading anymore."
Kim's love of being part of the Tiger-Cats organization is fully evident as part of an overall enthusiastic effervesce. Was Kim always a high energy kid? Kim nods, saying, "My dad, when I was a kid, would say, 'Okay, I dare you to run ten laps around the house as fast as you can.' And then I would say, 'I did it!' He would say, 'Ten more!' (laughs) He would always make fun of me because I would practice routines in the living room."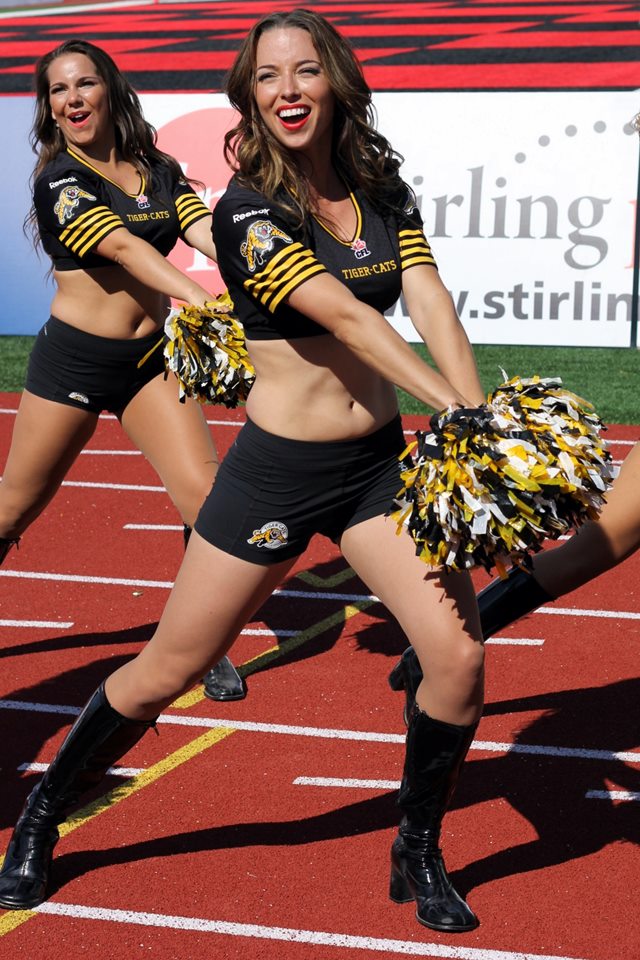 So besides her high energy, has Kim always liked being on stage? Matter of fact-ly, Kim replies, "Love it." Asked if she ever had any nerves, "Not performing; Speaking, yes," Kim replies. "Speeches at school were not fun. Everyone would say, 'But you compete,' but it's different."
Also, performing as part of a dance squad also allays any possible nerves today. "It's being part of a really awesome team, too," Kim says. "I know that might sound corny, but it's totally true. I wouldn't do that (as Kim points to the sidelines) by myself, but with these girls, I would."
Kim's first game as a Tiger-Cats Cheerleader was quite memorable, as she recalls, "I almost cried the first time. It was when they play 'Oh Canada,' because Hamilton has a GIANT Canada flag. They pull it all the way across the field. And you are standing out there, and often there is a big 'woo-hah' as the players run out and we do our tunnel. Then you turn and you stand, it's quiet, 'Oh Canada' plays, and it is one of the most powerful things, because you know you are part of something pretty awesome. It's Canadian history. At that point I thought, 'I am sold! I love this, leave me on the field. I'll be a happy girl.'"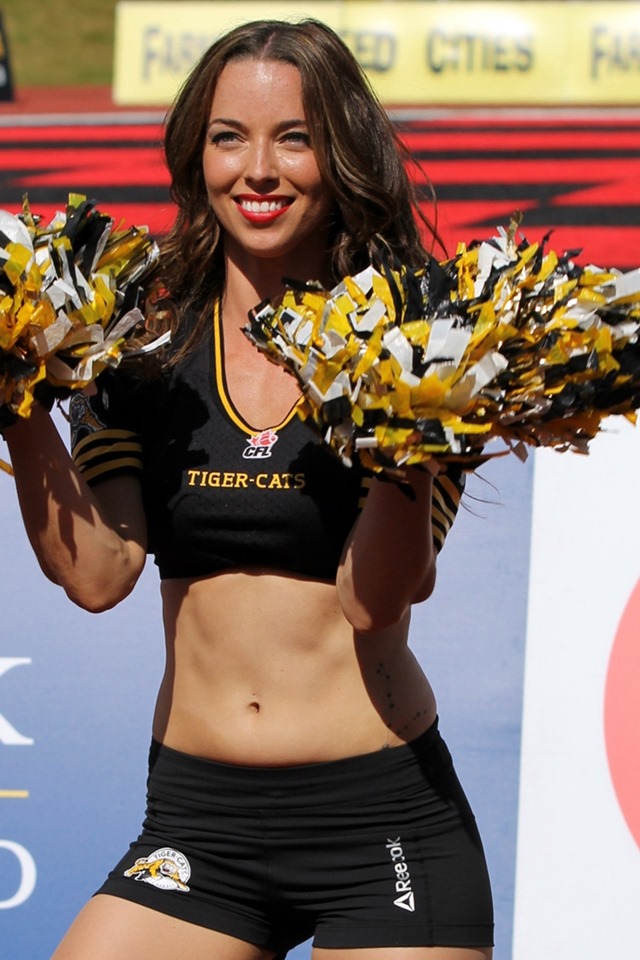 This has been a memorable season for the Tiger-Cats on many fronts. They play this year in Guelph as they await completion of a brand new stadium in Hamilton for next season to replace Ivor Wynne Stadium. About a new stadium, Kim says, "I am SO excited. I mean, it was sad to see Ivor Wynne go, but we are so pumped!"
The Tiger-Cats are also a tight-knit team, with the highest number of returning members in their history, with only four rookies in a team of 22. And Kim notes, "The four rookies are incredible. They are catching on like that (snaps fingers), showing some of us veterans up (laughs). So that's always good."
Last May, Kim graduated from the University of Waterloo, receiving a Bachelor of Environmental Studies, Honours Environment and Resource Studies degree, with a Fine Arts Minor and Parks Option. One of Kim's proudest moments was finding out mid-ceremony that she was placed on the Deans Honours List. Kim is working at a garden center, learning landscaping and business management. Energetic Kim is outdoorsy by nature. "I've never had a job that kept me indoors, ever," Kim states.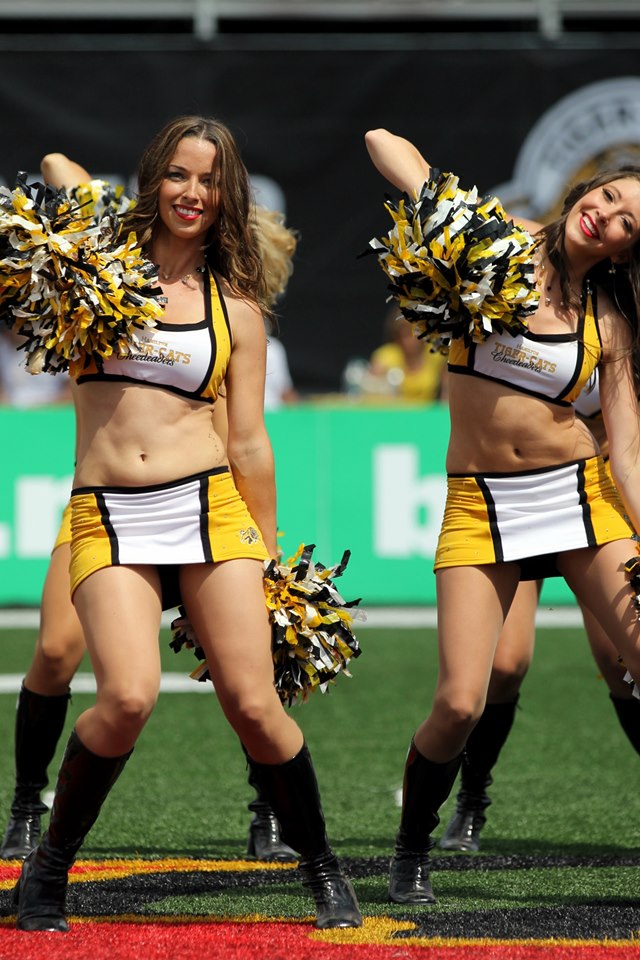 Of the things Kim likes to do outdoors, she says, "I have a Rottweiler, so I love taking her out for walks, and we have a cottage up north. So if I can be in the water, I am in the water."
But asked about her dream job, one sees yet another side of Kim, revealing a true passion. "My dream job is completely unrelated to the environment and the outdoors, but I would be an art historian," Kim says. "I did an art minor. That's my real passion."
Of her favorite art museums and dream places to visit in the future, Kim shares, "I went to Italy two years ago, and we did everything. Vatican City! You can't beat the Vatican Museums; St Peter's Basilica was amazing. And I was there for my birthday, so it was the best birthday ever! Italy, particularly Rome, was my dream, and I went there, and I want to go there again! I just loved being submerged in it, not even focusing on just one piece, but just being there. It's overwhelming and it's amazing."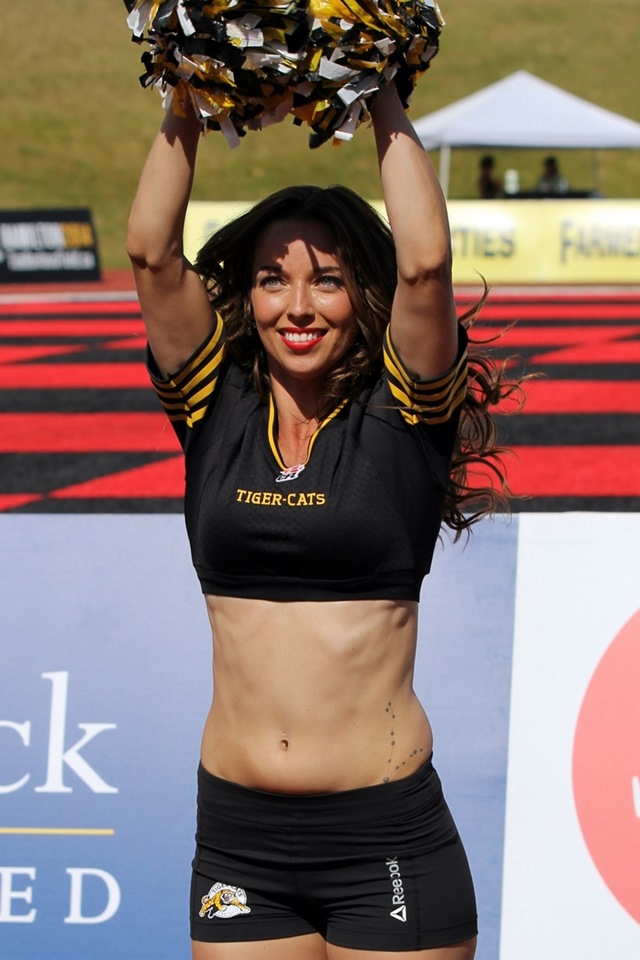 Kim is not only a lover of art; she is an artist herself, predominantly painting and sketching. Kim has had artwork in galleries across the region, and created the majority of the paintings hanging on her own walls. Kim says, "I have started to do more abstract, because I was always very detailed. And I need to use this as an outlet for my ENERGY (laughs). I use my hands and take thick paint brushes, and just go nuts."
Ontario seems to take heart in the arts in general, from the film scene of Ontario, to the stage festivals of Stratford and Niagara-on-the-Lake. Even though there has been some pulling back of the arts in schools, Kim says, "A lot of cities are trying to enhance their art core and culture. I love it, it's fabulous."
I spoke to Kim prior to a Tiger-Cats game last August, but she was looking forward to her favorite season of the year. "Fall, I just love it," Kim says. "The colors, my whole house is painted in fall colors. And the clothes you get to wear in the fall. It's just beautiful. Rich colors, I love sweaters. I could live in a sweater. It's just a beautiful time, and I always loved school, so September, fall, going back to school."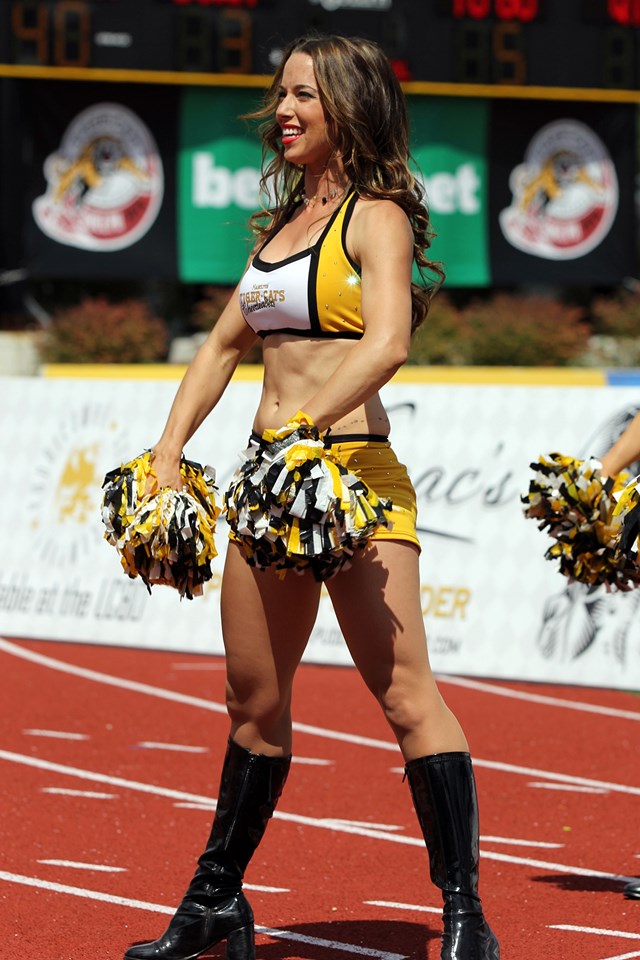 Having graduated last year, Kim was a little bit sad to not be going back to school this fall, but she reflected on four teachers that made a difference in forming the Kim of today. "I had three fabulous teachers in high school," Kim says. "One was my environmental teacher. He treated us like adults in high school, so really independent. My English teacher, the most passionate woman I have ever met in my life. She was fabulous and she helped me with my art career. She bought some paintings from me. She was amazing. And of course my art teacher, he was just fabulous. My thesis advisor in University, Mary Louise McAllister, was fabulous, too!"
With the influence of her family and educators, Kim has channeled her high energy and affirmative spirit and created a life that always quickly fills any blank spots on the canvas. She takes big brushstrokes to create a personal mosaic of performance, outdoor and environmental appreciation, and artistic passion and pursuits, all the while adding scores of joyous laughter to her own personal soundtrack.
As the Tiger-Cats move from regular season to the post-season, maybe Kim and her teammates will be able to add some celebratory cheers during a Hamilton run in the CFL playoffs.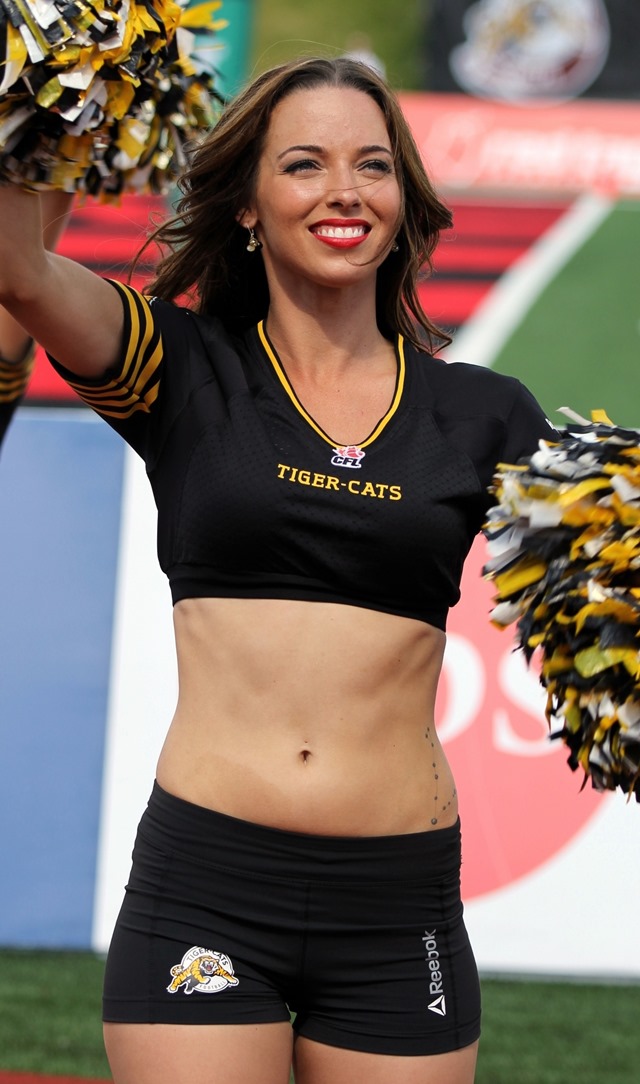 We so appreciate Kim spending her time prior to the August Ticats-Winnipeg game in Guelph, and of course we thank the wonderful Tiger-Cats Cheerleader Director Lesley and Assistant Coach Lauren, plus Maurice Grant and Mike Hardill of the Tiger-Cats for all of their help. More photos of Kim from that game are at this link.