(note: after this was posted, the Tiger-Cats won, and for the first time since 1999, the Tiger-Cats are playing in the Grey Cup against Saskatchewan in Regina. Recent Tiger-Cat Grey Cup wins were in 1972, (14 years later) 1986, (13 years later) 1999, (14 years later) ???)
If there was a Hall of Fame for CFL Cheerleaders, certainly Lesley Stewart would be a charter member. Lesley is Head Coach of the Hamilton Tiger-Cats Cheerleaders, in her 21st year of CFL cheer, combining time both on the field and as coach. Devotion to their football team, their cheer team, and dance starts with Lesley, but continues throughout the squad. For instance, Assistant Coach Lauren Yaksich is in her ninth year with the Ticats, after eight on the field. And Captain Andrea is right there to, in her eighth season on the squad.
As the Ticats take on Toronto today for an opportunity for a chance to play in the 101st Grey Cup, UltimateCheerleaders spotlights these three women, all dedicated to pro cheer for the long-term.
So, what keeps Andrea coming back for eight years? "I just love dancing," Andrea answers. "I love Lauren and Lesley. I love the team. So it's kind of addicting, the adrenaline when you are out on the field. You just can't get that really anywhere else, once you've peaked during your competitive dancing ages. I compare it to being part of a sorority in the states, because we don't have sororities."
Hamilton native Andrea is a Ticats Cheerleaders captain, but her main focus is pursuing a career in education. Andrea graduated with honors with a BA in English and Cultural Studies from McMaster University, and a Bachelors of Education from Brock University.
Last season, Lauren was the eight year veteran, and now serves as Assistant Coach in her ninth season in the organization. Lauren says, "It just became a lot with my work, so it's nice that I can still be able to help out."
Also a McMaster alum, Lauren has an MBA graduate a specialization in Marketing, and undergraduate expertise in Mathematics and Statistics, with a focus on financial mathematics. Her current position is Manager of Marketing and Communications at John C. Munro International Airport in Hamilton.
Lesley says about Lauren stepping away from the sidelines, "She has a fantastic job working at the airport, so if she needs to travel with her job, she can miss a practice or a game without feeling like she is letting down the team. And it gives me that opportunity as well to do the same thing, because I know I have someone still there rather than asking captains, because then captains are stepping out of line too. It's been a really crazy year for me, so it's been the opportunity that I can say to Lauren, 'I just can't be there,' and she can be there.
Lauren adds, "It's fun, too, because we do all of our choreographies, so you're still dancing a lot, it's just that you're not performing."
During on-field practice before the games, Lesley and Lauren are both actively moving to show the team the routines, and were happy that they were able to jump in and dance at Pro-Dance in Las Vegas. "We would both be totally still be dancing on the field, but there is a point where you have to not do that anymore," laughs Lauren.
And even with Andrea's eight seasons added to Lauren's ninth season, they still cannot sum to Lesley's 21 seasons of CFL cheer. Before her CFL career, Lesley danced for Hamilton Skyhawks basketball team. But the was just the opening act for (a) two seasons cheering for the Tiger-Cats, (b) ten seasons as Toronto Argonauts Cheerleader, and four seasons included being their Head Coach and Choreographer, then (c) nine seasons as Head Coach and Choreographer of the Hamilton Tiger-Cats Cheer Team.
A lifelong dancer and then fitness instructor, Lesley is also well known throughout the region as TV/Radio personality. Lesley is an original member of the Morning Live team on CHCH News. Lesley was the Weather and Traffic Specialist for many years, and she is now an interactive community reporter or co-host when needed. In 2011, Lesley also became host of TERRA @ Home, a lifestyle show for Terra Greenhouses that airs on CHCH News Saturday mornings, and can also be found at www.terragreenhouses.com.
Despite all this activity plus a young son, Lesley is still a CFL devotee. And today, Lesley's two CFL teams clash for a spot in the Grey Cup as Toronto hosts Hamilton. While a cheerleader for Toronto, the Argos won three Grey Cups, and she still awaits her first Tiger-Cats Cup win during her tenure in the organization.
But no matter what, as is the tradition, ALL of the CFL cheer squads will be attending the Grey Cup in Regina. Lesley says, "Our league is really good about having out team always present at everything , so we all go to Grey Cup, and you don't see that at any other league. Which is really, really fun for everybody."
Fun, and this year, maybe a little cold, with forecast highs in Regina for the Grey Cup Sunday of -6 C/21 F. No matter what, the collective sorority of CFL cheerleaders will be there, no matter what the weather. After all, Grey Cup is part of Canadian history, and Lesley, Lauren, and Andrea are writing their own chapters in the history books of CFL cheerleading.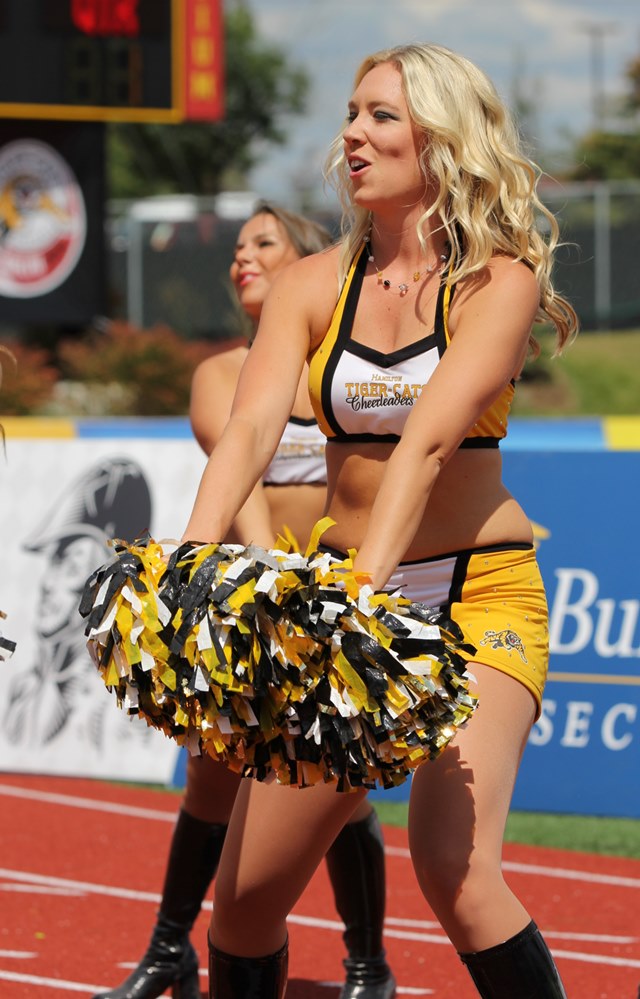 Thanks so much to Lesley, Lauren, and Andrea for their time, and also to Maurice Grant and Mike Hardill of the Tiger-Cats for all of their assistance at the August 24th home game against Winnipeg. There are more photos of Andrea during those sunny summer at this link.