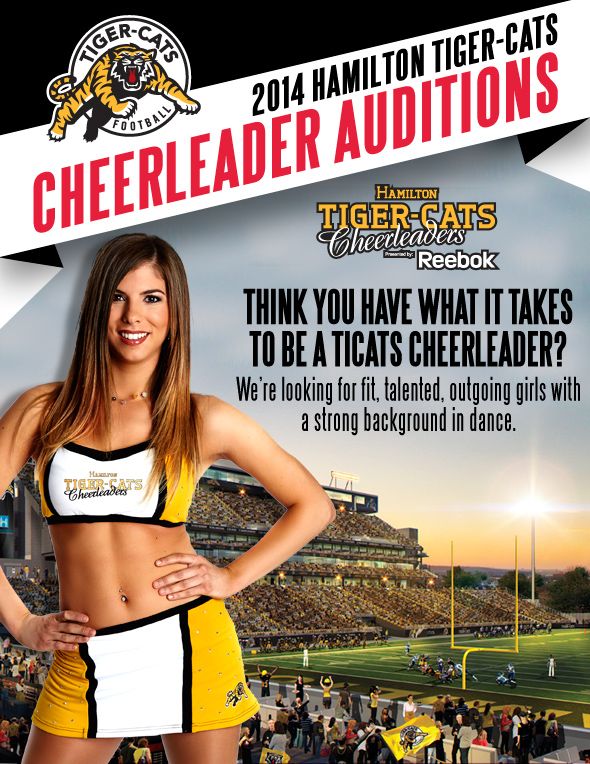 Benefits of being a Tiger-Cats Cheerleader
Dance for a professional sports team
Perform in front of tens of thousands of fans during nationally televised games
Perform on-field at the 102nd Grey Cup in B.C.
Be a Ticats ambassador in the community at a number of charitable and corporate events
Featured on the Ticats.ca Cheerleader page
Create lifelong friendships and memories
All women wishing to audition for the 2014 Hamilton Tiger-Cats Cheerleading team must meet the following requirements:
You must have a dance, cheer and/or gymnastics background.
You must be 19 years of age by November 1, 2014.
You must be available for two rehearsals per week from April to December. Rehearsals will take place every Monday and Thursday nights. Time and location TBA.
You must be available for Cheer Camp Day on Sunday, April 27.
You must be available for all Hamilton Tiger-Cats home games at Tim Hortons Field during the 2014 season. Schedule will be announced in late-February.
You must be available for the 102nd Grey Cup Weekend in Vancouver – Friday, November 28 to Monday, December 1.
You must have graduated secondary school.
You must be physically fit and healthy.
Cheer Tryout Agenda – Sunday, March 9, 2014 at 5 Star Fitness – 1215 Stone Church E., Hamilton, Ontario
10:30-11:00am – Registration
11:00am – Warm-up and introductions
11:30am – Choreography
12:30pm – Auditions begin
2:30pm – 1st cuts
3:00pm – Auditions resume
5:00pm – Wrap-up (possible 2nd cuts)
* interviews will be held on Wednesday, March 12 at the Ticats Head Office – sign-up sheet provided at the auditions.
** team will be announced on Ticats.ca on Friday, March 14.
*** first team meeting will be on Thursday, April 17.
What to Wear
All women auditioning for the 2014 Hamilton Tiger-Cats Cheerleading Team should come dressed in proper attire:
All black dance wear – half top and leggings or shorts (no baggy tops or pants)
Dance or sports shoes
Camera ready hair and make-up (hair down)
What to Bring
Please bring the following items with you to the audition:
Photo identification
Current full-length photo of yourself (if you haven't submitted one with your registration form)
Bottled water
Lunch or snacks
Resume
$20 registration fee
What We Are Looking For
There are a number of qualities in a Hamilton Tiger-Cats Cheerleader that we will be looking for at the audition:
Fit, talented, enthusiastic women
Strong performer
Positive attitude
Dedication
Team player
Outgoing personality
Eagerness to work hard and have fun
[Tiger-Cats Cheerleaders Audition Information and Registration]