Warrior Girls Dance Team Director Sabrina Ellison grew up in Los Angeles and went to school at USF, where she danced for the Dons. She danced professionally in the NFL for eight years: six seasons with the San Francisco 49ers Gold Rush and two seasons with the Seattle Sea Gals.
Sabrina is in her seventh season as a dance team coach in the NBA. She started in Seattle with the SuperSonics, then moved to Oklahoma City and started the Thunder Girls dance team from scratch. This is her third season coaching the Warrior Girls.
"The Warriors were always my ideal team to coach. It is great how my career went full circle and I'm back in the Bay Area."
Sabrina on Going From Dancing to Directing:
"It's a night and day difference. When you're ready to put your dance boots away, throw your poms away and take that leap to become a director, it's 100% different. As a dancer, you're a part of the team and it's more about you. When you're a director, it's not only about getting the performers to look amazing on-court and dance as a team, but you're influencing them in so many different ways. A director is the glue to the team that makes sure each girl feels like a part of a sisterhood and grows as a woman.
"I think as a dancer, you're always going to miss performing. But I love coaching because it is a different skill set. You have to be selfless. You have to be there for your girls and help them grow as dancers and as women. You have to be supportive and be a teacher. You have to take all of these different personalities and make them into a team. And I love it. I love seeing them become good friends. I love seeing them dance out there and go from not being the strongest dancer to suddenly blossoming into an amazing performer."

Sabrina on the Warrior Girls as Ambassadors to the Organization:
When Sabrina first started with the Warriors, a new ownership group purchased the team and set out to create a first class organization from the players to the front office to the Warrior Girls dance team.
"The Warrior Girls are really ambassadors for our team. Our team participates in over 100 appearances a year, interacting with fans and participating in various events and fundraisers. Last summer the team went to China as part of the NBA's Global Games initiative. I am really focused on preparing the girls to represent the team the best way possible. Learning how to interview well and engage fans of all ages and backgrounds. It's important for each girl to become well-rounded, both as a dancer and as a person."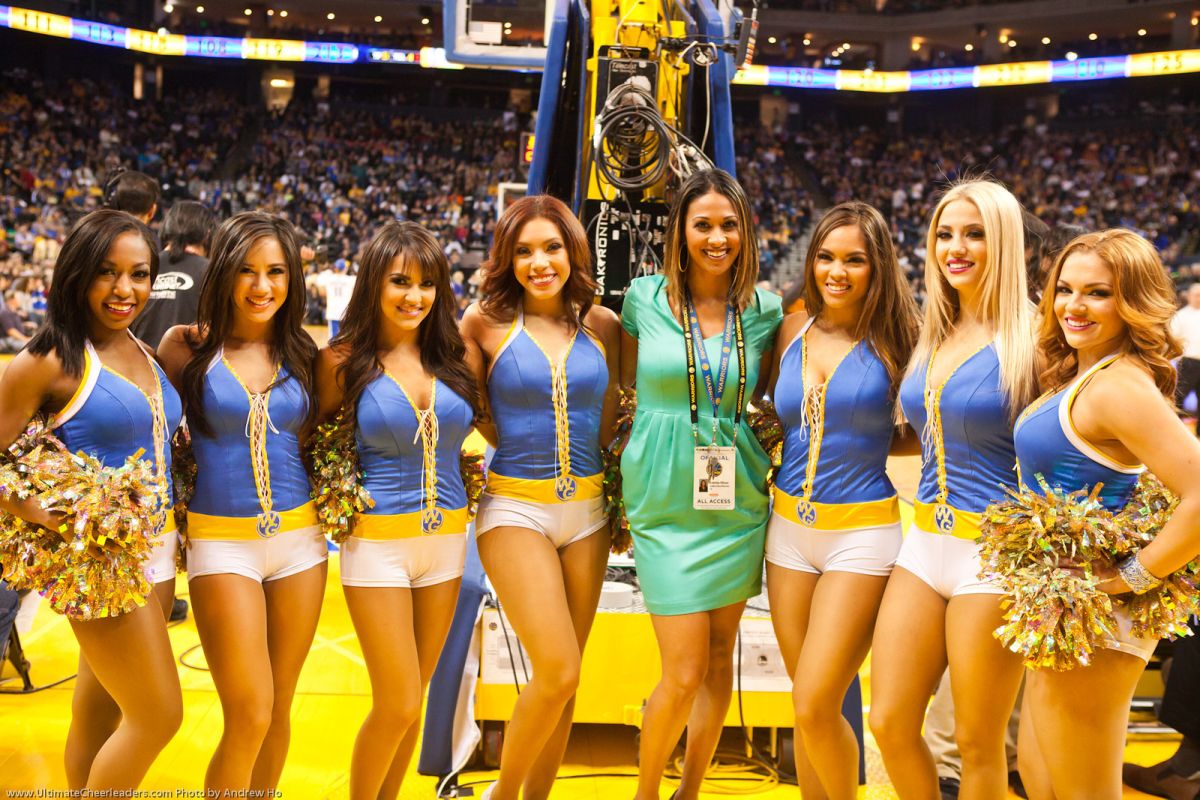 Warrior Girls with Director Sabrina Ellison
Sabrina on the Warrior Girls Dancing Style:
"As a basketball team in an urban area in California, you have to be cutting edge. To entertain our fan base, we dance to hip-hop, but also do a lot of novelty routines to perform for older fans who are die-hard and have been going to Warrior games for years."
During the Golden State Warriors-Brooklyn Nets game on Saturday, February 22, the Warrior Girls performed a hip-hop routine to "Can't Hold Us," and later performed to Janet Jackson's 1989 single "Rhythm Nation," connecting with older fans and allowing them to enjoy the team's performances.
"My dancers love the art of dance and performing all styles of dance. Sometimes the girls dance to Bollywood, sometimes it's jazz or country music, and sometimes it's hip hop. But no matter what genre they perform, they want to be the best."
Warrior Girl Shonna
Shonna is a first-year Warrior Girl, and she admits it has been demanding to learn a new style of choreography that is unfamiliar to her. But she recognizes that the challenge has allowed her to grow as a dancer.
"I'm working hard, bonding with the other girls and really pushing myself to become a better dancer."
Shonna also says the responsibilities of being a Warrior Girl is more than she was expecting.
"Having been a professional dancer previously, I knew it was going to be a big commitment to be a Warrior Girl. But I didn't realize it was going to be such a physical and mental challenge for me.
"The veterans are helpful, making sure all the rookies know what they need to know and just pushing us along as we embark on this journey and really making sure we can be the best Warrior Girl possible."
Shonna's advice to those auditioning for the Warrior Girls?
"Go into the audition as who you really are and let the judges see that. It's so much more than dancing. It's who you are as a person and what you embody. It's about being a classy woman and being a woman who can carry herself with poise and grace. You're auditioning to be an ambassador for the Golden State Warriors. If you show up on audition day in tip-top shape, confident and dance to the best of your abilities, the judges will see that."
Warrior Girl Casey
Casey is in her sixth season with the Warrior Girls, making her the longest-tenured member of the team. Just turning eighteen year old during her first season with the team, she felt intimidated when the other dancers were in their twenties with years of dancing experience.
She was the leader of her high school's pom team and dance team, and now she was joining a team where every dancer had to be in unison. It was a difficult learning experience, but over the years Casey came to learn and embody the Warrior Girls style.
"I basically grew up on this team. It also helped me to develop into the woman I wanted to become by building confidence, skills when interacting with fans and learning how to be a brand ambassador for a professional organization. There's a lot more to being a Warrior Girl than looking pretty and being able to dance. You have to have a good head on your shoulders, be humble and definitely be able to work hard."
One of her biggest motivations for coming back every season and re-auditioning are the fans and the Bay Area community.
"I love that our team is committed to community outreach by working with schools and children to give back to the Bay Area. If our community didn't love the team and come to our games, we would have no one to perform for. So every time I step on the court, I look at it as another opportunity to make somebody smile or to make somebody happy for that one minute and ten seconds. As a performer, that is your only job."
Casey was honored to be voted by the team as a Warrior Girls captain for the second consecutive season.
"As a captain a lot of responsibilities are placed on you, but that also means that my teammates felt confident in me to lead them and help them achieve success. Going from a rookie on the team to a 6th year captain wasn't easy. I've had to learn a lot."
Casey went through some tough times when she didn't think she could perform any longer with the team because of the time commitment and the energy need on a daily basis. But she stayed with it and tried to carry herself as a role model for the other girls.
"I really encourage the girls to keep pushing yourself in every practice and to stay with a positive mentality, because the more you stay with it the schedule and the time commitments, the training and everything else becomes easier. Everything gets easier with time and effort."
"We all go through difficult times and hardships as women. This is a hard industry to be in, and a lot is expected of you."
In her six seasons with the team, Casey has traveled to Italy, Japan and India as a member of the Warrior Girls. Her favorite experiences are her trips to China, where she has represented the team on three separate visits.
"The fans are so enthusiastic, they really love basketball. They have a basketball league over there too, NBA China. But they all watch Warriors games and Lakers games. Those are the most popular teams in China, so the fans really appreciate us and recognize us as a huge part of the organization. They travel hours to come watch us perform, so it's heartfelt and meaningful when we get to dance for them."
This year Casey was voted to the NBA All-Star Dance Team at the 2014 NBA All Star Weekend. She describes the experience as the most amazing week of her life. "I was able to dance on a team with 29 other women who each dance for an NBA team. We shared our dancing styles and blended them together. We went out and performed for a huge crowd of locals and celebrities. It was exhilarating, but it was definitely frightening, and we worked long hours practicing for the performances, but as soon as we stepped out on the court, it was all worth it."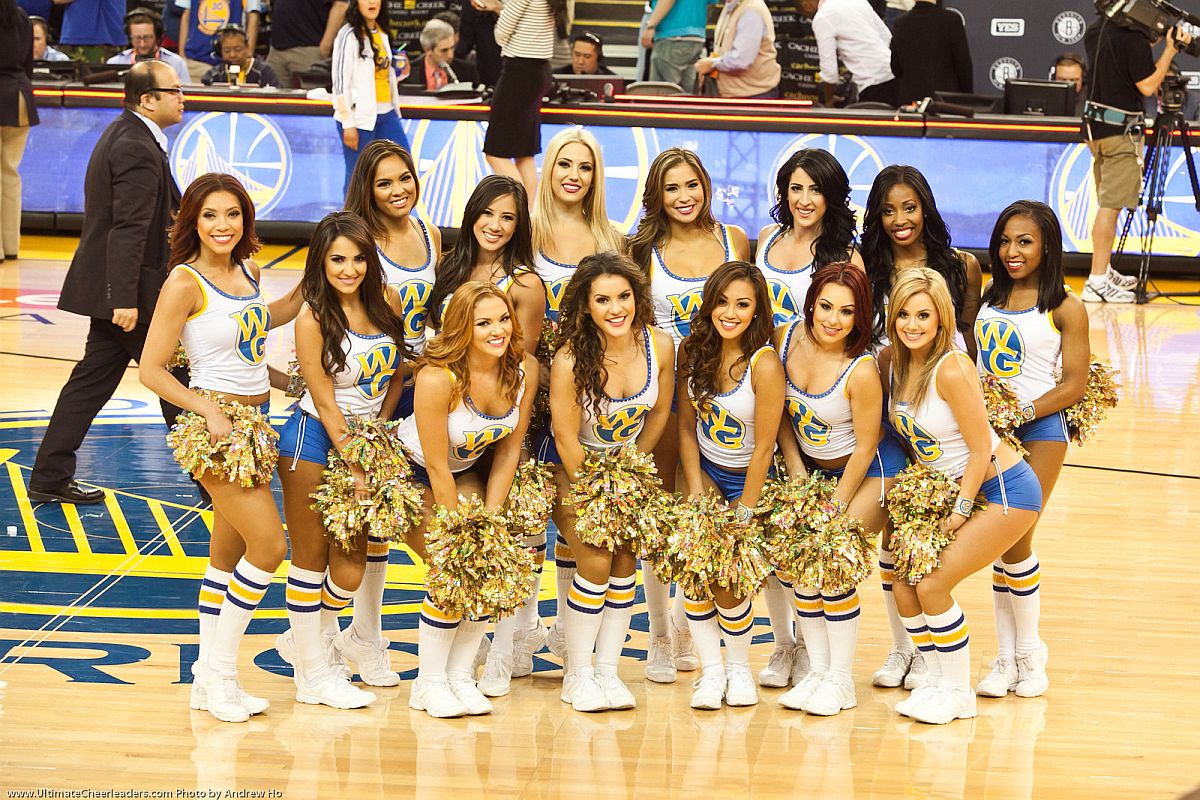 [All New Golden State Warrior Girls Wesbite Updated for 2014]