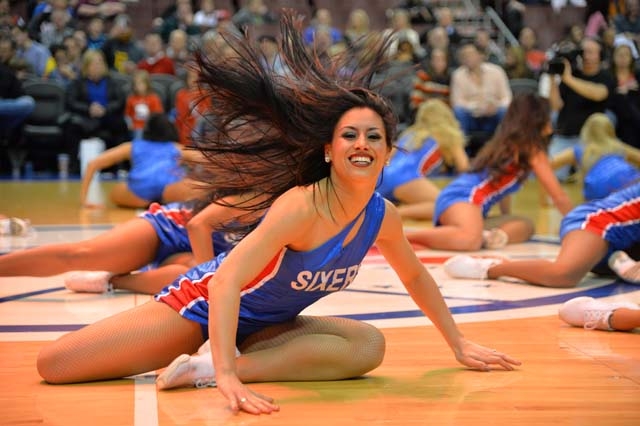 SIXERS ANNOUNCE AUDITION DETAILS FOR 2014-15 SIXERS DREAM TEAM,
PRESENTED BY PARX CASINO®
OPEN CALL AUDITIONS TAKE PLACE AT THE WELLS FARGO CENTER ON WEDNESDAY, JUNE 18
AND IN NEW YORK ON WEDNESDAY, JUNE 25
TEAM LAUNCHES "BEHIND THE SCENES: THE MAKING OF THE SIXERS DREAM TEAM" WEB VIDEO SERIES
TO GIVE FANS EXCLUSIVE ACCESS TO VIEW THE AUDITION PROCESS
PHILADELPHIA, PA – JUNE 2, 2014 – The Philadelphia 76ers today announced audition details for the 2014-15 Sixers Dream Team, presented by Parx Casino®, which includes auditions in both Philadelphia and New York City. For the first time, the Sixers will also take fans behind the scenes and through the audition process in an exclusive web series titled "Behind the Scenes: Making the Sixers Dream Team," which launched today on SIXERS.COM (VIEW THE FIRST EPISODE HERE).
The team will host an open call audition in Philadelphia on Wednesday, June 18 at the Wells Fargo Center (3601 S. Broad St., Philadelphia, PA 19148) at 6:00 p.m. (media encouraged to attend between 6:45 and 7:30 p.m.). Walk-ups are welcome, but pre-registration is strongly encouraged.
The team will also host an audition in New York City on Wednesday, June 25 at Broadway Dance Center (322 W. 45th St., 3rd floor, New York, NY 10036) at 8:00 a.m. (Dancers in the Philadelphia region are encouraged to try out at the June 18 audition at the Wells Fargo Center.)
Individuals interested in trying out for the Sixers Dream Team must be at least 18 years of age by June 1, 2014 and should have prior experience in dance. They must also fill out the application form linked here and pay a $20 audition fee.
Dancers are also encouraged to register for the Sixers Dream Team Pre-Audition Workshop, which takes place on Saturday, June 7 at Touch of Class Dance Studio (483 Park Way, Broomall, PA 19008) from 12:30 to 4:30 p.m. Attendees will learn the choreography for the first round of auditions and get inside tips from current members of the team. (Registration info linked here.)
The Sixers Dream Team, presented by Parx Casino®, is entering its 18th season as an integral part of the Sixers' game night entertainment, performing multiple times and visiting fans at every home game. Off the court, the careers, educational accomplishments and community involvement of the Sixers Dream Team will empower young girls in the Philadelphia region to pursue their goals, while also inspiring them to be beautiful inside and out.
For more information, visit SIXERS.COM.