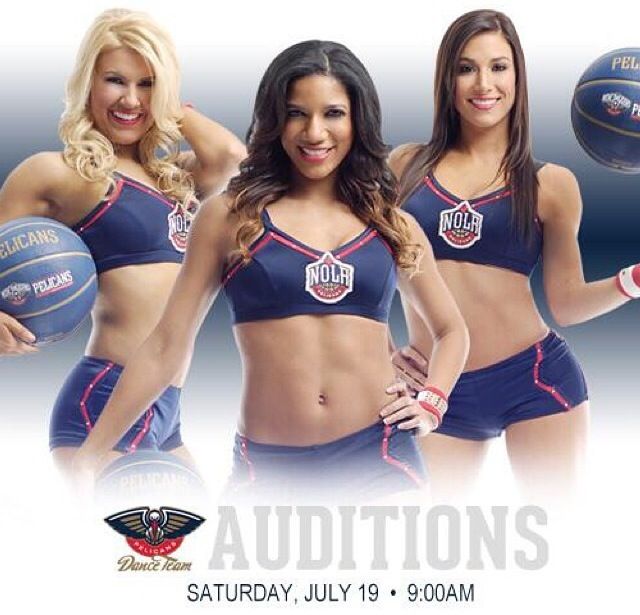 Saturday, July 19th
9AM Registration
Location: Pelicans Practice Facility
5800 Airline Dr, Metairie, LA 70003
All contestants selected as finalists must be available to participate in our Finalist Training Camp beginning Monday, July 21st through Thursday, July 24th. All training camp activities will take place in the evening with the exception of professional interviews. Specific dates, times, and locations TBD.
---
Auditions Requirements
• Must be in top physical condition
• Must be at least 18 years of age or older by July 1st, 2014. NO EXCEPTIONS. Verification of age will be required with valid photo ID.
• Must have a high school diploma in order to audition. Verification will be required. Acceptable forms of proof include a copy of a high school diploma, college transcript and/or a college I.D.
• Recent headshot (4×6 or larger preferred). Photos will not be returned. Photos are for identification and should be a current representation of what you look like or will look like at the audition.
• Resume including professional and dance background
• Attire: Half-top that reveals midriff, hot shorts or trunks, flesh colored tights and dance or athletic sneakers with non-marking soles. Feel free to express your style but refrain from wearing anything distracting or that could cause injury such as large earrings or necklaces. Anyone not wearing the required attire will not be permitted to audition.
• Performance ready hair and make-up are expected. No pony-tails.
• Applications are to be completed prior to arrival. Please bring completed application to auditions and do not submit in advance. DOWNLOAD AN APPLICATION
• The entire audition process is closed to the public. No exceptions.
• Finalists selected at the end of the preliminary audition will advance to Finalist Training Camp. Finalist Training Camp will consist of mandatory workshops and interviews in the days following preliminaries. (Dates, times, and locations for Interviews and workshops will be released soon.)
• All candidates must be available for all phases of the audition process and be prepared to stay as long as necessary (no exceptions!)
• All candidates must be of good moral character and successfully complete all pre-employment screening. The Pelicans organization is a drug-free workplace. Drug test screenings will be conducted for finalists.
---
WHAT WE ARE LOOKING FOR
• Showmanship, energy and personality
• Professionalism and maturity
• Dance technique and style
• Commitment to the job
• Physical fitness and personal appearance
• Positive attitude and teamwork skills