[This article was originally published on Thehottestdanceteam.wordpress.com.]
Another week, another big game.  This time, it was the Denver Broncos who rode into town to play the Chargers and like the Patriots last week, the Broncos brought a whole lot of orange clad fans to watch the festivities.   And if you like field goals, this was the game for you as the Broncos kicked five of them in route to a convincing victory over the suddenly listless Chargers.
Final Score: Bucking Broncos – 22, Sparkless Chargers – 10.
With the victory, the Denver Broncos clinched the AFC West title and secured a spot in the playoffs.  As for the Chargers, well…we have the Charger Girls in their blue velvet Christmas uniforms!
It was another beautiful day in San Diego…stop me if you heard this before…beautiful blue skies and sunshine.  What that meant for me, photographically speaking, was mixed lighting in the first half and shadows in the second…just another day in paradise.
Okay let's get on with our final game day report of the season and begin with the Captains: Katelyn, Clarisse, Angela M. and Natalie.
This week's Charger Girl of the Day is one of my favorite Charger Girls to photograph and one that I can always count on for a great shot…introducing Angela M.
Angela is getting married soon, so this might be her last year on the squad. And I hear there might be a few more retirements among the more veteran Charger Girls…and I thought last year was a bad one with 14 veterans leaving the team. Well, I would encourage them all to reconsider retirement because you rarely get a second bite of the apple. And I got a $100 bucks for one CG in particular, if she returns…you know who you are.
Oh well…on with our regular coverage of my favorite stocking stuffers…THE CHARGER GIRLS!
We begin with Alexa, Alexandra, Alexis, Angela G., Angelica, Anjelica (Jelly), Bridget C. and Bridget J.
We continue with Brittney, Delani, Denise, Devin, Dominique, Elizabeth, Gabrielle, and Jayme.
We conclude our special holiday coverage of the absolutely fabulous Charger Girls with Karissa, Kayla, Lindsay, Shelbi, Tawnie, Tina, Tinaiya, and Whitney.
And here's a bonus pic of Natalie's line.
A pleasant surprise awaited me along the sidelines in the fourth quarter…my all time favorite Charger Girl to photograph, Summer, was the coordinator for Natalie's line.
Here's a photo of Summer back in the day and a link to her tribute page.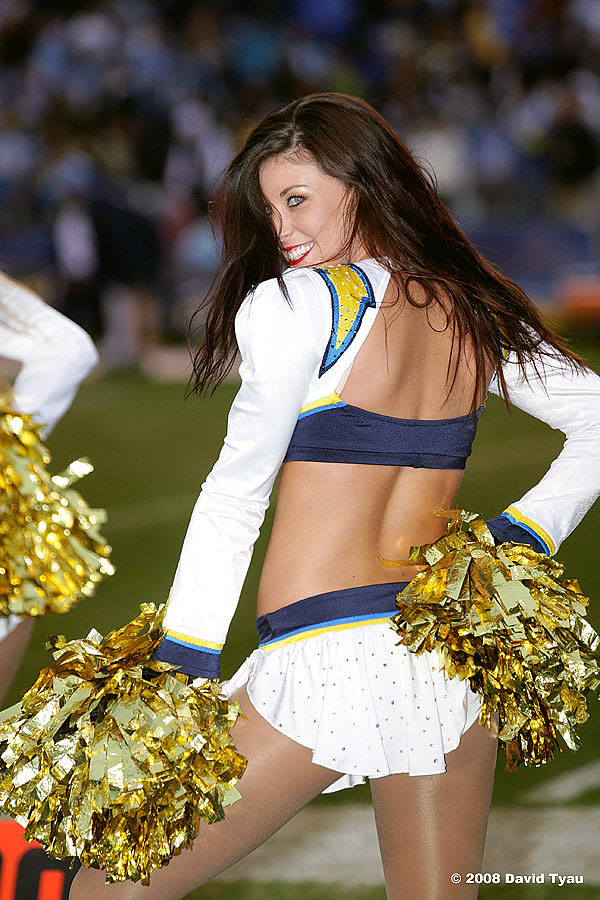 Well, we will have to wait and see if the Chargers make the playoffs.  They have a tough road to hoe, but with some luck and some intestinal fortitude, they might just make it.
On a separate note, the Chargers have recently announced that they will be staying in Qualcomm Stadium for the 2015 season as they struggle to try to find a long term stadium solution.  I guess the good news is that we will have another year of game day reports for you Charger Girl fans…after next year, who knows what tomorrow may bring?
 *                *                *                *                *
For more cheerleader articles, please visit my personal blog: thehottestdanceteam.wordpress.com.